Coal King N. Motuyev's trial may foment a new political scandal in Kyrgyzstan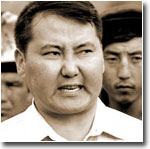 Coal King Nurlan Motuyev was arrested for the refusal to falsely testify against Prime Minister Felix Kulov, one of his lawyers J. Shakirov said. Local observers believe that the trial of the so called Jumgal Leader charged with usurpation of the Kara-Keche coal mine and other infractions may foment a new political scandal in Kyrgyzstan.
The name of Motuyev, People's Patriotic Movement Joomart leader and one of the activists of the March Revolution, is known throughout Kyrgyzstan. When the previous president was unseated along with some representatives of the establishment (in the capital and the regions alike) and some chinks of property changed hands in 2005, Motuyev's men seized the Kara-Keche coal mine in the Jumgal district of the Naryn region.
Even rough calculations estimate the harm Motuyev's gang did to Kyrgyz economy at approximately 20 million soms. It was on his orders that all specialists were driven out and equipment was sold or, whatever wasn't, cannibalized.
Neither the local authorities nor the government dared to challenge the Coal King, much to the astonishment of the population and foreign observers.
There were the rumors that Motuyev had protectors in high places without whose support he'd have never gone that far. These days, Motuyev's defense claims that his protectors belonged to the president's inner circle. Motuyev himself recently said that the Kara-Keche takeover had been the idea of the president's brother Adylbek Bakiyev.
According to Shakirov, people from President Kurmanbek Bakiyev's inner circle approached Motuyev in February 2006. They advised Motuyev to engineer in the Jumgal district the atmosphere that would "smear Prime Minister Kulov" and added that if he was with them, then the Kara-Keche issue would be settled to his satisfaction within three days. They promised Motuyev the president's personal protection. Motuyev was already facing the prospect of criminal charges then.
Motuyev's lawyers do not reveal the names of whoever approached their client in February. "No, I'm not saying anything more on the subject before the trial," Shakirov said. "My client will say everything there is to say in the courtroom."