Desperate Uzbek journalist appeals to the US president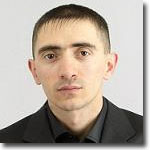 As Ferghana.Ru has already reported, Uzbek journalist Ruslan Sharipov is a political immigrant living in the United States. Much to his surprise, Sharipov encountered problems in this country. The US Immigration Service cannot (or wouldn't) legalize the Uzbek dissenter.
Sharipov wrote an open letter to the US president.
***
The White House
1600 Pennsylvania Avenue NW
Washington, DC 20500
Mr. George W. Bush,
Persecuted by the Uzbek authorities, I left my native country in 2004 and came to the United States as a refugee.
Along with other problems I encountered, the US Homeland Security informed me on two occasions that the Green Card might be denied.
Sharipov was born in an Uzbek family in Bukhara.

His awards:

Golden Pen Award'2004 of the World Association of Newspapers;

Freedom To Write Award'2004;

Awards and grants of Human Rights Watch, Hellman/Hammett, IWPR, CPJ

Harassed and persecuted by the Uzbek authorities, Sharipov obtained political asylum in the United States in October 2004
US Homeland Security officer asked me questions about court materials and espionage on November 13, 2006.
My lawyer tells me that if my answers were satisfactory, the officer was supposed to issue the provisional Green Card. The officer, however, withheld it saying that I needed to see a doctor first.
I told the officer that I had been examined by doctors in Moscow in 2004, prior to being permitted to come to the United States. I passed another examination in a special clinic in Sacramento upon my arrival here.
How is an immigrant supposed to survive in the United States without a work permit which I haven't had since 2005? How come an acknowledged immigrant is intimidated by warnings from the US Homeland Security? And how come US Homeland Security ponders, even in theory, the possibility of depriving refugee of his legitimate status?
Why Andijani refugees choose to return to Uzbekistan, the country where they barely escaped death at the hands of the government troops only recently? How come two Uzbek refugees died one after another?
Mr. President,
I will leave the United States unless the US Homeland Security fails to settle the matter of my Green Card in the near future. What will happen to me after my departure is anybody's guess.
Absolutely no information is available on what happened to the refugees who went back to Andijan .
I sincerely hope that you care about Uzbek refugees who lost everything to political harassment launched by President Islam Karimov's regime.
Signed: journalist Ruslan Sharipov
November 30, 2006