Bravo Art Café, Ferghana, Uzbekistan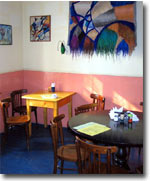 Location: 12, Hojand St., Ferghana
Print out this page and get 10% discount
Bravo is a unique Art Café, already now for four years attracting Ferghana public – local intellectual and artistic elite, foreign missionaries and tourists and as well as simple Ferghana youths fascinated by its comfortable atmosphere and assorted kitchen. Today, Bravo's popularity goes far beyond Ferghana and Uzbekistan.
An exceptional atmosphere: intimate, almost domestic, reigns in the Café. Everything over here – small, originally designed premises, muffled lights, wooden furniture, forthcoming waitresses, a friendly owner, and, finally, a tender hum in the stove throughout long winter nights, revives creative forces and incites communication.
Good music is always there: Tom Waits, Nina Simone and Cesaria Evora, creating a European mood and a musical background unusual for the post-soviet East. On certain days, you can listen to living music playing in the Café: accordion, upright piano, double bass, violin and guitar.
In the Bravo café you are fed in delectable and different ways. To begin with, there are borsch and hand-made ravioli. Solyanka soup and pork and beef chops are most excellent. And if it comes to shashliks, it is absolutely true that over here, they are the best in the City. The Café's main priorities are the better quality, lower prices and, how to put it better, the taste of home-style meal. Lunch will cost you up to 5 US$ per person, and dinner – 8-10 US$ at max. There are some special suggestions too: espresso coffee, mate drink, most fresh orange juice, milk cocktails, as well as darts and hooka.
But, perhaps, the crucial activity of this unique enterprise is an aspiration to perform a cultural expansion into the City. As, it happens to be an Art Café, its activities embrace different cultural events to be carried out. Thus, since the Art Café's exists, some 20 exhibitions have been conducted including painting, graphic art, ceramics and photography shows attended by numbers of friends-artists and the Café's guests from Ferghana, Rishtan, Kokand, Tashkent, and also from Russia and France. With the Café management's assistance, an Italian Cinema Week is carried out twice a year in Ferghana. Negotiations are going on organizing a French Cinema Mini-Festival. Some Poetry Nights have been conducted where anyone present had an opportunity to stand up and recite favorite verses.
We are open:
Monday to Friday: 10:00AM-11:00PM
Sunday: 1:00PM-11:00PM
* * *
Prices: Standard Lunch - 5US$
Standard Dinner - 8-10US$
Contact Phone: (+998 373) 224 66 88
Location: 12, Hojand St., Ferghana