Does Central Asia really need a sole leader that is going to carry out all the functions of international community?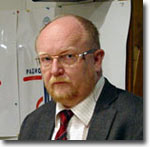 "Projects of cooperation and integration for Central Asia: comparative analysis, opportunities and perspectives". This is the title of international conference that will take place 26th-28th July 2007 in Hudjand, Tajikistan. The organizers are: Center for geopolitical studies of Russian-Tajik Slavic university (located in Dushanbe), Alexander Knyazev's Public Foundation (Moscow), central Asia and Caucasus Studies Institute (Moscow), "Russia and the East" Laboratory (Barnaul). Information agency "Ferghana.ru" is the main informational partner of the conference. Among other partners are "Business and Politics" newspaper (Dushanbe), Center for Mass Media support (Dushanbe), Tajik state language University.
Aleksey Malashenko, Ph.d., professor, member of Academic council of Carnegie Foundation Moscow tells about the forthcoming conference.
Ferghana.ru: - Recently there have been a lot of discussions concerning integration initiatives of Kazakhstan. In this connection we regard April visit of Nursultan Nazarbayev to Bishkek and June visit if Gurbanguli Berdimukhamedov to Astana.
Aleksey Malashenko: - Both the community and the political elite of Central Asian countries doubtfully regards the benefits that will be brought by integration. There is neither a unique model of integration nor a motivation to work it out. Does Central Asia really need a sole leader that is going to carry out all the functions of international community? This is an even more complex question. Anyway, it's difficult to imagine Tajikistan and Kyrgyzstan to feel comfortable under the wing of Uzbekistan. And the latter, of course, will never tolerate domination of Kazakhstan. As for political elite of Turkmenistan, after a long period of time under pressure of the Great leader it won't agree to be a "younger brother". The "umbrella variant" of integration doesn't seem to be real. On the whole, national state interests prevail over the idea if regional integration.
Ferghana.ru: - Nevertheless there are many announcements about the necessity of integration and its importance for the future of the Central Asian region. The president of Kazakhstan claims that "Kazakhstan sees stable and secure future of Central Asia in political and economical integration of the countries of the region".
Aleksey Malashenko: - For poor countries integration is harder than for rich ones. Poor states have more ambitions, especially those ones which are considered to be wealthy among the rest and intend to become leaders of integration process and dominate over the region. In Central Asia these are Kazakhstan and Uzbekistan. Integration will serve them for strengthening of regional and international status. For recent years Kazakhstan has been moving forward but it doesn't matter much regarding integration efforts. Post-soviet history of Central Asia shows that neither inner nor outer threats become an incentive for integration. From time to time verbal activity becomes intensive and leads to multiple negotiations, visits, symposiums and seminars on this subject. But they exist parallel to the actual state of affairs. The questions of security are regarded on national level only.
Ferghana.ru: - Are "external powers" interested in Central-Asian integration?
Aleksey Malashenko: - In my opinion, China shows a "careful optimism", Russia is deeply disappointed in the future of Central-Asian integration and pragmatically shifts cooperation to bilateral sphere. The USA works on an initiative to revise the Central Asia as a formed region and to extend its limits further southwards on Afghanistan, Iran and even Pakistan.
Ferghana.ru: - Is it all that pessimistic and there is no hope?
Aleksey Malashenko: - In a pessimistic way the disproportion of national interests will culminate in systematical aggravation of relations between former Soviet republics, which will at the same time strengthen cooperation with foreign partners. In this case we all have to forget about integration in the area. As for unanimous decision of all political elites to unite political and economical efforts, to create common market and to form some kind of regional organization entrusted with supra-national powers – it is unreal. In my opinion a tangible format of cooperation is key issues, a constant dialogue with participation of third parties. For example in the framework of Shanghai Cooperation Organization or Eurasian Economic Community. It's not always effective, but it's anyway better than endless ritual spells of integration.