US and EU Companies Urge Uzbekistan to End Child Labour on Cotton Fields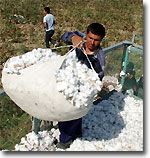 The four biggest groups representing the US retail and clothing industry are calling on Uzbekistan to end the widespread use of child labour in the harvesting of the country's cotton crop, Financial Times reports.
The coalition is urging President Islam Karimov to take "decisive and immediate actions to end the use of forced child labour in the cotton fields" in the world's second-largest cotton exporter.
The most recent US state department human rights report on Uzbekistan, published in March last year, noted that there was "large-scale compulsory mobilisation of youth and students to help in the fall cotton harvest ... in most rural areas".
Retailers and clothing companies in the US and the UK – including Tesco, Marks & Spencer, Target and Gap – have already taken measures to exclude Uzbek cotton from their merchandise following repeated reports of Uzbek children picking cotton for minimal payments.
In a letter to be delivered on Friday to the Uzbek ambassador in Washington, the National Retail Federation, the Retail Industry Leaders Association, the American Apparel and Footwear Association and the Association of Importers of Textiles and Apparel, say that use of child labour is "totally unacceptable", and note that retailers have told their suppliers to avoid Uzbek cotton.
Child labour is banned under Uzbekistan's constitution, and the government has in the past argued that child workers volunteer to help with the harvest.
Uzbekistan produces more than 800,000 tonnes of cotton annually, worth more than 930 million US dollars. About a third is used in Europe, after being processed elsewhere in Asia.
President Karimov's autocratic regime has suppressed political dissent in the country. In 2005, security forces opened fire on protesters in the eastern city of Andijan, killing hundreds of people, the appeal by the companies noted.
Tashkent has been continuously denying the use of child labour on the fields saying "black PR against Uzbekistan is groundless and is a manifestation of unfair competition and political pressure."
According to the local human rights activists, child labour is also used in other agricultural sectors. Thousands of school children are sent to the fields as in the Soviet times to "help farmers."
Forced labour also makes children and students skip classes as harvesting season starts in the beginning of September. According to some reports, children spend 10-11 hours working on the fields and get around 2500 sums, or 1,7 US dollars, per day.