In courting Uzbekistan, the United States stoops too low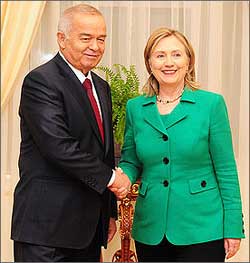 At an October 22 briefing designed to tout the enhanced relationship between the United States and Uzbekistan ahead of the first visit to the Central Asian country by a U.S. secretary of state in seven years, a senior State Department official was asked whether this strategic partner was still boiling people alive. The fact that this question needed to be asked is a worrisome sign for U.S. moral authority.
The Uzbek regime's use of boiling and other torture techniques has been well documented, and it is hardly a "thing of the past," as the State Department official asserted at the briefing. The State Department's own human rights report on Uzbekistan for 2010 noted that "torture and abuse were common" and cited allegations involving a range of sadistic methods: "Guards routinely raped the prisoners with a club, subjected prisoners to enemas with red pepper solutions, and beat their heels until they bled."
So why is the United States wooing one of the world's most repressive regimes? In a word, Afghanistan. Secretary of State Hillary Clinton's October 22–23 visit to Central Asia was aimed at thanking Uzbekistan and Tajikistan for their cooperation with the Northern Distribution Network (NDN), an overland supply route that carries nonlethal cargo from Baltic and Caspian Sea ports to the U.S.-led coalition in Afghanistan. The NDN was created in response to frequent attacks and disruptions along the supply routes running through Pakistan.
The NDN is clearly an important logistical priority, and there are tradeoffs in any relationship, but no policy goal is well served by sacrificing core values or downplaying strategic strengths.
On September 27, a group of 20 human rights organizations, including Freedom House, made an urgent appeal to Secretary Clinton, expressing concern about U.S. policy toward Uzbekistan. The letter focused particularly on a bill that would allow the U.S. government to waive existing restrictions on the provision of taxpayer-funded military assistance to the Uzbek government. The restrictions have been in place since 2004 because of Uzbekistan's abysmal human rights record. The September message noted that the Uzbek government was not the only audience for such policy moves: "The Uzbek people are also watching closely."
At the time of the letter, Freedom House and the other signatories were not yet aware of Secretary Clinton's planned visit in October. Nor did we know that President Obama would call Uzbek president Islam Karimov on September 28, the 20th anniversary of his country's independence, to convey the "gratitude of the United States government for Uzbekistan's support in tackling the Afghan crisis." It was known, however, that Uzbek foreign minister Elyor Ganiyev was coming to Washington on September 28–29 to discuss, as Clinton put it, "matters of importance between our two nations."
This sort of high-level attention—with phone calls and visits involving the top representatives of the U.S. government—sends a troubling signal to elites, citizens, and beleaguered civil society activists, not only in Uzbekistan, but also in other authoritarian countries and in states that are teetering between democratic and authoritarian trajectories. To make matters worse, the courtship was not accompanied by basic steps like informing human rights groups of the planned secretarial visit early on, and soliciting their views on how to extract concessions from the Uzbek regime.
At the October 22 briefing, the State Department official was also asked whether Karimov had "forgiven" the United States for its criticism in the wake of the May 2005 Andijon massacre, in which Uzbek security forces opened fire on a civilian gathering and killed several hundred people, according to most accounts. At the time, the Uzbek regime had responded to the criticism by curtailing U.S. access to an important military air base at Karshi-Khanabad. After an internal debate, the United States reportedly joined Russia in helping to block an international probe into the massacre.
Such soft-pedaling yielded questionable rewards for the United States over the next six years, and came at a great cost to the Uzbek people. Since 2005, the human rights situation has only gotten worse. Uzbekistan has easily retained its place on Freedom House's "Worst of the Worst" list, which features countries that earn the worst possible ratings for political rights and civil liberties in the annual Freedom in the World report.
Sending the secretary of state to meet with a dictator like Karimov conveys legitimacy on a repressive regime. Doing so without first requiring positive steps toward addressing systemic human rights abuses is atrocious. Moreover, as the past year has reminded us, propping up dictators with the goal of preserving stability and security often has the opposite effect.
It is true that Clinton publicly called for greater political freedom and full rights for women and religious and ethnic minorities. But her remarks were censored by the Uzbek media and went unheard within the country. Uzbek human rights activists (and others) were left with the impression that the United States cares more about deepening its relationship with Karimov than about improving human rights conditions for the people of Uzbekistan.
Short-term security needs cannot be ignored, and avoiding all contact with repressive regimes is not a foolproof strategy. However, there should be some ground rules for any U.S. decision to upgrade bilateral relations with a recalcitrant authoritarian state like Uzbekistan:
The U.S. government should use its substantial leverage to require that the repressive regime take several tangible steps toward improving its human rights record, such as releasing political prisoners or ending harassment of civil society.
U.S. officials should solicit input from civil society to determine how an upgrade in the bilateral relationship will be received.
Once a decision to visit a repressive country is made, the U.S. principal should be sure to meet with civil society, independent journalists, and ordinary citizens.
The U.S. government should ensure that the message of its enduring support for the people of the country and their fundamental freedoms is disseminated and not subjected censorship.
Any visit should be followed up with a jointly announced, high-level dialogue on human rights issues.
History has shown that when the United States fails to include promotion of human rights as a part of the policy balance, it tarnishes its image as the global standard-bearer for democracy—a priceless strategic asset. Without the active support of democratic allies and citizens of repressive states who aspire to democracy, the United States will find itself unable to address future geopolitical challenges.
Susan Corke, Director for Eurasia Programs, Freedom at Issue