Ferghana Valley enclaves become zones of risk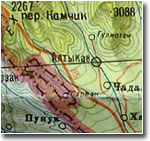 Photos by © A.Volosevich (Ferghana.Ru)
When Central Asia was divided into sovereign states, the process generated numerous enclaves - territories that belong to one republic but are located in another. There are Uzbek enclaves Sokh and Shakhimardan in Kyrgyzstan. There is a foreign enclave in Uzbekistan too. Tajik enclave Sarvak is located in the Pap district of the Namangan region.
The enclave is named after the village of Sarvak, the only more or less noticeable settlement of the whole enclave and its informal capital with the population amounting to about 150. The state border divided the settlement into two nearly equal parts. One half of the population therefore lives in Uzbekistan and the other in Tajikistan.
In the Soviet Union territorial jurisdiction did not matter much. Importance was attached to it only when the USSR disintegrated. The new countries set up fences along the borders and began slapping heavy fines on trespassers. Residents of distant mountainous settlements that found themselves living in a foreign country were the worst affected by the new state of affairs. When security was upped, they found themselves practically isolated.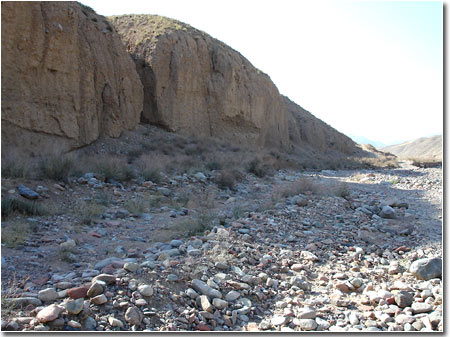 These days, the road from the capital of Uzbekistan to Sarvak is anything but easy. A turn from Tashkent-Kokand highway right into the scorched steppes, on the only road leading to the mountains. An outpost is encountered five kilometers later. Barbed wire, trenches around the barracks, weapons emplacements. Line of defense against the enemy that may come from the Tajik enclave. Soldier wearing a steel helmet and wielding an automatic rifle studied our papers and summoned his superior. Our passports (and even our driver's) were confiscated and the turnpike was raised. We were permitted to enter the border zone.
A couple of kilometers later we reached the mountains, as lifeless as the steppes all around - no trees, no bushes. The sun killed everything on the slopes. Even the river deep down in the gorge dried up. A narrow wooden bridge is the only reminder that there was a river here once.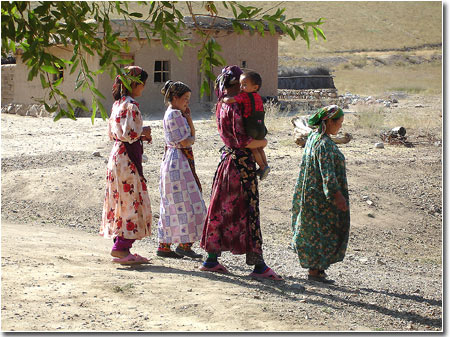 The road disappeared altogether and we proceeded through the rocks along the riverbed. Any car assembled by UzDAEWOOauto would have stuck immediately or disintegrated soon enough. The old GAZ of Soviet vintage is probably the only vehicle capable of negotiating this road, the shortest road between Sarvak and the rest of the world.
The settlement of Sarvak is a green oasis in a mountainous desert. Massive walls of stone along the only street. There must be the state border somewhere here but no signs indicate where it may be. The locals pay no heed, going about their business in all directions this business may take them. It is hardly surprising because they are all relatives here. It has been so ever since establishment of the settlement. Only Uzbeks live here even though half the population has Tajik passports. Passports or not, they identify themselves as Uzbeks. We were told of an episode that happened here once when a commission from Tajikistan came to the local school.
"Children, do you know who our president is?" commission members asked."
"Islam Karimov," was the reply.
"Wrong. Emomali Rakhmonov is the president. Shall we try again? Who is the president?
"Islam Karimov."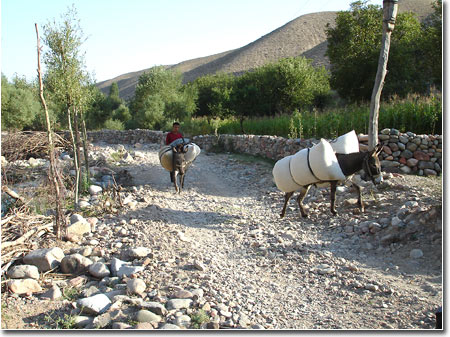 Residents of the settlement first encountered problems several years ago when an outpost was established nearby in the wake of the Batken events. When terrorist acts took place in Tashkent last year, the authorities closed the direct road from the settlement to the highway as though the settlement posed any threat to the rest of Uzbekistan. Needless to say, security considerations were referred to. In short, the settlement found itself in isolation.
Population of the Uzbek part of the settlement is now compelled to take a roundabout way to the highway (15 or so kilometers long). As for residents of the Tajik part, border guards keep them in. Before going anywhere, first they are supposed to travel to the customs post 35 kilometers away and have their passports stamped. To visit relatives in the settlement of Rezaksai 3 kilometers away, they are forced to travel 70 kilometers first.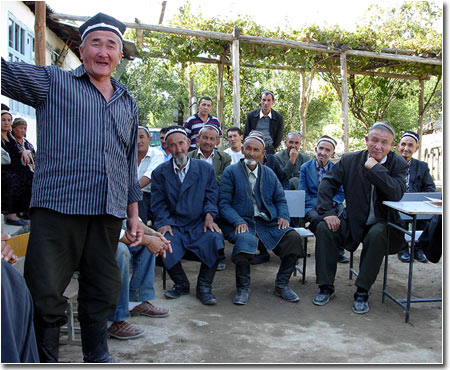 Residents of the settlement assembled in front of the school to talk to us of their problems. They said that life was hard now. They have cattle, they cultivate walnuts, fruits, and beans for sale. Marketplaces where all of that may be sold are located in Pap, Chadak, and Kokand. The nearest is 20 kilometers away but the road to it runs across the Uzbek state border. Impromptu marketplaces were nearby only recently (3 kilometers to the Tashkent highway, right over the mountain there), but now they are practically out of reach - particularly for the locals with Tajik passports. There are problems with pastures as well because the territory of Uzbekistan begins bare meters from here. Whenever a cow or a ram belonging to a citizen of Tajikistan wanders over there, a border scandal follows. But cows and rams do not care about state borders.
"It's difficult indeed," a local said. "Cows or rams end up somewhere and we are told that this is Uzbek land. We are all Uzbeks here, not a single Tajik is to be found. We were born here, our parents died here. We've been living here for over a century. We do not know what to do now. We are supposed to pay fines for the cattle. Rams are confiscated, money is demanded for grazing..."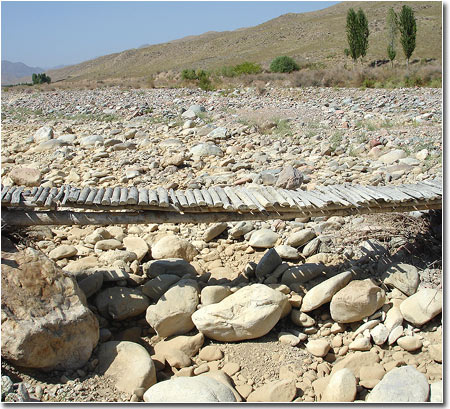 "The problem is this," Abduvakhid Sanzharov said. "There were explosions in Tashkent last year. Border guards command here was replaced, and the road was closed. It is closed for everyone, on foot or driving... Uzbek citizens are compelled to pass through the outpost. And the border guards here, they may let people pass or they may not. Depending on a whim, you know. Citizens of Tajikistan, on the other hand, are only supposed to go through the outpost in Sadokat 35 kilometers from here. Whoever does not have a special custom stamp in the passport is arrested. There is no way out of here - soldiers man the paths day and night. Before the road was closed, our relations with the police and border guards were quite warm. We have never had any drug addicts or terrorists over here, no cargoes were shipped or anything. And yet, the authorities ordered the road closed as though we were guilty of something. People say that they'd rather be arrested because very many here have parents living in Kokand and Khanabad. That is why people, even women, are forced to cross the mountains after dark, when snow covers everything. But border guards intercept them all the same. We do not object to border guards but let them set up a post here to check people and release them..."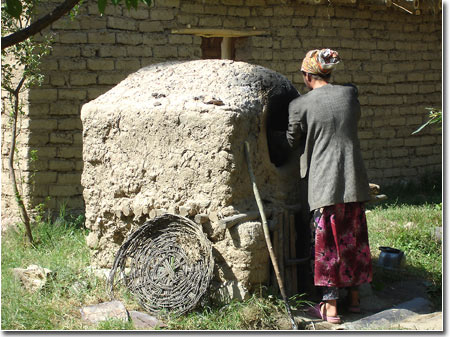 "We are one people, citizens of Tajikistan and citizens of Uzbekistan," another local said, "and we cannot go anywhere. We all have relatives living nearby, but we cannot attend funerals or weddings. Rekzasai is close by, barely 3 kilometers away. Many men found wives there, there are lots of relatives over there, but we cannot go them and they cannot come to us because the road is closed."
Kholmurod Kuralov is 89. He has eight children, four of them in Kokand and four in the Pap district. Kuralov himself is a citizen of Uzbekistan but he cannot visit his children because border guards do not permit it for some reason.
"They say that we of Sarvak are not supposed to go anywhere," someone said. "Everything was all right before last year when the road was closed. As soon as we set out for some place, we are detained and taken to the Pap District Directorate of Internal Affairs. Or border guards detain us and turn over to the police. And policemen charge us calling it fines..."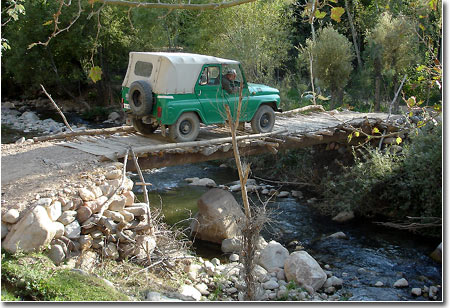 Mukarram Madaliyeva has two brothers in Kokand. She has a sick mother (she is 80), and one of the brothers once came to see her. On his way back the brother was detained and forced to pay a fine (20,000 sums).
"They even arrest women!" a local said.
Another woman says that she went to Rekzasai to sell apples. Three border guards detained her and turned her over to the police. The woman, a citizen of Uzbekistan, spent some time under arrest.
One Jigitali has his own story to tell. He said that several border guards had come over to check papers once. Jigitali himself was not in, and the border guards arrested his two sons. A citizen of Tajikistan, Jigitali lives on what is supposed to be Tajik land. Border guards did not care. "This is our land," they said. Jigitali's sons were taken to the Pap District Directorate of Internal Affairs and locked up for two days.
The conversation is over. Good-byes are exchanged when a man with a notebook approaches us. He never said a word during the meeting, only listened.
"May I have your names please?" he said.
"A squealer," the locals say and elbow the man aside. We climb into the car and drive away.
"Why call the man a squealer?" - "There are several of them over here. When somebody speaks up, they immediately report it to the outpost commander."
The villagers use the Russian term for "squealer".
The school left behind, the car crosses a small bridge. "That's Uzbekistan," we are told. The hospitable locals forgot to mention that the school was located on the territory of Tajikistan. There are no signs or anything to indicate existence of the state border.
Several kilometers from the settlement we encountered a tiny oasis right on the precipice. This is a practically bona fide forest above what used to be a river. Hundred or perhaps even thousands of poplars create a grove. Nearby are several small houses among flowers and fruit trees, summerhouses with grapes climbing the walls. It is not a village as such. It is a separate settlement where a large family of 15 lives.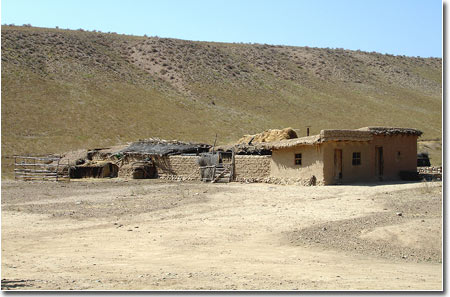 Mirzoboi Nuriddinov with his children settled here over a dozen years ago. He planted poplars, pomegranates, and flowers and transformed the area into a tiny paradise where scorching heat gives way to coolness. The Nuriddinovs were all right before border guards appeared. Relations with them, fine at first, soured.
"Outpost commanders are not to be blamed. They are changed too frequently for that," a Nuriddinov said. "At first, border guards let everyone pass without molesting but began demanding bribes soon enough. Moreover, they feel free to come over here whenever they feel like it. Outpost commander comes over and says, "Lay the table for me and my guests." It's all right by the laws of hospitality, but they behave like they are the masters and treat us like slaves."
Unwelcome guests turned up here two months ago - Outpost Commander Senior Lieutenant Abdumazhid Ollobergoyev, Colonel Sheraliyev of the Namangan District Directorate of Internal Affairs, and others (eleven men in all). The host laid the table. The guests ate what was served and arrested two brothers of the host's daughter-in-law visiting with the Nuriddinovs. The girl was from the Tajik part of Sarvak not far from here.
"Your daughter-in-law is a citizen of Tajikistan. You'll have to answer for it," the guests told the flabbergasted host. "We are taking her with us." The daughter-in-law had a child, and the guests were finally persuaded not to arrest the girl. Her two brothers, however, were taken to the Pap District Directorate of Internal Affairs.
The following day Gairat, the son, got 30,000 sums ($30) and travelled to Pap with the neighbor by name of Emomali to try and talk his wife's brothers from trouble. He himself was arrested and told to pay 40,000 sums. Gairat did not have the money and was locked up together with Emomali. Gairat and Emomali were released at 11 p.m. Gairat was told to bring 40,000 sums for permitting citizens of Tajikistan in his house. His wife's brothers themselves were told that they would have to pay about 1 million sums.
Getting from Pap back home in the evening is impossible. Gairat returned home in the morning to be told that his father had died that night. When Gairat had not turned up in the evening, Mirzoboi grew nervous. He understood that more money was needed and set out for Sarvak where his elder son lived. Mirzoboi died of a heart attack en route. His death scared the police and all arrestees were released...
P.S. We discovered on return to Tashkent that residents of Sarvak had been interrogated. The Pap District Directorate of Internal Affairs wanted to know what Ferghana.Ru correspondents were doing in the settlement. Whoever had spoken up against the authorities, police, or border guards was promised serious trouble.