Political Prisoner by Uzbek poet Rauf Parfi published in Kyrgyzstan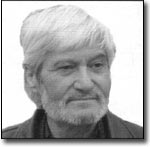 Rauf Parfi died on March 28, 2005. He compiled this book of poems and mailed it to his friends several days before the death - in the hope that the poems turned down by publishers in Uzbekistan would be accepted elsewhere.
The book was published a year later. Bilgeoguz Publishers had Political Prisoner printed in the town of Kant, Kyrgyzstan, in January 2006.
The book of poems is dedicated to three Uzbeks: poet Emin Usman who died behind the bars, poet and writer Mamadali Mahmud who is in prison even now, and poet in exile Muhammad Salikh.
"This is also a book about Abdurauf Parfi, the free but bleeding voice of Uzbekistan whose sons are wandering Russia and Kazakhstan to sustain their families unless they are jailed, whose women sell their bodies abroad unless they sell their children out of impoverishment, whose old women are looking for an odd job at bazaars unless they were already killed by truncheons and bullets," the preface stated.
The book was edited by Pakhlavan Sodik and Abdulkarim Bakhriddin, the preface written by Amdulkhamid Ismoil.