British cellist Matthew Barley performed in Tashkent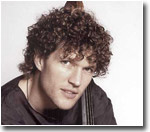 Matthew Barley's concerto at the State Conservatory of Uzbekistan in Tashkent on February 4 included improvisations that demonstrated avant garde capacities of the traditional instrument and Bach's Suite No 1 where the cello sounded the way it had sounded in the great composer's time.
According to Barley, reconstruction of the technique of sound ("when Bach's cello spoke the human language") was based on lengthy studies of the history of music and on his own artistic intuition.
The concerto became a culmination of the first visit to Uzbekistan where prominent performer and founder of ensemble Between The Notes also gave lectures at the Conservatory, Khamza College of Music, Glier Lyceum, and Uspensky School.
Barley initiated a joint program with Uzbek musicians including ensemble Omnibus, folk singers, and alternative performers. Promoted under the aegis of the British Council, the program will be presented to general public in Tashkent and Samarkand in late March 2006.