Four Central Asian directors pool efforts in a documentary on unwed mothers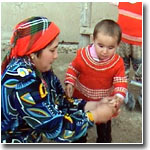 A DOCUMENTARY ON UNWED MOTHERS SHOT IN UZBEKISTAN
Alexander Nikolayev, a prominent film director, completed his new documentary "The House I Was Born In" in Tashkent. His documentary became a part of a project depicting life of women in Central Asia. Financed by the Kazakh division of the Soros Foundation, the project includes four documentaries by directors from four countries of the region (Kazakhstan, Kyrgyzstan, Tajikistan, and Uzbekistan). The work on the other three documentaries is over as well. Presentation of the project is expected in Alma-Ata in the nearest future.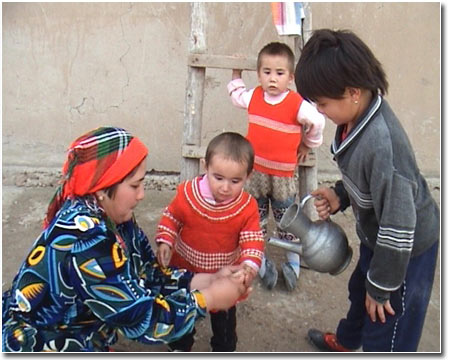 Galija Tushkina, an Alma-Ata film director and journalist, perceived the project as a dedication to the mothers raising two and more children on their own. She called it a "picture of everyday life, something dwelling on social, political, and gender aspects of life of women in Central Asia."
"Each of the four documentaries depicts one day in life of a Central Asian woman raising children all on her own," Tushkina said. "Every one of these countries is building a democracy after its own manner, and their futures depend on the children women are raising nowadays. All too frequently, however, women raise children entirely on their own. Concentrating on the problem of earning their daily bread, the mothers lack the strength and the time to bring up their children properly. As a result, these children are deprived of their childhood. We all tried to show realities of life as seen through the eyes of women and children."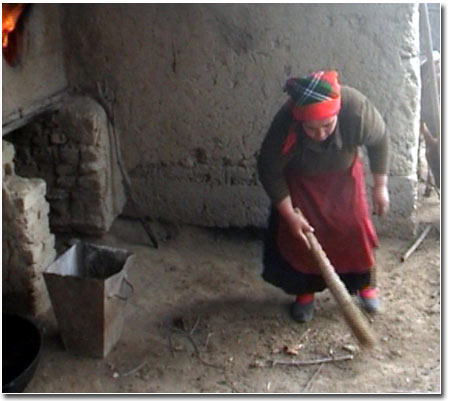 Tushkina believes that stories of these women who do not know one another but face similar problems convey a true picture of everyday life in Central Asian countries.
At first, the project was conceived as a single hour-long documentary consisting of four novels. That is probably what it will be like. All four novels, each under its own title, will be put one after another on one tape and made available to Central Asian TV channels for non-commercial broadcasting. The novels, similar as they may look at first sight, are fully fledged self-contained stories that are not going to lose anything even if viewed separately.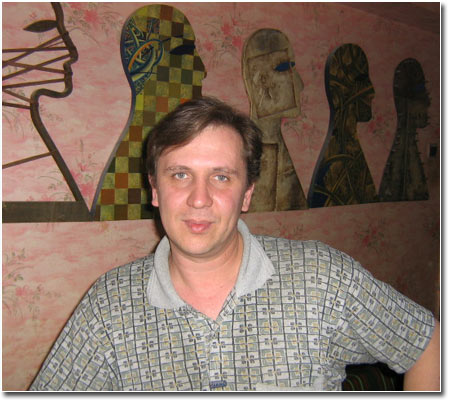 Nikolayev's sixteen-minutes long "The House I Was Born In" does not exceed the boundaries of the general concept but only formally so. The director and his colleague and translator Faizulla Akhmadaliyev visited a widow by name of Shakhnoza, the mother of three. Her house is located in the settlement of Burgalik 35 kilometers from Tashkent. Shakhnoza runs a self-sufficient household and appears to have nothing to complain of.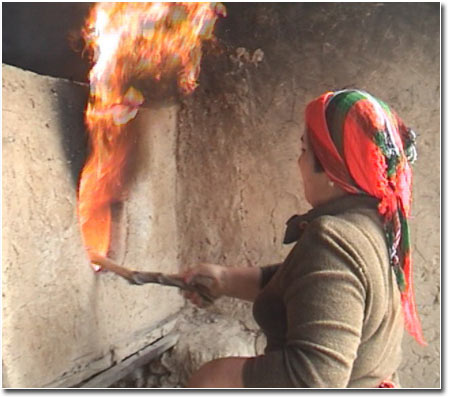 The audience will see the woman cleaning the house and the yard before baking bread. She kneads dough and lights the fire in the tandyr [a clay oven]... with children hovering nearby, waiting for hot bread. Eventually everyone sits down to tea with cakes.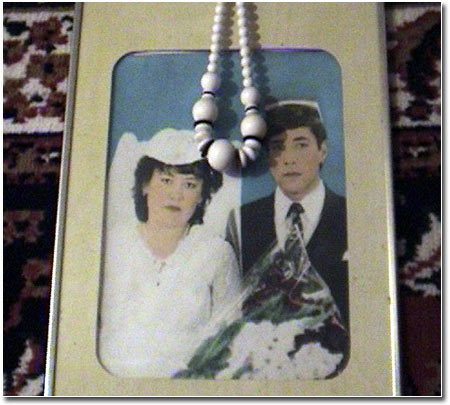 TV set in the corner is tuned to Akhborot, a local news program. With it murmuring quietly about the latest economic and social achievements of the Uzbek people in the background, Shakhnoza tells the story of her life. Asked what she wants in life, she replies that now that she is alone, she only wants to raise her children and that is that.
Shakhnoza looks 35. It seems that she has recovered from the loss of the husband, that she lacks nothing, and is perhaps even happy. This impression is shattered, however, when closer to the end of the interview she admits that she is only 23.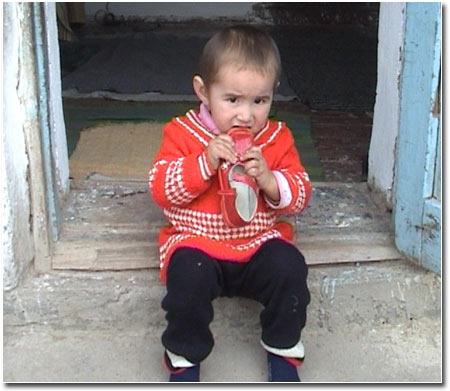 "I wanted something more than making just another documentary. I wanted every shot to have an additional context, just like in a painting," Nikolayev admitted. "Shakhnoza's life is depicted against the background of four elements. She sweeps the yard as though dealing with earth - cleaning and preparing it for the baking of cakes that are a symbol of the sun and prosperity in Uzbekistan. She lights the fire as though communicating with it. She sprinkles the raw cakes with water. As for air - it is conveyed by the sky with which the documentary begins..."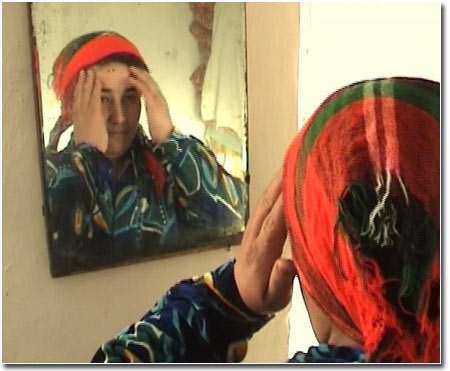 "I did not mean to make a thoroughly social or political film. I did not mean to tell the story of a hapless Uzbek woman whose life is hard and so on - as a message that life is hard for everyone here. No. Authors of the project may have tried to accomplish something like that but not I," Nikolayev continued. "That's probably what Uzbek mentality boils down to: no matter how bad everything may be at this point, everything will turn out right. Uzbeks are optimists. Outwardly, everything may be fine and dandy: there is the household, children, parents, a cow, and so on. All problems are internal... The woman is young, she is only 23. Life goes on. She may get married yet and be happy. She may even want it, subconsciously. And yet, she has given up on herself, and that's what the real tragedy is. She cannot help it because there is the unwritten law of the local community, there is the opinion of neighbors and relatives, and that's a circle she cannot break out of."