A rooster speaking \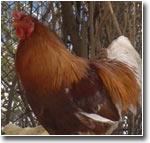 Have you ever heard roosters? Sure you have. Who hasn't? A certain rooster in the Kyrgyz town of Osh, however, is something else. Its crow has already saved it from death. Owner Ibragim Ismatullayev, his neighbors from Tadjikskaya Street in the center of Osh, and local journalists maintain that the rooster is calling Allah.
This correspondent made a trip to Osh to see the wondrous rooster with his own eyes. Recalling numerous con-artists encountered in my career, I was fairly skeptical suspecting bluff or a money-extorting scheme. I even reconciled myself to listening to a speech of a religious fanatic with innumerable theological terms and moralizations. That was how I envisaged the owner of the rooster.
Owners were quite hospitable and did not look like Hizb-ut-Takhrir fanatics to me. Informed of the purpose of my visit, they took me to the hen house. The rooster's crowing left me speechless indeed.
Click on http://news.fergananews.com/archive/petux.mp3 to listen to the audio record made by Ferghana.Ru correspondents in early March 2006. Ferghana.Ru vouches for its authenticity.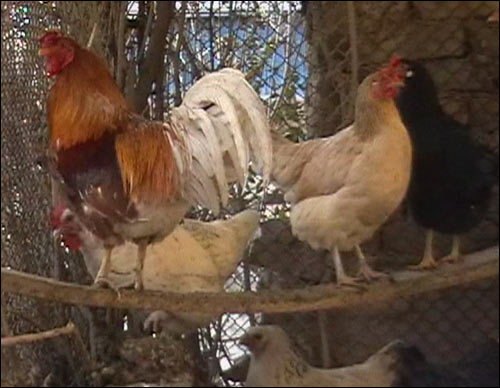 Rooster
"I've had it for two years already," Ibragim Ismatullayev, the owner, said. "It is extremely aggressive, ever trying to attack me or the kids, and so I decided to cook it. I got the rooster by the legs, took it out of the hen house, and put the knife to its neck. It screamed. My son who was by my side (he is 5) said, "Dad. It's saying "Allah, Allah.!" Let him live." I was shocked. I called my mother who listened to the rooster and said, "Let it be, son. It's a blessing on our home."
"I was talking to my daughter when I heard someone say "Allah, Allah!" in a strange voice," Ismatullayev's mother Ajlokhon said. "That was when my son called me. He had been about to cut the rooster's neck. I went outdoors and saw the rooster calling Allah. I'd say that this is Allah's gift to us. Our neighbors think so too."
The "sacred rooster" became the talk of the day in Osh. Ismatullayev is asked to sell the rooster. He was offered $500 for it. Ismatullayev firmly turns down all offers. Neither will his neighbors permit to sell the rooster.
"Upon hearing this rooster, some neighbors of ours turned to God. They pray and attend the mosque now," Ismatullayev said.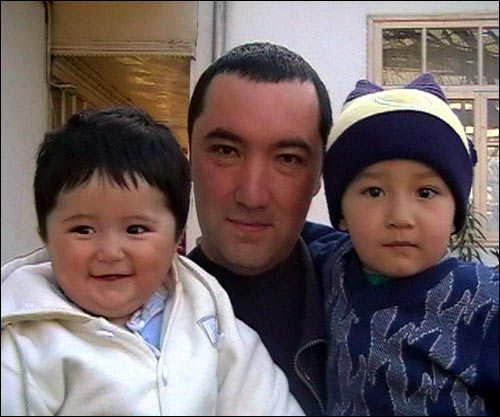 Ibragim Ismatullayev with his children
Ferghana.Ru would welcome comments from theologians and secular scientists.