Uzbekistan is trying to dam the flood of Chinese commodities from Kyrgyzstan. Smugglers would not give in
Control on the state border was tightened in the Qorasuv and Khanabad districts of the Andijan region. The bridge across the Shakhrikhansai, the river between two namesake cities in Uzbekistan and Kyrgyzstan, can only be negotiated on foot. Just a narrow strip, barely sufficient for a pedestrian, was left on the bridge, the rest of its width barred with concrete blocks. Border guards ascribe it to the necessity to dam the flood of low-quality commodities coming to Uzbekistan from the Qorasuv market in Kyrgyzstan.
"The bridge has always been fairly narrow but what they did is really something! I walk here every day on my way to Kyrgyzstan where I sell round cakes," Kholida-apa, a baker from the Uzbek Qorasuv is clearly upset. No more cart or auto traffic across the river now. Whatever has to be taken to the other bank has to be carried. The bridge is already closed by 7 p.m. but that does not stop vendors who ferry whatever they have to with the help of cords and cables spanning the river.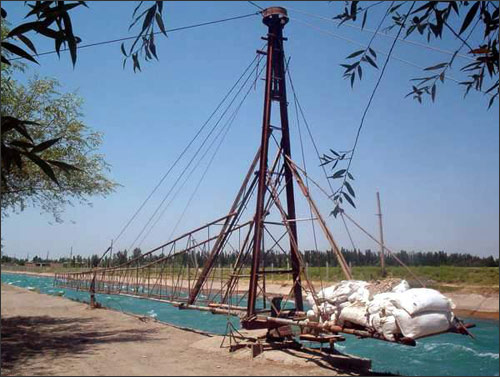 Cables across the river. Photo by Ferghana.Ru news agency, 2000
Kholida-apa says that this is not the first time when the locals use these cables to haul their sacks or whatever across.
"The guards manning the bridge know it. It has been so for years now. Nothing changes," she said.
Uzbek drivers who take consignments from Qorasuv to other cities of the Ferghana Valley and republic (Andijan, Namangan, Tashkent) confirm it.
"I take woman vendors from Qorasuv to Namangan twice a week," cabby Bakhtijorzhon said. "The bulk of shipments does not go down but the problems... new and new ones crop up. These days, vendors hide their goods in the places in Qorasuv that I never even suspected exist. Concrete blocks closed the road leading to Andijan the other day. It took us hours to find a detour."
"We cannot give up," one of Bakhtijorzhon's passengers said. "We've been taking goods to Namangan by this very Lada car for over six years now. And here they come up with blocks... People are compelled to resort to hauling goods across the river by cables all over again. Is there someone who thinks that this road may be closed for good or what? All of the Ferghana Valley lives off it! They'd better do something about our living standards. If they think that sitting in the car all night long makes us happy or something, they'd better think again."
The road from the Ferghana Valley to Tashkent via the Kamchik Pass is watched night and day. Border guards and customs officers operate in teams now, soldiers wielding rapid-fire weapons man checkpoints.
Drivers using this road say that checks are much more rigorous nowadays.
Soldiers hover nearby. Whatever driver is foolish enough to ignore the order to pull over had better have spare tyres in the trunk because soldiers do not hesitate to shoot. Vehicles bound for Tashkent are inspected with particular care.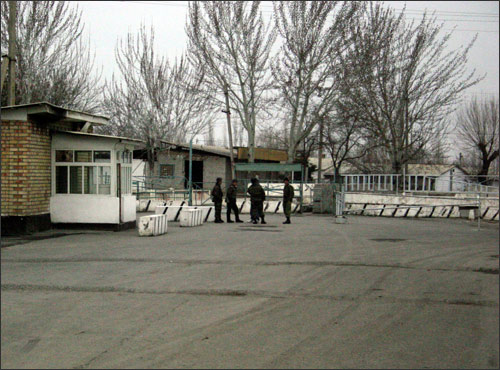 Other bridges across the Shakhrikhansai are closed. Crossing points are closed too but manned. Photo by Ferghana.Ru news agency, March 2006
"The police mounted a major raid two days ago," Kodir-aka, a driver on the Andijan-Tashkent run said. "Everyone bound for Tashkent was detained. All their goods were confiscated, and autos themselves arrested for three days."
"All drivers here earn their daily bread in this manner," driver Anvar-khadzhi said. "They take goods to Tashkent and passengers from it. You cannot earn a lot on passengers alone. Gas is expensive, you know. Besides, there are police posts everywhere and we are compelled to literally bribe our way. But no, they want even more! If the Chinese commodities are to be banned, why don't they see to it that the population has their analogs? They should have make sure of it before making all this noise!"
Practically all drivers call the campaign against low-quality foreign goods just a device to milk the population. Vendors believe that the campaign will wind down in a couple of months.
***
The Qorasuv market in the Osh region is one of the largest in Central Asia (over 15 hectares). Its more than 15,000 vendors are citizens of Kyrgyzstan, Uzbekistan, China, Turkey, and Pakistan. Unofficially, its daily turnover is estimated at $500,000. Nearly 50,000 people from all over Central Asia visit the market every day.