Vyacheslav Useinov: We all are dealing with the reality we do not really understand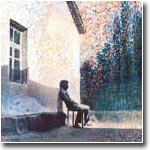 All rights reserved
© V.Useinov
© Ferghana.Ru
Personal exhibition of Vyacheslav Useinov, an artist from Uzbekistan, opened in the Moscow Artistry Center on Krymsky Val, last Friday. Ferghana.Ru approached the artist with questions concerning only one of his paintings, the one known as "Shadow of the Non-Existent House".
Ferghana.Ru: The display includes several paintings but I have some questions concerning one that is not here. As I see it, it may be made a logo of your whole art. Could you please say a few words about this painting?
Vyacheslav Useinov: It took me 11 years to finish the painting. And several dozens names. One of the first variants was "Renat's House".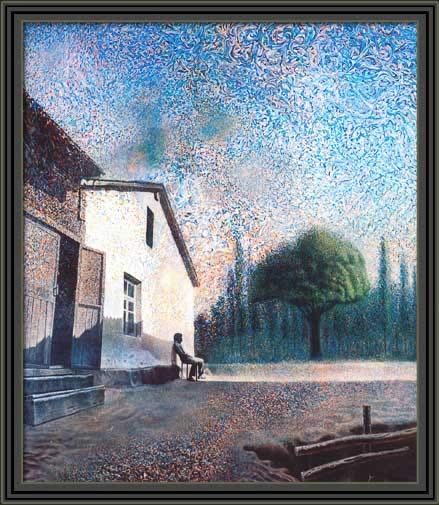 Shadow of the Non-Existent House. V.Useinov. Oil, canvas, 2003
Ferghana.Ru: Do you mean Renat Taziyev?
Vyacheslav Useinov: Yes. Our friend from Ferghana who lives in Canada now. A black and white photo of the building provided the outline. Artist Alisher Khamidov, another our friend, is on the photo too. And as for the photo itself, it was taken by Andrei Kislov, a brilliant photographer and a legend of Ferghana of that period... There is no need to dwell on all variants of the names. What happened in the course of these 11 years is more important. It was an avalanche of events - foreign and domestic, a chain of losses and gains.
I spent all these years working on something I wanted to become an amalgam of the energy of all these feelings. It was a kind of experiment, you know. This energy required work on the painting every day - or it would have been an exercise in scholastics. I added something new to it every day. I do not mean physical brushstrokes only. I'm talking about spiritual concentration and meditation I hope I have conveyed.
"Shadow of the Non-Existent House" is a blend of feelings of many and many insecure people. To some extent, Earth reminds me of the shadow cast by a non-existent house. As a matter of fact, this "globalization" began with a trifle. Renat's house was demolished when I only began work on the painting. When I was painting the shadow of the house, the house itself no longer existed. Time itself prompted the name.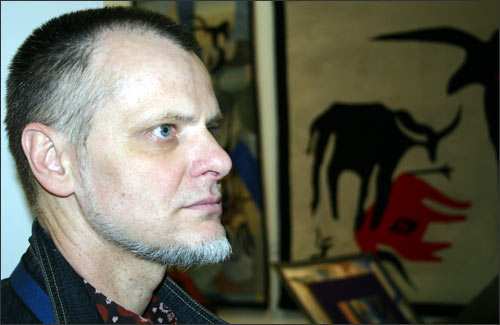 V.Useinov
Ferghana.Ru: What do you think of Buddhism and its views?
Vyacheslav Useinov: Discussion of these matters takes a specialist, and I'm not one. I can only surmise. What I know for a fact is that I feel affinity with the artists whose paintings had a profound effect on me. I'm talking first and foremost about Lev Sergeevich Snegirev who lived in Ferghana. I'm also talking about poet and philosopher Shamshad Abdullayev. I'd even say that the painting in question owes its existence to Abdullayev.
The painting encloses feelings and perception of these feelings. That's an attempt to perceive the ability to drift in the given direction without being fully aware of the destination and without the understanding whether the drift as such is possible in the first place. Perhaps, the Buddhist aphorism expresses it better albeit in a somewhat different manner: he who does not know where it is that he is going goes the farthest.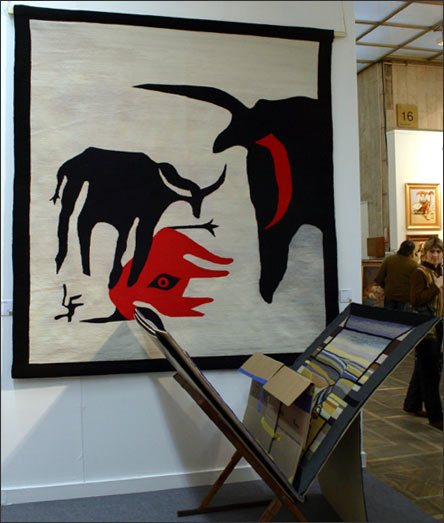 Ferghana.Ru: What are these elements that are absent from the original photo? All these labyrinths of lines, smears, ornaments that resemble you patchworks and texture of a tapestry?
Vyacheslav Useinov: As I see it, we all are dealing with the reality we do not really understand. That is why we fell compelled to repeat the attempts, perhaps futile attempts, to decipher the essence of this reality, grasping everything only through long periods of time. One may take an hour, a day, or a year to paint something but concentration of reality itself in the painting requires this daily work, this understanding of changeability and simultaneously unchangeability of the form, the light, the color. I hope I managed to convey it. It is these simple and tiny pieces and fragments that imbue the whole with some unusual features. That is why "Shadow of the Non-Existent House" is like pain of the people of the country that is no more, futility of wishing for what no longer exists, and the clarity that sets us free, that is beyond and above us, and that is longer than time itself.