Imam Muhammadrafik Kamalov: Wrong policy of separation of the state from religion is pursued in Central Asia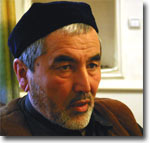 Muhammadrafik-kori Kamalov is one of most prominent religious leaders of Kyrgyzstan and imam of the mosque in Qorasuv for over 22 years. The mosque in question is one of the largest in Kyrgyzstan - 6,000 believers simultaneously pray there Fridays. Imam Kamalov is a relative of two other religious leaders. One of them, Muhammadi-kori, fell victim of the Uzbek authorities. The other, Abduvali-kori, disappeared without a trace from Tashkent airport en route to an international Islamic conference several years ago.
Uzbek TV channels branded Abduvali-kori as the leader of the Wahhabi and terrorists allegedly responsible for the massacre in Andizhan on May 13, 2005. Defendants in some trials that followed the tragic events called Abduvali-kori their leader.
Publishers in Saudi Arabia (the only one in the world that puts out the holy Koran) published volume one of "Constructions of the Koran" by Abduvali-kori Mirzoyev not long ago.
Ferghana.Ru: Reverend Muhammadrafik-kori, it is known that Abduvali-kori disappeared without a trace ten years ago but volume one of his "Constructions of the Koran" was published in Saudi Arabia this year. How could that happen? A person disappeared a decade ago, but a book by him appears in print abroad now...
Muhammadrafik-kori: The book is based on the texts of Abduvali-kori's Friday prayers. The publishers of the Holy Koran is located in Medina, Saudi Arabia. The Ulem Council (ulem is a religious scientist or theologian) operates there. Rakhmatullo-kori, an Uzbek by origin, is a member of the Ulem Council. Rakhmatullo-kori was born and grew up in Saudi Arabia. One of the disciples of Abduvali-kori, Rakhmatullo-kori collected the texts of his Friday prayers. They were recorded in Uzbekistan for him and mailed to Saudi Arabia. The Ulem Council accepted the suggestion to have them in print. The first volume of the "Constructions" was printed in the Uzbek language. This is a best-seller already. Uzbeks in America and Europe are reading it... With the permission from Abduvali-kori's family, the second edition of the first volume is being prepared in Turkey. Why is it such a success? Because Abduvali-kori constructed the Koran the way it should be constructed. He was not trying to please the Uzbek authorities or any political forces.
Ferghana.Ru: Uzbek TV ran broadcasts from courtrooms not long ago. The defendants, participants of the events in Andizhan, confessed that they had decided to become terrorists upon listening to the tapes of Abduvali-kori's sermons. In fact, they even called Abduvali-kori spiritual leader of all terrorists in Uzbekistan. Any comments?
Muhammadrafik-kori: Being Abduvali-kori's family, we do not judge these people. Everyone in their shoes would confess anything, because all trials of believers in Uzbekistan follow one and the same set scenario. Every defendant is supposed to confess and express gratitude to the President of Uzbekistan who "has helped them see the light and finally put them on the correct track." The whole world knows how they are forced to confess. These people do so for the sake of their families. We all know it.
Ferghana.Ru: An active war on Hizb-ut-Takhrir, Wahhabi, and Akromija has been under way in Uzbekistan for years. The Uzbek authorities proclaimed several prominent theologians leaders of these movements. That includes Abduvali-kori who disappeared without a trace several years ago and Muhammadi-kori, another theologian from the Ferghana Valley, who died in jail. Why do you think the Uzbek authorities are afraid of these men even now?
Muhammadrafik-kori: Abduvali-kori was an integral theologian. All Moslem theologians throughout the world knew him as such. Prophet Mohammad (peace be upon Him) used to say, "Theologians are emissaries of Allah in the world. They must convey the law of God to the people honestly and without distortion." Abduvali-kori was true to this maxim. Muhammadi-kori was convicted on four occasions. The fourth court sentenced him to three years imprisonment. He died in jail a year later. When Muhammadi-kori was arrested for the fourth time, the police allegedly found opium (500 gr) and munitions (7 rounds) in the trunk of his car. I wouldn't say that men of God have ever been exposed to such vile lies or dirty tricks - not even in the worst periods of history. The authorities fear these men even now because Abduvali-kori and Muhammadi-kori have never gone against Allah, because they wouldn't interpret the Koran and the words of the Prophet in the light of the policy of the Uzbek authorities... and this is precisely what the authorities wanted from them. The policy pursued in Uzbekistan nowadays tolerates no dissent, particularly religious dissent. Abduvali-kori and Muhammadi-kori never belonged to Hizb-ut-Takhrir, Wahhabi, or Akromija. Everybody knows it - literally everybody from theologians to security structures to Uzbek leaders. Had the latter in their time heeded Abduvali-kori's words, they'd have averted mass proliferation and popularization of Hizb-ut-Takhrir's ideology in Central Asia.
Ferghana.Ru: Reverend Muhammadrafik-kori, it is common knowledge that Abduvali-kori went to Tashkent airport to catch his flight to London. Nobody has ever seen him again. Practically everybody in Central Asia knows it, but what happened afterwards is practically unknown. Has a search for him been mounted? What did the authorities say?
Muhammadrafik-kori: He cleared the customs but never boarded his flight. When Abduvali-kori's family appealed to the authorities, security structures' reply was shocking. "We do not know what happened to him. Snatched by racketeers, perhaps?" they said. What kind of state is it when it cannot protect a man in the boarding zone of an international airport? How could these racketeers clear the customs and security and smuggle a person out? Who will believe these tall tales? We only know one thing. We know that Abduvali-kori was arrested, and we will prove it one day. We need time.
Ferghana.Ru: Did the family try to do something about it?
Muhammadrafik-kori: Abduvali-kori's family filed a lawsuit against the Interior Ministry of Uzbekistan. The then Interior Minister Zakir Almatov had Abduvali-kori's son brought to him and said, "I swear on the health and lives of my four children that neither I nor this organization are involved in your father's disappearance. You father came to the help of the Uzbek state, to my help, and to the help of many others in security structures when it was needed. It happened in Namangan in the early 1990's when Takhir Yuldashev's men seized the Namangan regional administration. Your father set up negotiations with Yuldashev and had the building liberated without any terms to be met several hours later. He saved my career. He saved the powers-that-be." These were the words of ex-Interior Minister Zakirov. I believe him because Abduvali-kori's son said Zakirov was sincere and telling the truth. Some other structures are apparently involved in the matter. Besides, Abduvali-kori was envied by other theologians. Collaborators with the regime, they could never hope to command the respect he commanded. Envy is the worst possible trait. An envious person would balk at nothing.
Ferghana.Ru: The last question then, something that does not bear a direct relation to what we are talking about. May 13 is the first anniversary of the events in Andizhan. Any comments on them a year later?
Muhammadrafik-kori: A wrong policy of separation of the state from religion is pursued in Central Asia. I reckon that even politicians themselves understand it but lack the political will to acknowledge it in public. Eighty per cent of the population of Central Asia are Moslems. That the most faithful live in Central Asia has always been known. It is the policy of separation of the state from religion that provokes all sorts of radical religious trends because fundamental Islam and its followers are beyond politics. They lack the administrative or financial resource to withstand radicalism, you know. Second, religious leaders are under pressure and surveillance and that precludes the teaching of pure Islam. They are forced to adapt their prayers to the policy pursued by the state. It cannot help irking Moslems, and dissatisfaction always plays into the hands of radical teachings.