Human rights activist Tolib Yakubov and a colleague of his left Uzbekistan for Alma-Ata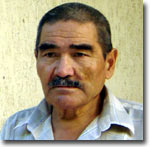 Tolib Yakubov. Ferghana.Ru photo
Tolib Yakubov, one of the best known Uzbek human rights activists and chairman of the semi-legal Society for Human Rights, and Abdujalil Boimatov of the Society Secretariat are currently in Alma-Ata, Kazakhstan.
The human rights activists illegally crossed the Uzbek-Kazakh border on July 31 and made it to Alma-Ata the following day where they approached the Kazakh International Bureau for Human Rights and Law. The French embassy immediately provided Yakubov with a visa and a plane ticket with an open date. The human rights activist intended to depart Kazakhstan in the nearest future, as soon as his colleague's passport previously forwarded to the Embassy of Ireland in Moscow was mailed to the Embassy of Great Britain in Kazakhstan. Once it was done, Boimatov could attend six-month training courses in Ireland.
A police patrol detained both human rights activists near their rented apartment in Alma-Ata on August 3. Yakubov had his ID on him and therefore was released after five-hour long interrogation. Boimatov was sent to a provisional detention center.
An appeal to the mission of the UN Supreme Commissar for Refugees in Alma-Ata secured Yakubov the status of an asylum-seeker. His colleague and he were told that official certificates would be issued at a later date. The certificates are currently at the mission which appealed to the Foreign Ministry of Kazakhstan not to extradite the human rights activist to the Uzbek authorities. According to some reports, Yakubov's name is on the list of criminals wanted in Uzbekistan.
Established in 1996, the Uzbek Society for Human Rights promptly became known as the most respectable structure in all of the republican human rights community. Its activists numbering several hundred used to work in 12 regions of Uzbekistan. Representatives of the organization attended meetings of OSCE and UN committees for human rights, always presenting alternative reports on the state of affairs in Uzbekistan. Putting the Society for Human Rights under pressure only sporadically at first, the authorities launched a deliberate campaign against it in the wake of the tragedy in Andijan. Seven activists of the organization were tried and imprisoned on invented charges.
Criminal charges were pressed against Yakubov himself who was accused of having publicly insulted two women who had fomented a fight with an activist of some other human rights organization. The police turned up at the doors of Yakubov's apartment on July 16 but he wouldn't open it. Yakubov stayed at his friends' and acquaintances' after that and eventually left Uzbekistan.
As for Boimatov, he received summons to the court on July 15 without any explanations as to in what capacity he was expected. Fearing arrest and conviction, Boimatov opted to leave Uzbekistan with Yakubov with only a photocopy of his passport on him.
Yakubov fears that pressure may be applied to his family and colleagues now. He is therefore contemplating suspension of the activities of the Society for Human Rights. Yakubov is stone-cold confident nevertheless that "the time of Karimov's regime is running out in any case." He will remain in Alma-Ata for as long as it takes to make sure that Boimatov is released and safe.
This is not the first time Uzbek human rights activists flee into the "buffer zone" that is Kazakhstan. Larisa Konakova left Tashkent last year to become a political immigrant in the Netherlands. Lutfullo Shamsudinov, chairman of the Andijan branch of the Independent Organization for Human Rights, escaped Uzbekistan for the United States via Kazakhstan too.