Uzbek community in the Astrakhan region - a safety cushion for newcomers from Uzbekistan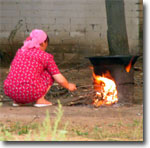 This is the first publication in the new series dedicated to the life of Central Asian communities in Russia. Our studies indicate existence of a great deal of Uzbek communities throughout Russia. Here is a story of the community in Astrakhan
***
Astrakhan is a multi-ethnic region. Russians, Tatars, Nogais, Kazakhs, Kalmyks, Turkmens, Dagestanis (including Avars, Lezgins, and so on), Uzbeks, Tajiks, Germans, and others have lived here since time out of mind. The 2006 roster of regional associations of ethnic culture with the official status includes 28 communities - discounting local ethnic-cultural societies and autonomies.
One such community registered by the regional administration in April 1996 is officially known as the Astrakhan Regional Public Organization of Uzbek Culture Uzbekiston. Its leader Bahodir Ruzmetovich Aminov recalls that the idea to establish an organization like that occurred to him in 1993 when interest in ethnic cultures first revived in Astrakhan. Local TV-stations regularly ran programs on local ethnic groups and their ways and traditions.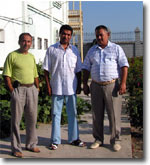 B.Aminov. Ferghana.Ru photo
Aminov himself was born in Khorezm. He finished a teacher-training college there. He has lived in Astrakhan since 1985. Aminov's family lives in Uzbekistan: the mother and the daughter from the first marriage in Khorezm, the sister with her family in Tashkent. The son and other children are in Astrakhan with their father.
Deciding once that it was time Astrakhan was acquainted with the Uzbek culture, history, traditions, and music, Aminov ran the idea of an ethnic community by his friends. Three years passed before the community was finally registered. It happened in 1996.
Uzbekiston has never been idle. Its leaders regularly appear on TV screens. They even approach the municipal and regional administrations with some ideas. The idea to celebrate the Navruz occurred to them in 1997. The Navruz had never been celebrated in the Soviet Union, not even informally. The first post-Soviet Navruz in Astrakhan was celebrated at a spa in the environs. About 500 guests were invited - representatives of the Uzbek diaspora, administration, other ethnic communities, and camera crews. Astrakhan regional administration liked the idea and suggested organization of the Navruz celebrations at the regional level every year.
It may only be added that nobody then really knew how the Navruz should be properly celebrated - with all rites and traditions observed. ("I arranged everything the way I had seen it done in my childhood," Aminov said.) Those present made sumaljak [broth made of couched wheat seeds], invited musicians including a folk ensemble from Khorezm, sang, and danced. The Navruz is always celebrated in the Astrakhan Central Park now. These days, most of the ethnic communities of the region participate in the celebrations. The whole idea later migrated to other Russian regions, by the way. The Uzbek community even organized an exhibition at the local museum of ethnography.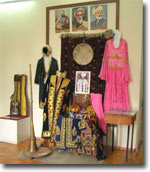 Photo by Ferghana.Ru
What does everyday life of the community and Uzbekiston consist of? Typically of Uzbek communities and organizations elsewhere, a great deal depends on the leader's or leaders' personal energy. Aminov himself is a public figure indeed who sits on a lot of panels and administrative structures. He is a member of the gubernatorial Consultative Council and the Municipal Public House (that's a panel for cultural development). His son is a member of the commission for public order. Not to mention the formal status, all of that presents Aminov with certain opportunities where he can exert influence or pull strings informally.
Knowing the miserable position of labor immigrants from Uzbekistan, Aminov uses his contacts and pulls all strings he can to amend this state of affairs to at least some extent. Aminov approached the governor and other power structures with suggestions to simplify registration procedures for immigrants. Unfortunately, all his efforts proved futile. For example, Aminov never managed to make an appointment with the chief of the regional directorate of the Federal Service of Registration. "We have lots of ideas we are prepared to suggest, but the chief of the Federal Service of Registration (its local office, of course) is never available," Aminov shrugged. "The powers-that-be do not need it." Indeed, the impression is that all efforts on the part of ethnic communities to raise their voice and speak out in the local media turn out to be as efficient as trying to scream for help from the bottom of a well filled with feathers. "We are trying to help but we do not issue work permits. Had the Federal Service of Registration been willing to listen at least... We approach them only to be turned adrift. Hence all this anarchy. I tried to speak up via media outlets but I cannot expose all pressing problems or offer solutions to them, can I?. Society itself is not perfect... Speak out on what is wrong with it and society will recover much faster. If, however, everything is in the hands of power structures alone... well, they are notoriously infirm in their convictions. I mean that they say one thing today and its absolute opposite tomorrow," Aminov complained. As a matter of fact, the host of the problems immigrants from Uzbekistan are facing is a subject for another discourse...
Uzbekiston is renting an office in the center of Astrakhan. Aminov himself is one of the major sponsors of the organization. Aminov owns a store in Astrakhan. A substantial part of its net profit goes to the community. Sure, other activists raise money too - usually whenever there is an event, a meeting, or a celebration forthcoming.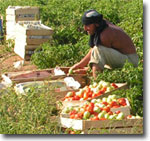 Gastarbeiters from Uzbekistan in the fields around Astrakhan. No week-ends (photo by Ferghana.Ru)
Aminov himself evaluates numerical strength of the Uzbek diaspora in the Astrakhan region at 5,000: these are permanent residents including citizens of the Russian Federation. The figure amounts to 15,000 with illegal immigrants counted in and to 25,000 with seasonal workers. Aminov's estimates differ from the official statistical data. According to the Russian Census (2002), there are only 1,030 Uzbeks in all of the Astrakhan region. Alexander Sergeyevich Stadnyuk, the head of the Department of Ethnic Affairs of the regional administration, estimates the Uzbek diaspora at approximately 2,000. As always, the truth must be somewhere in between.
What are the prospects of the Uzbek diaspora in the region? Will it swell or diminish? Aminov is convinced that only 3-5% of all Uzbeks coming to Astrakhan want to stay and eventually obtain citizenship of the Russian Federation. All the rest do not even think along these lines. Most of the Uzbeks entertain the hope that they will be able to find adequate jobs with an adequate pay at home one fine day. There is another factor that has to be taken into account. Family ties have always been strong in Uzbek society. It is these ties that serve as an additional anchor preventing them from seeking to change citizenship and place of permanent residence nowadays.
The Uzbeks usually come to the Astrakhan region seeking seasonal employment only. Mostly in agriculture and at construction sites. Salaries in agriculture (in actual fields) are particularly low. Working long hours, labor migrants may count on only 3,000-5,000 rubles a month (they do not earn anything worth mentioning on week-ends).
As a matter of fact, labor migration from Uzbekistan began much later than that from, say, Tajikistan. At first, a lot of Uzbeks chose to become hired hands in nearby Kazakhstan and not in Russia. They eventually discovered that salaries and conditions in Kazakhstan were far behind those in Russia. That is why the Uzbeks who seek seasonal work go to Astrakhan nowadays. Experts say that Uzbeks are gradually displacing Tajiks in Astrakhan and Volgograd regional agricultural sectors because the latter seek similar jobs in the Moscow region now. For the time being, Uzbeks choose to put up with low salaries and inadequate conditions.
Uzbek gastarbeiter in Russia: a portrait

Aihan, 27, from Nukus. She aspired for the Russian Language Faculty of the Nukus University once but failed at the exams. Aihan's Russian is, however, quite adequate. She finished the polytechnic college in Nukus. Aihan has 13 brothers and sisters. She married the man who stole her from the family (according to Aihan, theft of brides-to-be is broadly practiced in Karakalpakstan even now). Pregnancy prevented her from making another try at the university.
Here is an illustration, the story of a young woman (27 years) from Nukus this correspondent met in a passenger train from Moscow to Kulyab. The woman (we will call her Aihan) was going home from her first trip to Russia (Kharabala district of the Astrakhan region). Her family and she had always worked in Kazakhstan before that. Her husband, some other relatives, and Aihan earned 27,000 rubles each in six months in Russia. They worked in tomato fields for some Koreans. The Uzbeks were going home content. Conditions had been OK because their employers were treating them properly ("they even took meals with us") and helped with transaction of the salaries paid in cash from the region via Astrakhan to Uzbekistan. Living conditions were all right too: the hired hands built their own shacks (with a separate "room" for Aihan and her husband). Even a shower was available. Aihan said that in Kazakhstan they all had been compelled to spend nights together - men and women...
It is only fit to add here that Aihan was lucky with Korean employers indeed. In fact, Uzbeks are often sold into slavery to Koreans (and not only Koreans at that).
So called shuttle vendors constitute another category of seasonal migrants. They are usually encountered offering their wares in Bolshiye Isady, the largest marketplace in Astrakhan. This latter includes what is colloquially known among the locals as the Uzbek-Bazaar. Vendors there are mostly Uzbeks and usually women. Outwardly, everything is fine and dandy but vendors themselves admit that "this is hell of a job because absolutely every palm within reach has to be greased."
It's next to impossible for an Uzbek lacking Russian citizenship to set up a stall there legitimately. It follows that numerous "protectors" have to be made happy i.e. paid. A small stall earns its owner a.k.a. vendor about $1,000 every month and approximately $800 of the sum should be paid as bribes to policemen, marketplace security, and local criminals. Along with everything else, the police know that vendors usually rent apartments (if that is what they are, of course) right near the market. OMON servicemen raid these flats all too frequently by night, allegedly to check the passport regime but actually to seize whatever cash may be found.
What about the Uzbeks who came to Astrakhan to stay? It's possible to say that the Uzbek diaspora is well integrated in society. Some of its representatives are successful businessmen who own stalls and stores. There are some Uzbek-owned cafes as well even though the Uzbeks themselves are the first to admit that they are not wealthy enough to open "cafes with Uzbek cuisine"... Generally speaking, Aminov is correct to view adaptation to Russian society and integration into it as a major problem. The local power structures in the meantime are absolutely disinterested. It is society itself, its socially active representatives who arrange conferences with whoever decided to stay in Astrakhan. They brief the latter on the acting legislation, advise on job opportunities, and offer advice in general. To quote Aminov, they point newcomers in the "correct direction".
"Correct direction" is a correct term. A great deal of migrants form Central Asia are approached with the offer to become mules. They are tempted with promises of big-time bucks that will help their families back home and so on... Uzbekiston activists do what they can to forewarn newcomers of the dangers of proposals like that. It makes the community a kind of "safety cushion" for new migrants and permanent members of the diaspora. "There is a bona fide organization here and that makes people feel comfortable," Aminov said. "We come to their assistance whenever their rights are encroached on or even when there is a banal quarrel among Uzbeks..."
***
Let us finish this first article on the Uzbek community in Astrakhan here. Ethnographic aspects of the life of the diaspora that may be of interest, personal stories of its representatives, and stories of seasonal workers will follow.
***
Natalia Aleksandrovna Zotova is a researcher with the Institute of Ethnology and Anthropology of the Russian Academy of Sciences. She lives in Moscow. This article was written on the basis of trips to the Astrakhan and Volgograd regions in August 2006.
(to be continued)