Uzbekistan: President's daughter Gulnara Karimova performed Besame Mucho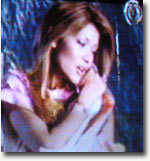 Besame Mucho or Kiss Me Hard composed by Consuelo Velasquez became a hit years ago. Its lyrics translated into 120 languages, the number was performed by more than 700 singers and groups including The Beatles, Elvis Presley, Placido Domingo, Diana Ross, Frank Sinatra. Gulnara Karimova, the daughter of the president of Uzbekistan who set out to make a career in show-biz under the alias Googoosha, claimed it for her own.
Political scientist, jewelry designer, founder of the Forum of Uzbek Culture and Art, and couturier Karimova has three numbers in her repertoire now: Unutma Meni (Don't Forget Me), Besame Mucho, and My Spring. Googoosha herself maintains that she has "enough numbers for a couple of albums."
Radio- and TV-stations constantly broadcast Karimova's numbers. Her videos are particularly frequent on TV-Markaz (a TV-station that is thought to belong to the president's daughter).
***
Click here to listen to My Spring by Gulnara Islamovna Karimova (Googoosha)