Kyrgyzstan: The head of the Osh Center of Uzbek Culture assassinated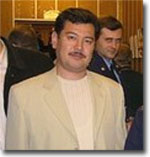 Aibek Alimjanov, deputy of the municipal Kenesh [Council] and the head of the Center of Uzbek Culture, was assassinated in Osh, the southern capital of Kyrgyzstan, on October 15.
Press Service of the Interior Ministry reports that the crime was committed in the office of Alatoo cafe owner (Mesaliyev Street, Osh). Alimjanov died of a shot in the head.
Investigation is under way.