Moslems of the southern Kyrgyzstan demand supreme mufty's resignation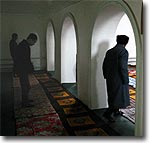 Photo © Ferghana.Ru
* * *
Moslems from Osh, a city in the southern part of Kyrgyzstan, demand resignation the head of the Moslem Religious Directorate and the director of the State Agency for Confessions. The religious leader and the state official are blamed for discrimination of pilgrims, financial non-transparency, and persecution of the faithful in general. Senior Mufty Jumanov in his turn maintains that it is the Wahhabi and Hizb-ut-Takhrir activists who are after him.
Representatives of Moslems called a press conference in Osh on November 24 and suggested reorganization of the Moslem Religious Directorate. The Initiative Group under Latibjon Kochkarov demanded resignations of Senior Mufty Marataly-ajy Jumanov and Director Jolbors Jorobekov.
Kochkarov and his followers said that the upper echelons of the Moslem Religious Directorate were misusing the raised funds and organizing pilgrimage improperly, so that feelings of the faithful were hurt. According to the Initiative Group, Moslems of at least seven Osh mosques were with the protesters.
Organizers of the press conference were clearly upset by the activities of religious leaders and the State Agency for Confessions. "The mufty is unlearned. He does not know the Shar'ah law or his own imams. He takes no interest whatsoever in the life of mosques and the faithful," 24.kg news agency quoted Kochkarov as saying.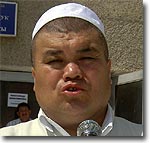 Marataly-ajy Jumanov
"The mufty is not very well versed in the matters of Islam," Initiative Group Co-chairman R. Mirzojonov said. "Moslems throughout the world celebrated the Ijd-Ramazan on October 23 and only we of Kyrgyzstan on October 24. I consider it a shame."
The Initiative Group is convinced that the senior mufty overlooks numerous violations of the rights of the faithful.
"The people who do not know the first thing about Islam regard those who attend mosques, perform the namaz, and wear beards as extremists," Kochkarov said. "Our religious leaders in the meantime do not even lift a finger to ameliorate this state of affairs."
Kochkarov said at the press conference that Moslems had already appealed to national leaders and organized protest rallies and pickets more than once. More than 3,000 believers attended one such rally in an Osh mosque on November 17.
"It is the Wahhabi and Hizb-ut-Takhrir activists with their sympathizers who are after me," Jumanov said the other day to forestall the accusations. "These people will never run Kyrgyzstan. There is no place for them here."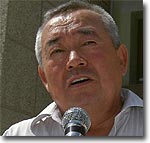 Jolbors Jorobekov
As for Jorobekov, the Initiative Group accused him of "monopolization of the pilgrimage to Mecca" and of having turned it into "a lucrative business venture". As a matter of fact, representatives of the northern part of the country had spoken up against Jorobekov the other day too. Non-governmental organization Hadj'2006 from the northern Kyrgyzstan condemned the State Agency for Confessions for being prejudiced in the issuing of hadj permits and demanded Jorobekov's resignation.
The Initiative Group announced collection of signatures on a petition for Jumanov's and Jorobekov's resignation.