Turkmenistan: The opposition has no objections to a provisional government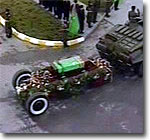 Saparmurat Niyazov, 66, the first and lifetime president of Turkmenistan who died last week, was interred in the family mausoleum in his native village of Kipchak. Well-informed and trustworthy sources in Ashkhabad maintain that Niyazov's circle of confidants was undecided on personnel composition of the future government on the eve of the funeral. The same sources imply that even the presidential election may be postponed until spring or autumn 2007 (the Constitution insists on election within two months). There is no saying at this point how many will be officially nominated or how they will be removed from the race so as to make it plain to the population who it should eventually vote for. The election in the meantime is supposed to be "democratic" as acting president firmly promised the day of the Turkmenbashi's demise.
What information is available indicates that "palace" negotiations are expected to be over later today and the Halk Maslakhaty is to be acquainted with their outcome tomorrow. Prominent elders representing various Turkmen tribes were invited to the capital for the talks. In the meantime, the Turkmen "elites" may find reaching a consensus in so short a time impossible, and the People's Council may be advised to institute a provisional government.
As a matter of fact, this turn of events will certainly make the Turkmen opposition happy. Remaining abroad, this latter is particularly active nowadays. Two opposition leaders Nurmuhammed Hanamov (former ambassador to Turkey and Israel) and Hudaiberdy Orazov (ex-chairman of the Central Bank) turned up in Kiev on an invitation from some Ukrainian politicians the day after Niyazov's death. Hanamov and Orazov had been wanted in Turkmenistan for involvement in the "attempt" on Niyazov's life on November 25, 2002. Granted political asylum in West Europe, both had been sentenced to lifetime imprisonment in absentia. Turkmen opposition leaders are meeting with representatives of the Ukrainian establishment with the local authorities' approval. Hanamov told this correspondent that Orazov and he also represent Avdy Kuliyev, former interior minister of Turkmenistan and another opposition leader.
The oppositionist Republican Party of Turkmenistan appealed to the Halk Maslakhaty and to the people yesterday. The People's Council is asked to proclaim December 26, 2006, a National Reconciliation Day and release all political prisoners. The opposition suggests letting bygones be bygones because it "understands the circumstances under which people, civil servants, officials of law enforcement agencies, judges... were compelled to work in Turkmenistan." "Reconciliation will consolidate us," stated the document signed, among others, by Hanamov, Bairam Shihmuradov (the son of the former foreign minister Boris Shihmuradov serving life sentence in Turkmenistan), and ex-diplomat Chary Ishaniyazov. No matter what may be in store for Turkmenistan now, it is clear that there will be no other "bashi" in the republic.
* * *
Arkady Dubnov
Vremya Novostei, December 25, 2006, p. 5
© Translated by Ferghana.Ru