Astana and Beijing pooled efforts and rerouted oil and gas export from Central Asia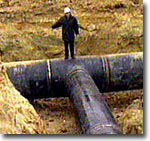 Unexpected demise of Turkmen President Saparmurat Niyazov pushed into the foreground an event of considerable importance for Russia and all of Central Asia, i.e. Kazakh President Nursultan Nazarbayev's negotiations in Beijing. Construction of oil and gas pipelines from Kazakhstan to China was discussed at the talks that became another powerful blow at Russia, once the sole transit country and buyer of energy resources from the Central Asian region.
INTERFAX-China reported yesterday with references to a source close to the talks that completion of construction of the pipeline between Atasu and Alashankou was agreed upon at the negotiations. Once it is completed, Astana will double oil export to China bringing it up to 20 million tons. The source added that construction of the oil pipeline to the field in Kenkijak would "all but bring it to the very Caspian coast." The negotiations are only beginning, he said as well. Astana does not know yet whether to enlist the services of an international consortium or to make do without one. In any case, the pipeline will be built, and Kazakh oil export will be boosted without Moscow's participation or control.
In the meantime, there is another project that may deliver an even more painful blow at Russian interests in the region. The matter concerns the idea of a pipeline for Turkmen gas export to China. Unlike Central Asian oil export in which Russia is but a transit country, Central Asian gas is meant for sale by Russian companies to Ukraine and Europe at a price much higher than what is paid to Ashkhabad in the first place. Operations like that are incomparably more rewarding that shipment of oil. When Niyazov visited China in 2005, the two countries signed an accord permitting China participation in gas prospecting and production in Turkmenistan. The document implied that gas for China would be produced at the still undeveloped Yuzhny Iolotan field. Unfortunately, there are no guarantees that the gas currently meant for Russia is not going to be exported to China by the same pipeline. Should it come to pass, Gazprom will have to plug a hole in the national gas balance because a dramatic reduction of export to Europe is not an option to be entertained.
Ashkhabad gave China a promise to up annual gas export to 30 billion cubic meters. Two variants of Turkmen gas transit to China were considered at first: either via Kazakhstan alone or via Uzbekistan and Kazakhstan. "The Kazakh variant was chosen in the course of Nazarbayev's visit to Beijing," source told INTERFAX.
Valery Nesterov of Troika Dialog maintains that diversification of gas and oil export from Central Asia affecting Russian interests in the region is actually inevitable. "Like any other country, Russia would like to have as much export of raw materials passing through its territory as possible," the expert said. "The situation in the meantime is changing and exerting control with it is getting more and more difficult. Azerbaijan is a vivid example of that. Central Asian countries determined to take their own place in the market are another..."
Sergei Sklyarov, Sergei Kulikov
Nezavisimaya Gazeta, December 26, 2006, p. 4
© Translated by Ferghana.Ru