Cable-way on Suleiman Mountain: business or sacrilege?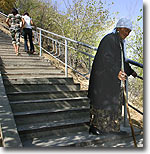 Construction of a cable-way on the sacred Suleiman-too Mountain in the center of Osh may spoil and ruin the most sacral site in the Ferghana Valley. Non-governmental organizations are screaming bloody murder but the local authorities only see the holy place as a source of income - or so it certainly seems.
***
"A cable-way will soon be built there with help from a Swedish investor. Specialists say - it's a rough estimate of course, you understand - that the construction will take about 1.7 million euros," Mayor of Osh Jumadyl Isakov said at his meeting with students of the local teacher-training college recently.
Local non-governmental organizations and celebrities responded instantly. No wonder since the mayor had ignored the opinion of the population and its attitude. The mountain in question is the most sacred place in all of the Ferghana Valley. It is associated with the legends of Zoroastr, King Solomon, Alexander the Great. According to legends, Zahiriddin Babur (would-be military leader, writer, and founder of the Great Moguls' dynasty) prayed there in the XV century. The so called Babur's house (hujra or cell) on the mountain existed until 1960 when it was torn down on orders from the Osh Municipal Committee of the Communist Party of the Kyrgyz Soviet Socialist Republic. It was lovingly rebuilt again with the money raised by the locals themselves in 1991. The mountain towers right in the center of the ancient city. A museum under the open sky is what it really is because of the hundreds of unique petroglyphs (rock carvings, some of them dated the late Neolithic period) found there.
Suleiman Mountain, symbol of Osh and history of the Great Silky Way, embodiment of the history of Ferghana Valley, is threatened by the unbelievably dim local bureaucracy. Civil society is determined to defend it.