Tajikistan: Major General Suhrob Kasymov hands in his resignation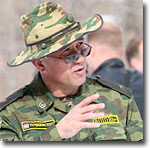 Ferghana.Ru sources in Dushanbe report that Major General Suhrob Kasymov handed in his resignation from the post of commander of the Separate Brigade of Special Forces of the Interior Ministry on February 27. The president let his comrade-in-arms go. Kasymov's second-in-command Colonel Hurshed Mahmadshoyev is acting commander of the unit for the time being.
Asked for explanations, Kasymov said the last 15 years had exhausted him. "I want to serve the country at the international level now, as president of the Tajik Football Federation," he said.
The general said he had raised a lot of officers who could take over. "Time to make room for the young," he said. "And I will handle athletes from now on."
Kasymov was one of the best known commanders of the People's Front in the civil war.
His brigade played the decisive role in suppression of the revolt Colonel Mahmud Hudaiberdyev fomented in the northern part of the country in 1998.
Kasymov and his men fought the Taliban on the side of the Northern Alliance in late 2001. He became president of the Tajik Football Federation in 2002.
Local observers suspect that there must be more to Kasymov's resignation than meets the eye.