Insulting graffiti in Osh, Kyrgyzstan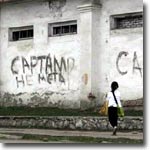 Graffiti in Osh streets. Photo by Ferghana.Ru news agency
"Sarts, Get Out" (see photo) graffiti appealed at the intersections of Alisher Navoi and Aitiyev streets in the city of Osh. Who sprayed it on the walls of the building of the former municipal truck fleet or why is anybody's guess for the time being. The locals say that the graffiti appeared long ago but law enforcement agencies or authorities - local and regional - never paid attention.
Literally thousands pass and drive by every day - Kyrgyz, Uzbeks, Russians. The regional office of the Traffic Police is nearby, its officers regulating traffic right in front of the building in question. People see the graffiti without a murmur of protest. They pretend that they do not see this sprayed insult to the Uzbeks living in Osh since time out of mind. The same attitude is displayed by Mayor of Osh Jumadyl Isakov, Governor Jantoro Satybaldiyev, prosecutor's offices (municipal and regional), Directorate of Internal Affairs, and National Security State Committee. Not to mention Uzbek leaders, activists of Uzbek centers of national culture, Uzbek deputies of the municipal and national legislatures.
"If this is not the place for the Sarts as the sign implies, what is? How come the National Security State Committee or Department of Extremism and Illegal Immigration of the Interior Ministry do not investigate what clearly constitutes inflammation of ethnic and religious hatred. Or at least "vandalism" and "hooliganism"? ... one of the locals said.
* * *
Experts and local observers say that ethnic tension between Kyrgyzes and Uzbeks is escalating in the southern part of Uzbekistan. Bloody ethnic clashes have already taken place, the worst of them known as "the Osh conflict" in 1990 (dispute over some territories on the border that escalated into an outright conflict).
* * *
"The Sarts - non-nomadic Uzbeks. Before the 1917 Revolution, semi-nomadic Uzbeks and Kazakhs usually applied the term to non-nomadic Uzbeks and sometimes to Tajiks of the plains. The term was self-applied by non-nomadic Uzbeks of the Tashkent, Ferghana, and Khorezm oases and in South Kazakhstan. These days, the term "Sarts" may only be encountered in scientific works." (The Large Soviet Encyclopaedia)
Brokgauz's and Evfron's Small Encyclopaedic Dictionary uses the term "Sarts" to denote "non-nomadic Turks of the Syrdarja, Ferghana, and part of the Samarkand regions, numbering 968,655 people; cross-breeds of the ancient Iranian population and conquerors and Turk-Mongol settlers: they speak the Sarto-Tili dialect."
Alisher Ilhamov, philosopher and associated researcher of the School of Eastern and African Studies of the London University, says that "like the Dashtikipchak Uzbeks, the Sarts are a major component of what is known as the modern Uzbek nation" (for more details see Ilhamov's Archaeology of Uzbek Identity, Part 1. Original Ethno-Historic Conditions of Formation of Modern Uzbeks).