«Unfinished construction site» of the Kyrgyz revolution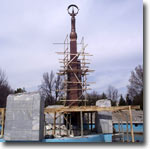 The second anniversary of the Tulip Revolution in Kyrgyzstan was fouled up - at least in its cradle, the city of Jalalabad. It had been in Jalalabad, a city in the Kyrgyz part of the Ferghana Valley, that the chain of events started to eventually topple Askar Akayev's regime.
The planned celebration was wrecked because of the situation with the Revolution Memorial that was to be erected in the center, right in front of the regional administration building.
The monument itself is there - right on the plinth (a girl in the traditional dress holding some sort of plant). It is what surrounds the monument that poses a problem. It's nothing but a construction site complete with scaffolding, heaps of rubble, and even remnants of the fountain that had been there before the monument.
Unfinished construction sites are a commonplace occurrence in Jalalabad. The local authorities bully businessmen into making donations, and the latter predictably resist since they usually have a better idea of what to spend their finances on.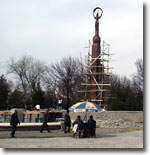 It will be wrong, however, to assume that construction of monuments and memorials in Jalalabad is always problematic. There are some positive examples as well.
When the president's brother died, the municipal and regional authorities named School 3 (formerly school named after Mikhail Vasilievich Frunze) after Jusup Bakiyev. It happened last spring.
On September 1, students, teachers, and parents were pleased to find the building repaired and refurbished. The school-year opening ceremony began with the solemn opening of a bronze monument to the president's late brother.
Everything was done quietly and on schedule then. Construction of the monument and repair works were supervised by some top brass from the army and the police - not to mention members of the president's family. Nobody said then where the money had originated. Nobody had to be told that it had not come from the municipal or regional budgets.
* * *
The impression is that the Revolution Memorial is not that necessary anymore - hence the apparent lack of haste. It is but a reminder that absolutely every regime may be toppled, and that is something official Bishkek can do without. "They will complete the construction by April 11," Jalalabad residents say.