Representatives of the Islamic Movement of Uzbekistan claim that Tahir Yuldashev is alive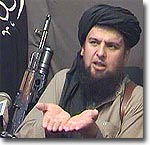 An anonymous representative of the Islamic Movement of Uzbekistan phoned Ferghana.Ru presumably from the Southern Waziristan to pronounce Amir Muhammad Tahir Farouq (that's how Movement leader Tahir Yuldashev is known) alive. The recent reports concerning his arrest and death were false, the man said. He added that Yuldashev is no longer in the Tribal Zone where clashes continue.
Pakistani newspaper Dawn reports in the meantime that volunteers from the tribes and units of the regular army ousted Uzbek gunmen from their positions and took over Shin Warsak and Zaghundai on Thursday night. Clashes in Azam Warsak and some other districts of the region continued.
The day before yesterday Pakistani media outlets quoted a field commander as saying that gunmen of the Movement had been surrounded in the mentioned districts.
Shin Warsak and Zaghundai were regarded as a base of foreign gunmen in Ahmadzai Wazir area of the Tribal Zone. Officials announced that thirteen bodies were discovered in the area when the hostilities stopped, seven of them identified as ethnic Uzbeks.
Reports on the losses are quite controversial. Some sources announced that the number of the killed amounted to sixteen. Representatives of the Armed Forces of Pakistan said in the meantime that the death toll in the hostilities in the Southern Waziristan that began in the middle of March reached 240 (220 of them were foreigners).
A government official said with references to Pakistani intelligence that almost 150 Uzbek gunmen and 20 men from Pushtu detachments were killed. Associated Press of Pakistan reported up to 60 foreign gunmen exterminated in three days of vicious fighting in the region.
The Uzbek who phoned Ferghana.Ru said that the hostilities began when Malik Saidullah, a prominent field commander from the town of Wana launched a campaign of suppression against the mujahedin and their families on the orders from the Pakistani authorities. The locals were ordered to stay away from foreigners.
Uzbek gunmen of the Movement made several attempts on Saidullah's life. Saidullah's two brothers with their men raided the Uzbek mujahedin office in Azam Warsak but were killed. The caller to Ferghana.Ru announced that Saidullah himself was taken prisoner by foreigners.
Taliban leaders suggested evacuation of the Uzbeks to Talib-controlled Gilmend, but the caller said the Movement declined the offer. "We will remain here [in Waziristan]," he said.
The caller said Pakistani media outlets exaggerated Uzbeks' losses in the clashes with the tribes but refused to elaborate.
Sources inform Ferghana.Ru that a great deal of representatives of the local tribes are fighting on the Uzbeks' side nowadays. Sources in Belugistan on the Iranian-Pakistani border maintain that Yuldashev's inner circles include a great deal of ethnic Tajiks.