Agricultural works in Uzbekistan pass under total control of security agencies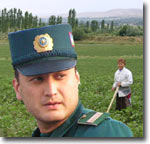 Sowing works in Andizhan region pass under vigilant control of power structures and representatives of regional administrations. Andizhan regional TV-programs inform of the fact in detail. In particular, one of plots highlighted the course of sowing works in Pakhtaabad district.
It informed that from 13765 hectares of cultivated area in the district, 7318 hectares are allocated for cotton. By the present moment 89242 kilos of cotton seeds have been delivered from Pakhtaabad cotton factory's warehouse to the farms, the dispatch was accompanied by law enforcement officers; the area of 1394 hectares was seeded by that quantity, at the rate of sixty seven kilos of seeds per each hectare. Today fifty two tons of cotton seeds and six tons of cellophane film, used whilst sowing works are available at the factory's warehouse.
To each of six hundred seven farms of the district one inspector from law enforcement bodies is given "for checkout". According to the representative of law enforcement bodies' interview, employees of Ministry of Internal Affairs effect full control over storage and delivery of seeds to cotton fields. Sowing works are also carried out under supervision and vigilant control of the inspector together with representatives of regional hokimiyats (administrations). Surpluses of cotton seeds, remaining after works, are filed under a corresponding act and returned to the warehouse.
The purpose of the given action developed and spent by law enforcement bodies is specified as maintenance of sowing works according to agrotechnical rules and providing big crops in the future; the latter to be marked by fulfilling contractual plans on raw cotton sales to the state by farmers.
According to the journalist who has prepared the given plot, farmers are simply happy, that law enforcement bodies supervise them so vigilantly and monitor proper implementation of agricultural science instead of agriculturists.
As observers note, law enforcement officers will be further called for seasonal work, up to cotton harvest time. They will supervise seasoning and wheat reaping simultaneously. Chemicals and fertilizers, especially saltpeter, are also taken under strict account by Departments of Internal Affairs and delivered to farms from regional chemicals warehouses accompanied by a militiaman only.
According to some common law enforcement officers they quite anticipate taking part in seasonal works, even in a role of supervisors. After all the majority of militiamen in Uzbekistan are rural areas natives who in most cases come to militia wishing to leave ketmen' (hoe) and agricultural work in general.
Wheat reaping campaign is to start with summer coming. Judging by its organization last year, one could forecast this time combines for harvesting will be also distributed among farmers by chiefs of regional Departments of Internal Affairs personally, and even heads of regional administrations (hokims) cannot interfere with this process.