Why would Nursultan Nazarbayev want to be president for life? Expert opinions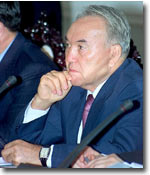 Nursultan Nazarbayev. Ferghana.Ru photo
President of Kazakhstan Nursultan Nazarbayev signed the amendments to the Constitution that transformed the country into a presidential-parliamentary republic, cut down the term of office for president from seven to five years as of 2012, and granted the current head of state the exclusive right to run for president as many times as he decided. Ferghana.Ru approached prominent experts in Central Asia for comments.
Sanobar Shermatova, member of the Expert Council of the RIA Novosti:
- I suspect that Nazarbayev discussed the matter with European and American partners before signing the amendments that all but make him president for life.
Nazarbayev focused his attention these last two years on determination of the democratic vector of development of the country. I'd say he succeeded. Remember the latest presidential campaign and its political atmosphere? Prominent American and European politicians including Dick Cheney and Condolleezza Rice visited Kazakhstan on the eve of the election. All of them kept extolling Nazarbayev as the leader who had set Kazakhstan on the road to democracy and who had done a lot to install democracy in Kazakhstan. Praise like that takes unprecedented importance on the eve of elections.
It means that the United States and European countries seconded Nazarbayev's determination to retain presidency because that he would come in first as absolutely clear even though there were other candidates as well. In other words, the United States and Europe changed their attitude with regard to Central Asian countries. Matters of democracy, elections, appearance of new leaders, and suchlike faded into the background. Purely political issues - and the matter of oil export of course - were put into the spotlight.
The Supreme Council of the Kazakh Soviet Socialist Republic made Nazarbayev president in April 1990. The population elected him president for the first five-year period in December 1991. A special referendum was organized in 1995 and Nazarbayev's term of office was extended to 2000. In October 1998, the parliament suggested extension of the term of office for presidents to seven years. Nazarbayev won two presidential elections after that - in January 1999 and December 2005. His term of office expires in 2012.
Kazakhstan participates in the Baku-Ceyhan pipeline project initially suggested and actively lobbied by the United States. Actually, the pipeline that bypasses the Russian territory (which is why Washington regards it as vital) would have been just a waste without Kazakh oil. I suspect that Nazarbayev signed the amendments to the Constitution because, among other things, he pursues a multiple-vector policy that takes into account the interests of the United States and European countries. He wouldn't have gone for it otherwise, he wouldn't have risked all his accomplishments. I mean the strategy of democratic development of Kazakhstan and cordial relations with partners in the West. That is why I think he discussed the matter with some Western leaders in advance. Do not forget that Astana aspires for OSCE chairmanship in 2009 and the issue is still on the agenda. The decision on it will be made later on.
This is not the first time the international community pretends not to notice non-democratic succession. There is Azerbaijan whose President Heydar Aliyev made a pact with two US presidents (Bill Clinton and George W. Bush) that his son Ilham would succeed to him. Where Kazakhstan is concerned, everything comes down to the president who does not mean to step down but who is determined to advance democracy in the country. Nazarbayev had to take some serious steps in terms of democratization to get Western countries' consent. These steps include transformation of Kazakhstan into a presidential-parliamentary republic.
There is one other aspect of the problem. I'm talking Western countries' interest in oil. I'd say that these considerations played their part too because the United States and Europe prefer predictable leaders in oil exporting countries. Nazarbayev is such a leader. Stepping down, he would have launched a fierce power struggle in the country involving Nazarbayev's own family and closest associates. Kazakhstan's partners did not want any unpleasant surprises of this sort. All of these considerations must have played their part. Let us now wait for America's and Europe's reaction to the decision of the parliament of Kazakhstan to make Nazarbayev president for life.
Do not forget that the United States and Europe did not even object when the current head of state succeeded to the late Saparmurat Niyazov in a thoroughly anti-constitutional manner. The international community "swallowed" it. Actually, the United States and Europe took presidential elections in Central Asia in stride. I mean election of Nazarbayev and Emomali Rakhmonov who had their national constitutions amended first. The Western community did not object even though the OSCE and international democratic institutions questioned legitimacy of these elections. They did, and so what? Nazarbayev and Rakhmonov remain legitimate presidents. I repeat, the international community changed its attitude towards Central Asian countries. I do not doubt that the West will take this decision of the Kazakh parliament and president with equanimity.
Professor Bakyt Beshimov, political scientist (Kyrgyzstan):
- That's up to the Kazakh parliament's of course, but Kazakhstan applied for OSCE chairmanship and I do not think that these latest amendments to the Constitution will earn Kazakhstan a favorable response now. The latest developments show that we have ruling dynasties in all of Central Asia (save for Kyrgyzstan) where national leaders do whatever it takes to become presidents for life. It is the lack or, sometimes, inadequacy of the mechanisms of transfer of power and replacement of national elites that is a major factor breeding instability in the region. Shortly speaking, Nazarbayev's decision does not really check with the determination of Kazakhstan to become a democracy.
When constitutions are amended with such unseemly ease, it is an indication of disdain of democracy and the law. If the first president permits it, how can we be sure that the next president will withstand a similar temptation? If the Constitution permits only two terms of office for presidents, then it is two terms of office only. No buts about it. A regular replacement of the government in the wake of free and fair elections is better for any country.
The population is being brainwashed into thinking that nobody else in the country apart from this man is capable of ruling it. How can a whole people be so narrow-minded as to bet everything on a single individual? How can it expect a stable and prosperous future when there is no political competition in the country? This is what we have been seeing in Kazakhstan: Nazarbayev is the only possible leader, and that is that.
As a matter of fact, it is fairly typical of Central Asia. What is being done in Kazakhstan nowadays has already been pulled off in Tajikistan and Uzbekistan.
Kyrgyzstan is in the ring of states run by authoritarian leaders who will never step down if they can help it. Will Kurmanbek Bakiyev follow in Nazarbayev's steps is a different matter altogether but I do not think that the population of Kyrgyzstan will tolerate it.
Vremya Novostei observer Arkady Dubnov:
- I'm disappointed. It makes me sad. On the other hand, seeing what post-Soviet elites have been doing (and particularly in Central Asia), I should have learned not to be surprised by anything. I hoped that Nazarbayev would permit his subordinates to offer him unlimited terms of office so that he could turn the offer down. I hoped he was an enlightened leader - and he did sometimes behave like one. Regrettably, he is a typical Eastern ruler who cannot imagine Kazakhstan under anybody else's rule while he himself is alive.
There may be only one tentative justification. I mean that it could be Nazarbayev's message to all factions and clans surrounding him, including the ones headed by his own relatives, that he would remain the president but never a lame duck or whatever. That's the only argument, the only consolation.
It seems that a friend of mine in Turkmenistan was telling the truth once when he said that Nazarbayev had visited the Turkmenbashi many years ago seeking his advice on technologies of presidency for life. Judging by the latest events in Kazakhstan, he must have learned the lesson well.
One last nuance. Nazarbayev must have accepted the idea now that Kazakhstan would be denied the OSCE chairmanship in 2009. As a matter of fact, he all but admitted not long ago that he did not really care.