An interview with Rahat Aliyev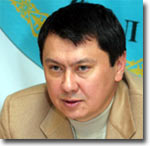 Rahat Aliyev, former ambassador of Kazakhstan to Vienna and President Nursultan Nazarbayev's son-in-law, elaborates on his arrest in Austria, plans, family situation, and Kazakh political system. Charged in Kazakhstan with illicit seizure of land plots and buildings, forgery, extortion, and abduction by force, Aliyev was arrested in Austria but got out on bail.
Question: Where have you been since your release?
Rahat Aliyev: In hospital with heart attack.
Question: How do you feel?
Rahat Aliyev: I'm fine and getting better. Doctors will advise me when it is safe to leave the hospital.
Question: A few words on your arrest, please.
Rahat Aliyev: I was in a barber's shop when they came for me. I was handcuffed immediately, like I was Al-Qaeda or something. The policemen spoke Russian. They said they were arresting me on the request from the Interpol Kazakh bureau. I asked if it was the airport they were taking me to and the woman on the detail said it was. She said then that it was a joke and that they were taking me to a police station. It is probably this joke that led to the heart attack. It began when they brought me to the police station. They put me in the hospital ward where I spent the following 48 hours. I moved to another hospital when they bailed me out.
Question: Were you questioned?
Rahat Aliyev: No interrogations. Two Russian-speaking policemen said they had received a message from the Interpol Kazakh bureau to put me on a plane to Kazakhstan. Remember how the former chairman of the Kyrgyz parliament, opposition leader, flew from Bishkek to Warsaw and someone planted heroin in his luggage? The Polish authorities had him arrested on the border and released afterwards. Interpol knows of this episode. Everything goes whenever there is the political order and even Interpol is used to discredit the people whop have the temerity to disagree with presidents.
Question: Where did the bail, one million euros, came from?
Rahat Aliyev: It was my own money and my partners'.
Question: In theory, the Austrian authorities may extradite you to Kazakhstan. What is your defense strategy?
Rahat Aliyev: First, I have trust in the Austrian judiciary. I believe that the law will prevail. Second, Kazakhstan does not have a treaty on extraditions with Austria. Third, I'm innocent and therefore need no strategies. I have lawyers to come up with one if need be. I'm innocent. I'm prepared to prove it to any court - that and the fact that all charges against me were fabricated by the Kazakh authorities acting on President Nazarbayev's order.
Question: What is your conflict with Nazarbayev about?
Rahat Aliyev: The authorities toyed with the idea of monarchy in Kazakhstan a year ago. I wrote a sarcastic piece on the subject last September. Why would I do it? I believe that public discussions are needed to prevent something like that from happening in Kazakhstan. The article stirred society. Very many decided that it was a prelude to installation of monarchy in the country. The Constitution was amended six months later. It took the Kazakh parliament 48 hours to amend the Constitution. It voted unanimously, you know. As it is nowadays, the Constitution permits the president of Kazakhstan to be president for life. That's how what had been de jure became de facto. With all respect to the first president of Kazakhstan who did a lot, who converted economy into free enterprise and so on, there is absolutely no pluralism or opposition in Kazakhstan. What opposition there is... it is absolutely tame and financed by the authorities and secret services.
Question: Will you become the head of bona fide opposition then?
Rahat Aliyev: I was Kazakh ambassador to the OSCE. The idea of chairmanship in this organization in 2009 belongs to me. I suggested it first in 2003. It was done for the sake of a step-by-step introduction of international standards into the Kazakh legislation. We need European standards in the national legislation, you know. Well, a great deal has been done. Kazakhstan signed three basic UN documents on human rights. Unfortunately, Kazakh establishment is not any different from the establishment in any other country because it comprises all sorts of circles - conservative, liberal, and so on. Not everyone in Kazakhstan liked this tranquil reorganization. Still, we were making progress. Much to my regret, this initiative suggested by lawmakers - the one permitting presidency for life for the first president - is a throwback. We are unlikely to become the OSCE chairman now. At least, that's what my partners from the United States and Great Britain tell me.
Question: A few more words on political aspirations, if you don't mind. Do you still plan to run for president after what has happened?
Rahat Aliyev: Being nominated for president or running for presidency is not a crime. Under the Constitution, every citizen of Kazakhstan may be nominated. On the other hand, what people ran for president in the past... some of them immigrated (like former Prime Minister Kajegeldin), others took their own lives by shooting themselves in the head three times (like Zamanbek Nurkadilov) or were assassinated (like former ambassador to Russia). I'm not even going to comment on the court verdict that recognized the head of the office of the Kazakh Senate as the mastermind behind this assassination. Interesting, isn't it? Secret services were involved in it.
Question: With your own past career in secret services, you must know a lot about their methods...
Rahat Aliyev: I ran my own business between 1991 and 1996. It was a period when Nazarbayev and his Prime Minister Kajegeldin were bringing successful businessmen into the government in the hope that they, people who had made themselves in free market economy, would launch radical economic reforms. I was responsible for fiscal policy and eventually became the head of the financial police. Aware of my past experience, the president asked me to reform the National Security Committee. He made me the head of a department in Alma-Ata and senior deputy chairman of the National Security Committee afterwards. I did my best then to weed out old KGB methods, forget politics in the job I was doing, and establish a formidable secret service capable of ensuring national security and meeting global threats and challenges. Unfortunately, I was not given the time to do so.
Question: There are the reports that all assets in Kazakhstan are lost to you now. Are they?
Rahat Aliyev: They are indeed. Even my Nurbank stock was arrested. This bank's authorized capital amounts to nearly $300 million and assets exceed $1 billion.
Question: What about your assets abroad? Are they in danger too?
Rahat Aliyev: I'm in sugar, you know. I own 10% of Syudgen, the trader that controls up to 40% of the sugar market. This stock cannot be arrested. In any case, charges against me were fabricated.
Question: Are there any threats to your life or lives of your family?
Rahat Aliyev: I fear for the lives of my parents and relatives in Kazakhstan. They are under considerable pressure now. My father, Hero of Kazakhstan Academician Aliyev, was already fired from the Institute of Surgery. He is a surgeon whose name is known throughout the world. My other relatives are sacked from civil service. My family is in Kazakhstan, I maintain regular contacts with them. My elder son, he is deputy chairman of a bank, tells me he is under pressure too. He is being tailed, his phone is bugged. As for me here... if something happens to me, only one person will benefit from it.
Question: Nazarbayev?
Rahat Aliyev: One person only.
Question: What other jobs did you lose along with ambassadorship?
Rahat Aliyev: Prime Minister Karim Masimov phoned me here and said I must resign as the head of the Kazakh Football Federation to leave the vacancy for the president himself. We shifted from the Asian Federation to the European, UEFA, when I was the head, you know. Propaganda Department of the Presidential Administration forces all media outlets in Kazakhstan, state-owned and private ones, to paint me black. That's a direct violation of the presumption of innocence. They are forcing me from a non-governmental organization which the state is not supposed to put under any pressure. My contacts tell me that Nazarbayev is President of the Kazakh Football Federation now.
Question: Do you intend to seek political asylum in Austria or any other country?
Rahat Aliyev: I haven't thought of it. I fear that Kazakhstan may follow in Turkmenistan's footsteps and Turkmenbashism is a road into a blind alley. I hope it will never come to that of course, but the latest amendments of the Constitution are definitely a throwback.
Source - Nezavisimaya Gazeta, June 6, 2007, pp. 1, 6
Translated by Ferghana.Ru