Nukus Museum: Storeroom of arts in the epicenter of trouble
Nukus, Karakalpakstan. - Schindler in the field of paintings, Igor Savitsky preserved banned masterpieces in the destitute backwaters of the Soviet empire.
TB or cancer? Prominent doctors in Moscow in 1984 were baffled by what was wrong with the dying old man who came from a God forsaken Central Asian province. He himself told them in the long run what was wrong with him. He was dying of formalin.
Soviet archaeologists frequently boiled ancient artefacts in the poisonous solution. Igor Savitsky, 69, director of the museum in Karakalpakstan, had been doing it all his life.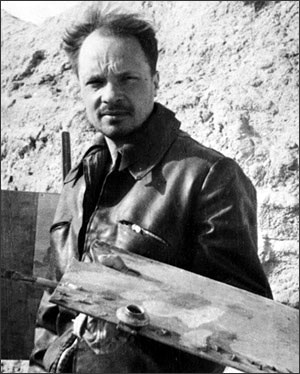 Igor Savitsky (1915-1984).

Medicines and oxygen therapy failed. Savitsky died two months later, leaving behind a collection of 90,000 pieces (just a little bit less then the population of Nukus, dust-laden capital of Karakalpakstan where he founded the museum). Works by Russian and Soviet avant-gardists of the 1910's to 1930's, a bona fide constellation of names spared undeserved oblivion, account for more than 50% of the collection.
"Savitsky came here in the early 1950's and promptly fell in love with this land," new museum director Marinika Babanazarova said.
Picasso and Gaugin sought inspiration in Africa and Tahiti while Russian artists found it in the Orient - culturally rather then geographically. First in the Caucasus and then in Central Asia.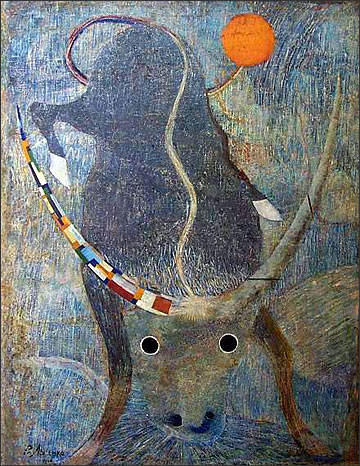 Yevgeny Lysenko. "The bull"

For the first time Savitsky came to Karakalpakstan as an artist with an archaeological expedition examining the ancient Khoresm ruins on the Amudarja. He found himself profoundly impressed by decorative art of the Karakalpakians - a small tribe of fishermen and grain-growers known to the Russians since before the Tatar-Mongol invasion as the Black Hoods.
In 1966, Savitsky had the museum founded and became its director and at first the only employee. He himself financed repair works in the building given him for the museum and began his tireless tours to Karakalpakstan kishlaks (settlements) where he bought exhibits by the hundred for IOUs on behalf of the museum.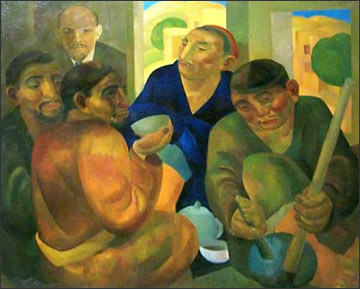 Alexander Volkov. Choykhona
Alexander Volkov. "Choykhona"

"As a matter of fact we paid for his latest purchase only in 1992," Babanazarova said. "People and officials trusted him, you know."
It was the period when the Kremlin decided to bolster cotton growing in Central Asia. Initially infertile lands were claimed from the deserts and steppes and irrigated with water from the Amudarja and Syrdarja. A germ warfare research facility was quietly moved from Chelyabinsk to Nukus. One of the Aral Sea islands was turned into a testing site. Karakalpakstan became an area closed for foreigners.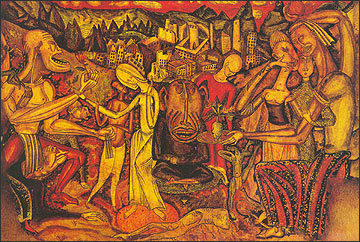 Mikhail Kurzin. "Composition"

Savitsky in the meantime expanded geography and target-list of his searches. He was looking for masterpieces of a different kind now - banned ones.
Russian avant-garde of the 1910's and 1920's was a vortex of schools and groups which dismissed Picasso as a thing of the past and developed the abstractionism lacking the traditional subject or imitation of nature. Determined to eradicate what they viewed as "bourgeois traditions", communists eagerly backed these artists after 1917.
Everything changed by the early 1930's when Josef Stalin ordered establishment of a centralized Union of Artists whose members were only permitted to create within the framework of the socialist realism trend endorsed by the CPSU. Whoever refused to try and make their art understandable to the proletariat were branded as formalists or treated as enemies of the people.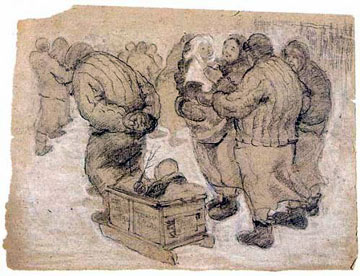 Nadezhda Borova. "Our children on the walk"

Very many were arrested and executed, others institutionalized, and only a few reached safety on the fringes of the Soviet Union. Once an exotic region with Oriental charisma, Central Asia became a shelter - if not for the artists themselves, then for their works.
Savitsky began searching for avant-garde paintings in Uzbek and Russian cities where widows or families of outlawed artists kept them in the attics or cellars. He discovered amazing works of contemporaries and pupils of the masters like Malevich, Kandinsky, Shagal.
"It was not celebrities he was looking for. He discovered the names previously unknown in Russia itself," Babanazarova said. "Savitsky bought paintings of a kind no central museum would have dared display."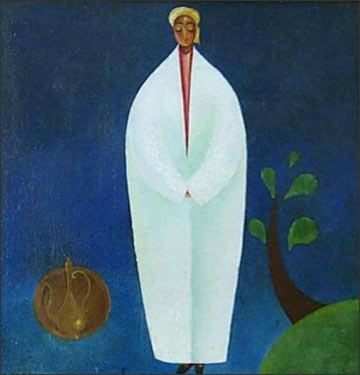 Usto-Mumin

When the windmills fighter died, the museum was still in a small building capable of displaying but a tiny part of the collection. All the rest was restricted to the ever moist basement.
"Hundreds of pieces we have there need restoration," Alvina Shpade said. An artist and restorer with for decades of work for the museum, she certainly knows what she is talking about. Shpade is working on a Yevgeny Lysenko these days, the artist discovered by Savitsky and the author of The Bull, a painting that became the museum's unofficial logo.
The perestroika opened Karakalpakstan and its museum, already named after its founder Savitsky, to the rest of the world.
"Al Gore was one of our first visitors," Babanazarova said. The then US vice president examined the declassified germ warfare research facility and spent several hours touring the museum.
In 1998, a special charter flight from New York brought 85 artists and critics to Nukus. Amazed by the collection, they wanted to buy at least something but the museum staff paid several dollars a month would not even hear of it.
Financial aid came to Karakalpakstan with the foreigners, but it was mostly spent on what the UN branded as "the worst manmade ecological catastrophe in history."
The Aral Sea lost 90% of its area by the late 1990's. The former bedrock became a desert with million tons of toxic salty dust blown out of it by the winds. Maladies affect the locals' duration of life. Filling in death certificates, doctors are frequently compelled to choose between cancer and TB.
But neither was the museum forgotten. It moved to a new three-story building in 2002, one the government of Uzbekistan ordered built for international organizations to outfit.
"Even here, however, we can only display about 3% of the whole collection," Babanazarova said.
The museum has not bought anything new since Savitsky's death and collapse of the USSR. Frequented by foreign tourists and local children brought there by teachers, the museum cannot even buy light bulbs - to say nothing of pieces of art Uzbekistan is so rich in.
"Savitsky is the author of this collection and its preservation is our duty," Babanazarova said. "He used to say that people would be coming from Paris itself to take a look. And they do, you know."
Several artists
Yevgeny Lysenko first visited Uzbekistan in 1918 and settled here in the late 1920's. Details of his biography are not known, most works lost. Lysenko spent the last years of his life in a town on the Volga, sick and nearly paralyzed. Savitsky discovered four Lysenko's pieces - three in the attics and one used to plug a hole in the roof. Art critic Elmira Gaziyeva claims that what Lysenko's paintings were discovered equal the best works by Kandinsky and Malevich.
Alexander Volkov was born in Ferghana, Uzbekistan. He studied in Moscow and Kiev and returned to Uzbekistan for good. He enriched cubism with Oriental motives and inspired a whole generation of Uzbek artists.
Uncompromising Mikhail Kurzin defied socialist realism and therefore spent 18 years in labor camps as an enemy of the people. Kurzin settled in Bukhara where, semi-starving, he went on working to die of cancer in 1957.
When Savitsky bought pencil drawings by Nadezhda Borova depicting what she had experienced in a decade-long exile to Siberia, he told the Karakalpak Culture Ministry that they were sketches of Nazi concentration camps.
"He told me the truth afterwards, but I couldn't believe it," Babanazarova said. "We did not know anything of the GULAG or the actual scale of Stalin's repressions before the perestroika."
Orient became the love of Alexander Nikolayev, a Moscow artist who had studied under Malevich himself. Nikolayev moved to Uzbekistan in the 1920's and embraced Islam. Known as Usto-Mumin or Quiet Master, he became one of the New Oriental Masters - a group of artists that combined avant-garde with traditions of Moslem art. A great deal of Nikolayev's masterpieces were inspired by boy dancers known as the Bachas. They were branded as amoral and propaganda of homosexuality.