Second Bravo Art Café opened in the Ferghana Valley. This one in the city of Osh
Bravo's regularly updated gallery available at Picasaweb.google.com
* * *
Bravo Art Café opened in Osh on July 7. Like its namesake in Ferghana, the art-cafe in Osh is one of the best attractive in all of the Ferghana Valley.
Located in the center of the southern capital of Kyrgyzstan, Bravo Art Café is a successful mixture of captivating architecture, mysterious atmosphere of the Orient, and European comfort.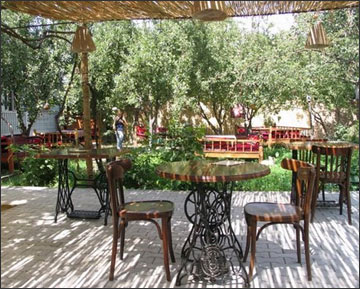 "There is always more to a cafe than just a place where one may take a bite or toss down a drink. It is a cultural center with its own unique aura and atmosphere. Bravo art-cafe has no analogs in Osh," to quote one of the cafe's first customers, official of an international organizations operating in the southern part of Kyrgyzstan.
Indeed, Bravo Art Café offers its customers a supple cuisine, a broad assortment of drinks, plus homely atmosphere and exceptional music. There is even a reading room of the local rare book library and a special panel for darts. Art exhibitions and concertos of chamber music are promised.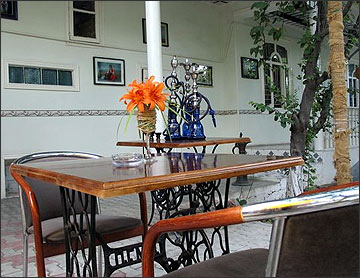 The cafe is frequented by tourists and locals alike, local intelligentsia and cultural beau monde.
In summer, tables are set in the apple orchard right between the blossoming roses and lilies. When the weather is not that inviting, customers are invited inside, into two quiet halls filled with chamber music.
The Bravo Art Café offers a constantly replenished assortment of exclusive teas and coffees (espresso, capuccino, and so on) - not to mention water pipes with various aromatic tobaccos. Bravo is the first establishment in Osh where genuine mate (Nicaraguan tea) is available, along with deluxe cigars, tasty milk shakes, and fresh juices.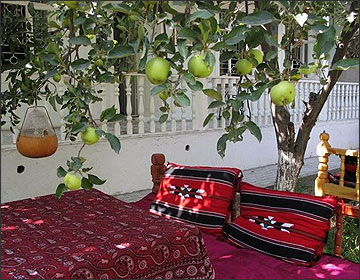 A store of ethnic goods (textile, felt, paintings, souvenirs) will open in Bravo Art Café soon. A summer movie theater will open on August 1.
Bravo Art Café owners aspire to turn the art-cafe into a permanent information center offering all data visitors to the southern outskirts of Central Asia may need. Maps of the region with travel routes will be pinned on the walls, private messages may be left there, say, by those looking for fellow travellers.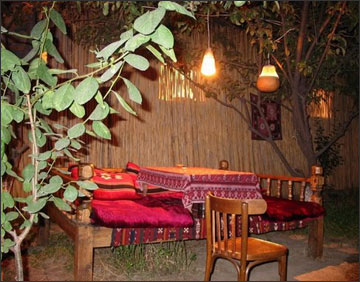 As a matter of fact, not too picky tourists will even be able to spend a night over in Bravo Art Café. Construction of a mini guest-house is nearing its completion, these days.
Bravo Art Café Director Arsen Ambaryan, lawyer and entrepreneur, says that the art-cafe owes its charisma to the unique atmosphere and unusual marketing decisions. Whoever has visited Bravo at least once is certain to come back, again and again.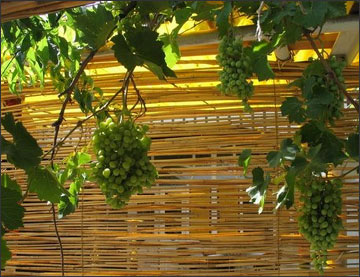 Bravo Art Café and information-culture center: banquets and celebrations. Book a table by dialing +996 3222 5 75 04. Address: 44, Kurmanjan Datka Street, Osh, Republic of Kyrgyzstan. Open Monday to Saturday, 09.00 to 23.00.