Floods and landslides in China took 400 to 800 lives over the last three weeks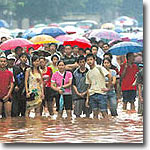 Floods in China. Photo by China Daily
Over 150 people died in floods and landslides in China last week. Xinhua news agency reports that the floods that began with the rain season already took at least 400 lives in almost half of Chinese provinces.
Mass evacuation in the Xinjang-Uigur Autonomous District affected 4,700 people. The elements badly damaged 2,900 hectares of crops and ruined over 10,000 tenements.
Chinese newspapers report 74 lives lost in the rain-caused floods in the city of Xuncin (southwest) and province of Shandun (east).
Threat to the dam on the Hwang Ho river in the eastern part of the country caused evacuation of over 1 million locals. RBK news agency estimates the death toll in China at over 800 by now.