Uzbekistan: Chkalov Aircraft Factory launched a major personnel reduction program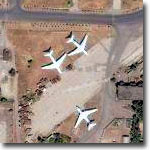 Photo: part of the territory of the Chkalov Aircraft Factory in Tashkent as seen from the orbit (courtesy of Maps.Google.Com)
Chkalov Aircraft Factory in Tashkent promises to sack every fifth employee by the end of the year.
The government of Uzbekistan endorsed a new organizational structure of the factory (its management and production sectors). Vesti.Uz quotes its sources as saying that resolution of the Cabinet "On optimization of activity and financial recovery of the Chkalov Aircraft Factory" stipulates reduction of personnel by 2,200 men (including 365 managers at different levers) by the end of the year. These days, the factory employs 10,900 men.
The Cabinet resolution also allows for the sale of objects of the factory's social infrastructure and parts of its overall territories with everything on them. Administrations of Tashkent and Tashkent and Ferghana regions will take over 113.2 hectares of the territory of the Chkalov Aircraft Factory and put it up for sale at a later date. Some other parts of the territory will be turned over to some ministries and departments including the Defense Ministry and Uzbekenergo.
Admitting that the factory is in a precarious position from the financial standpoint, insiders point out that "reduction of personnel is highly unpopular measure which is nevertheless a must or the crisis will never be overcome."
The factory finished 2006 in the red, its losses estimated at 5.596 billion sums ($1 equals 1.267 sums). In November 2006, President Islam Karimov issued a special order demanding improvement of the structure of the enterprise for the purpose of its financial recovery. The Chkalov factory took over assets of the Chirchik aircraft repair facility. It was permitted to import spare parts and materials necessary for aircraft construction free of customs duty (until January 1, 2010).
Independent experts suspect that the attempts to whip the Chkalov factory back into shape are actually a prelude to its integration into the Russian United Aircraft Corporation. That the enterprise in Tashkent would become part of the Russian corporation was proclaimed during Senior Deputy Premier Sergei Ivanov's visit to Uzbekistan this July. Interim integration plans are expected by the end of the year.