Moslems in Central Asia protest against Tankredo's threat to bomb Mecca and Medina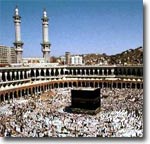 The Islamic Cooperation Organization of Central Asia (Organization) released a statement on August 6 condemning the idea to bomb Mecca and Medina in response to nuclear terrorist acts against the United States suggested by Representative Tom Tankredo, candidate for US president.
Addressing a rally in Iowa on August 3, Tankredo said holy Moslem cities of Mecca and Medina should be bombed if terrorists nuked the US territory. "Had it been up to me, we'd have explained that the attack of this sort will be followed by an attack on holy Mecca and Medina. Because it is the only way of preventing them from doing it," Tankredo said.
The US Department of State immediately disassociated itself from Tankredo's threat. "The idea to bomb holy sites - Moslem, Christian, Jewish, or any other - is absolutely revolting," Tom Casey of the US Department of State said in Washington on August 3.
Organization leader Murat Telibekov appreciated the stand of the US Department of State on the matter. "Fighting terrorism by force alone is wrong," Telibekov said. "Alternative ways of removing the discord must be found or civilization will deteriorate into absurdity, barbarism, and illiteracy."
The statement released by the Organization points out that "the US Representative's irresponsible call may escalate tension in the relations with the Moslem world and cause another wave of religious extremism and sufferings of the innocent thousands." Organization leadership urged the Islamic community to declare Tankredo a person non-grata undesirable in all Moslem countries.