President of Uzbekistan visited two regions to meet with successful farmers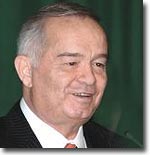 President of Uzbekistan Islam Karimov visited the Jizak and Syrdarja regions on September 27.
The president met with farmers and cotton-pickers who updated him on "the colossal effort to improve living standards, regular betterment of cities and kishlaks, improving prosperity, construction of new roads and objects, and appearance of schools and gyms even in remote kishlaks" under way in Uzbekistan.
"Increasing prosperity stands for higher living standards," Karimov said. "An auto was something luxurious for most our fellow countrymen only recently. It is a commonplace conveyance now."
Examining the fields, the president decided it prudent to remind farmers that "farming is not a whim, it is a serious self-sacrificial labor that taxes man's firmness and initiative" and that "it is necessary to make the most of every sunny day because harvesting the crops on time is in your own interests." Karimov promised to allocate more budget funds to "improvement of irrigation" in 2008.
Jizak farmers in their turn said they had studied Karimov's report "Uzbekistan: 16 Years of Sovereign Development" and his "superbly illustrated analysis of the changes in the country."
Kalandar Guboi in the Dustlik district was one of the farms Karimov visited. Its head Dilshod Shodiyev made 31.7 million sums in 2007. He build a new house and bought some equipment and a Nexia with the money. 2006 was the Year of Social Accountability in Uzbekistan, and Guboi donated 1 million sums to the district hospital and some wheat (a ton) and a cow to the poor. UzA does not report how many poor families barely make ends meet in the Dustlik district or if Karimov met with them. Judging by the official report on Karimov's visits to two regions, only those who could report a success were permitted to meet with the president. If it was done on Karimov's own orders or was an initiative of the local authorities is anybody's guess.
Karimov's visit to the Syrdarja region was not any different. Never missing a chance to compare Uzbekistan as a Soviet republic and sovereign Uzbekistan, Karimov told Mirzaabad farmers that "back in the USSR, nobody was ever giving a thought to the people here, to their lives or interests." "The reforms are baring fruit now," he said. "Mirzaabad farmers work hard and accomplish a lot, and that proves inadequacy of those old views." "You should meet demands of the day and develop both cattle-breeding and industry here," Karimov said.
It should be noted that the Jizak authorities went to great pains to make everything perfect for the visiting president, ensured security, and spared him meetings with the "undesirable" people. The police cordoned off the center of Jizak. No traffic was permitted within two kilometers of the sites Karimov was expected to visit. The regional marketplace stayed closed practically the whole day in Jizak. All local human rights activists including the farmers who were so much as suspected of being able to complain to the president spent this day under house arrest.