International scientific community demands aid to Professor Maitdinova in Dushanbe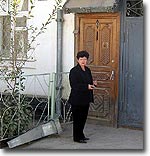 Photo: Guzel Maitdinova near her house in the center of the Tajik capital
Scientific circles of Russia, Tajikistan, Kazakhstan, Kyrgyzstan, Uzbekistan, Italy, France, and Great Britain drew an open letter to the president of Tajikistan asking Emomali Rakhmon to intervene in the matter of Professor Guzel Maitdinova. Authors of the letter hope that the situation will be settled fairly.
Click here for a detailed account of the Maitdinovs' conflict with the local authorities (in Russian). Here is the text of the letter.
* * *
To: President of the Republic of Tajikistan Emomali Rakhmon
Copies:
to the Hukumat (municipal administration) of Dushanbe,
Dushanbe Municipal Court,
Dushanbe Prosecutor's Office,
Ferghana.Ru news agency,
media outlets of Central Asian countries, Russia, and other countries.
Open letter
The authorities of Dushanbe are determined to evict the family of Professor Guzel Maitdinova from its house and to demolish the building. Bailiffs and workers hired by the municipal administration are absolutely unconcerned by the fact that there are people indoors.
The operation proceeds even though the Dushanbe prosecutor's office has uncovered numerous violations of the law in connection with the decision to evict Maitdinova and regardless of her open letter to the president of Tajikistan.
Maitdinova is not offered an adequate housing as a recompense.
Maitdinova's colleagues from Russia, Kazakhstan, Kyrgyzstan, and Uzbekistan appeal to you, Mr. President, as the guarantor of freedoms and rights of citizens of the Republic of Tajikistan, in the hope that You will intervene and personally see to a fair solution (an adequate housing for Maitdinova in central Dushanbe).
We have always viewed Tajikistan as a country with long-standing traditions of science and culture and the respect they command. We earnestly hope that this episode will have no negative effect on the image of Tajikistan in the eyes of the international scientific community. The Dushanbe authorities being cynically blase, we retain the right to spread this letter.
Signed by:
Professor Knyazev, Kyrgyz-Slav University, Bishkek,
Professor Plastun, Novosibirsk State University, Novosibirsk,
Bondarets, national and regional security expert, Bishkek,
Medvedev, Director of the Institute of Central Asia and Caucasus, Moscow,
Kislov, Director of the Central Asian Information Center, Moscow,
Abashin, scientist of the Department of Central Asia and Kazakhstan of the Institute of Ethnology and Anthropology of the Russian Academy of Sciences,
Professor Korgun, Director of the Sector of Afghanistan of the Department of Orient of the Russian Academy of Sciences, Moscow,
Sobyanin, Director of the Strategic Planning Service of the Border Cooperation Association, Moscow,
Professor Pugol, President of the European Society of Central Asian Studies, Paris, France,
Vielmini, analyst and expert with the ISPI, Milan, Italy,
Madeleine Reeves, research fellow, Centre for Research on Socio-Cultural Change, University of Manchester, UK,
Musayev, expert, Tashkent, Uzbekistan,
Ulunjan, research fellow with the Institute of History of the Russian Academy of Sciences, Director of the Center of Central Asia and Caucasus of the Institute of History of the Russian Academy of Sciences,
Khlyupin, CentrAsia web-site editor, Moscow,
and others.
Your signature will be appreciated. Send signatures to ferghana@fergananews.com.