Uzbekistan: the crop practically harvested, cotton pickers are still sent to the fields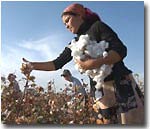 Photo - Tomas Grabka
Administrators from the regional and local education departments with their subordinates spent this autumn picking cotton in the fields in the region near the Aral Sea. It is teachers and kindergartners who end up on harvesting duty now that the gathering is essentially over. All through October and early November, however, whole processions of coaches travelled from the regional center to the fields every morning - ferrying "volunteer" tutors and students.
One of the senior officials of the education department of the regional administration who insisted on anonymity admitted that organization of daily trips to cotton plantations was a headache indeed. Almost all cotton had been already harvested, and local farmers refused to bother with what was still in the fields. Lacking economic leverage to force the farmers, the local authorities inevitably focus their attention on budget sphere organizations and employees.
Teachers from local schools acknowledge that their charges are drafted into cotton-picking duty. So do students' parents.
Manzura: I have two daughters and two sons, students of the municipal school not far from here. My youngest daughter is in the fourth form and therefore picks cotton only infrequently and only after classes. All the rest, however, go to school only a day or two in early September. Schools get closed after that, and all children are assigned to the field duty. I understand, of course, that our republic needs cotton - but using children to pick it is surely wrong!
Children work the fields from dawn till dusk seven days a week. They meet in the school yard, board trucks, and get ferried to the fields 15 kilometers away. They come back after dark. Needless to say, nobody asks for the parents' permission. On the contrary, whenever a child misses a day in the field, form mistress turns up to scold him or her for absence without leave.
A daily quota constitutes 30-40 kg. Children are paid 40-50 sums per kilogram. Sum total is not even enough to buy new clothes instead of what gets essentially unusable in the fields.
Kahraman: I teach mathematics, that's probably why I'm supposed to compile information on performance of the whole school, process it, and send it to the regional administration. Students of fourteen forms of our school work the fields. Form masters and mistresses give me exact figures every evening. Last season, our students averaged 2,500 to 3,000 kg a day. Whenever it was less than that, the principal was inevitably summoned for a dressing down. Screamed at by his superiors, he screamed at us the following morning... Students of out school harvested 42 tons last year.
Nadezhda: I teach the Russian language. No, I do not participate in this cotton picking and neither do my students. I usually teach my best students during the harvesting season, training them for school contests.
I'm against this whole practice of suspending classes. It affects children and the bulk of knowledge they end up with. Recesses are shortened with the inevitable effect it has on children's health. Unfortunately, it all will continue as long as the authorities need cotton. If you ask me, cotton should be harvested by whoever planted it in the first place.
Time to change the whole system - use machinery or something, or, at least, pay cotton pickers better. Nobody bothers as long as there is this cheap workforce. Not a single thought is given to consequences of this practice which come down to degradation of the nation in the long run.