Mysterious state of Turkmenistan dispels myths and stereotypes
© Natalia Antelava photos
Natalia Antelava, BBC correspondent in Central Asia, made her first visit to Turkmenistan in November 2007. Initially there for the international oil and gas conference she covered, Antelava chose to stay somewhat longer to get better knowledge of everyday life in Turkmenistan. She visited the city of Turkmenbashi and made a story on nightlife in Ashkhabad.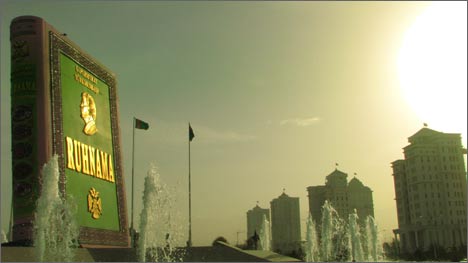 The capital of Turkmenistan. Photo by Natalia Antelava

Frequent visitor to other Central Asian countries as she is, Antelava cannot help comparing Turkmenistan with Uzbekistan. Much to her own surprise, the comparisons do not always favor the latter. Here is an interview with Natalia Antelava.
Ferghana.Ru: Did whatever you see in Turkmenistan with your own eyes check with the impressions of this country you had formed before the visit?
Natalia Antelava: It didn't! I remember my amazement at how wrong my impressions had turned out to be. It was truly shocking and interesting. That's what stereotypes do to you... Sure, what we've heard about does exist in Turkmenistan - Saparmurat Niyazov's golden statues, Rukhnama monuments, people wearing traditional garments...
I have always known that eccentricity of Niyazov and his regime served as a perfect cover for the problems that existed. Journalists coming to Turkmenistan were immediately struck by the rotating golden statues and bizarre laws but the actual state of affairs in the country (absence of independent media, freedom, and so on) was mostly missed. As I see it now, however, we also completely missed the fact that life in Turkmenistan is much easier for the people than life in other Central Asian countries.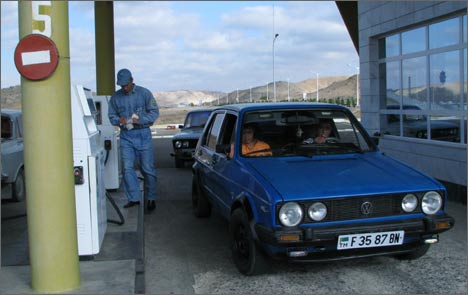 Photo by Natalia Antelava

The benefits the population is entitled to are enormous. Electric power and gas are free. It takes approximately $1 to fill up one's tanks. "The West is convinced that construction of golden statues was all he [Niyazov - Ferghana.Ru] cared about," a woman told me one. "As a matter of fact, however, he shared the wealth with us, too."
Other people I encountered and talked to corroborated it. I couldn't help seeing that these people sensed themselves as part of the state and society, that they were not living in some parallel world like in Uzbekistan where the state is disassociated from the people. In Turkmenistan, the relations between the authorities and the population are quite comfortable. Without any blind worship on the part of the latter.
When I saw weeping people at Niyazov's funeral on TV last year, I inevitably thought they had been thoroughly brainwashed and conditioned into idolizing their rulers. A visit to Turkmenistan, however, compelled me to change my mind. I became convinced that the relations between the authorities and the population in Turkmenistan are quite pragmatic.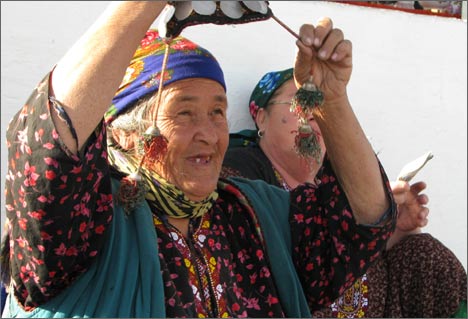 Photo by Natalia Antelava

Yes, there exist exact boundaries one is not supposed to cross. When one does not undertake to cross them, however, he is absolutely free. There are countries in the post-Soviet zone where the governments put down their peoples. I did not sense it in Turkmenistan.
Ferghana.Ru: Is it possible to call the Turkmens apolitical?
Natalia Antelava: It probably is, but I did not get the impression that they make a point to avoid discussion of politics. When I talked to ordinary people - I mean people other than human rights activists or activists of the opposition - nobody said anything against the government, I did not hear a single word of criticism.
What is really amazing is that there is no feeling of fear in the atmosphere. When one comes to Uzbekistan, for example, he cannot help sensing fear that is ever present and all-permeating. It is different in Turkmenistan.
As for life in Turkmenistan... I wouldn't call it particularly hectic. It is steady, bolstered by the feeling of certainty and security. That's more than can be said about life in other countries of the Central Asian region. Save for Kazakhstan, probably, but it is a special case because Kazakhstan is different with its free enterprise and competition just like in the West. As for Turkmenistan, it is a country that bears a strong resemblance to the Soviet Union but a benevolent Soviet Union if you get my drift. This discovery was striking too.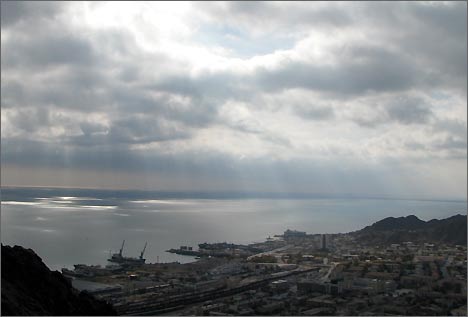 Photo by Natalia Antelava

"We retained the good things we used to have - stability, certainty, opportunities to make money that render obsolete all fears concerning how to provide for the family," people used to tell me. "Moreover, we enjoy more freedom nowadays than we enjoyed in the USSR. For example, trips abroad are available now." In short, the people I talked too defended the regime.
Ferghana.Ru: What about stores in Turkmenistan? Are they different from the Soviet past?
Natalia Antelava: Affluence in stores is another thing I never expected to see. There are lots of symptoms of the Western civilizations in Turkmenistan nowadays - shopping malls, famous brands like Mango, Nike, Puma, and so on... There are shopping malls where garments made in Turkmenistan of Turkmen cotton are available. The locals claim that outfitting oneself does not cost that much. In fact, Turkmenistan is even exporting goods and commodities, these days. I'm told that Jeniffer Lopez once told MTV at some fashion-party or other that "The jeans I wear are from some country called Turkmenistan."
Very many people in Turkmenistan wear traditional garments. That's very nice and exotic, you know. Other wear modern clothes.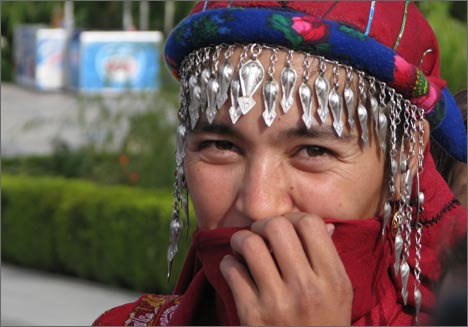 Photo by Natalia Antelava

Average pay in Turkmenistan is about $100. Living on this sum in Turkmenistan is much easier than in any other country of the region. Foods are unbelievably cheap. Loaf of bread costs several cents, garments of good quality $5.
I was buying a ticket for the flight fromÿAshkhabad to Turkmenbashi when the cashier took a look at my passport and smiled apologetically. "You are a foreigner," she said, "you will have to get the expensive ticket, you know. $14, please." - "And how much the cheap one costs?" - "$1.6," she replied. And that's for an hour's flight!
When we were making a story of Ashkhabad's nightlife, we visited the places frequented by youths - nightclubs, bars, restaurants, and so on. Techno-music, booze, and everything one would expect from places like that - it was all there. Moreover, they were not places reserved for children of the elite. I talked to a young man there who said he repaired cell phones. He said he was making enough to take his girl to a restaurant whenever she felt like it.
By the way, service in Turkmenistan is quite commendable. Not because the Turkmens are so schooled or anything, but because they are amiable and hospitable.
Ferghana.Ru: Have you ever encountered homeless children or beggars in Turkmenistan?
Natalia Antelava: No homeless children. I sent ten days in Turkmenistan and encountered a beggar only once. A young woman cradling an infant in her hands approached me and asked for some change. She was drunk, by the way.
I asked very many people in Turkmenistan - and not only whoever was pro-government or anything - about children's labor in cotton fields. They all replied that this particular problem was history.
Ferghana.Ru: What about the police in the streets?
Natalia Antelava: I wouldn't say the police were out in force, if that's what you mean. Sure, I saw some, say, manning the entrance to the city hall, but police officers in the streets of Turkmen cities are encountered considerably less frequently than in Uzbekistan.
The traffic police stopped our auto on several occasions, but the driver could - and did - challenge them. Once he flatly refused to pay for some violation of the traffic rules the police said he had committed. Moreover, he persuaded the police that they were wrong and they waved us away. Everyone was quite polite and genial.
What really surprised me was that I encountered symptoms of healthy society where I had never expected any.
Ferghana.Ru: Could the Turkmens owe it all to new President Gurbankuly Berdymuhammedov?
Natalia Antelava: Installation of a new regime did play its part, of course. I've never been to Turkmenistan under Niyazov. On my first visit there, however, I sensed certain optimism in the people, new hopes, even exhilaration. People treat the new president with caution yet, but they do pin a great deal of hopes on him and they appreciate what he has already done. The new government did cancel some of Niyazov's extremely unpopular laws - the particularly bizarre ones - and thus made life immensely easier.
Whoever I talked to admitted that these changes had had a profound effect on their lives. They said they had particularly welcomed the reforms in the sphere of education and restoration of ten-year curricula at schools. Abolition of restrictions on movement within the country helped too.
On the other hand, I wouldn't say the people applaud Berdymuhammedov or adore him. They like his performance so far but they remain cautious with regard to what may come yet. "Let's wait and see" is the general rule.