The Great Silk Road with one's own eyes. Part IV. Kashgar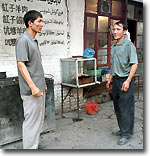 In the final part of the essay Ferghana.Ru readers will be told of where the Chinese yuan is best converted into other monetary units, what the difference between Chinese Kyrgyzes and Kyrgyz Kyrgyzes is, what Chinese cabs in Kashgar are, what meals in Kashgar are available, and many other interesting details and nuances of the travelling to one of the most ancient cities of China.
* * *
This correspondent left the territory of Kyrgyzstan in Irkeshtam, the southernmost point of the country.
On the Chinese border
Irkeshtam was but a small transshipment base a few years ago. The crossing point worked ten days every month and remained shut down the rest of the time. This state of affairs was ascribed to the Chinese, and the Kyrgyzes had to play ball. Traffic across the border greatly increased in the last two years, and the crossing point operates practically every day now (apart from week-ends and holidays). In fact, the border gets closed only for Chinese state holidays.
The increasing traffic has had a positive effect on the local infrastructure. House trailers for drivers and loaders gave way to several hotels ten bedrooms for 5-8 men each. Owners of the hotels will easily convert whatever else is available to accommodate customers as long as the latter are prepared to pay for it.
See also: The Great Silk Road with one's own eyes Part I, part II, part III
Photos by © Ulugbek Babakulov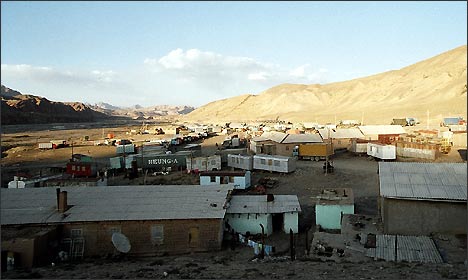 Modern Irkeshtam

Menus at hotel cafes are quite adequate but the prices are relatively exorbitant. Still, even that is logical. First, absolutely nothing grows in these mountains, not even the dwarf plants typical of the tundra. Second, shipping foodstuffs and firewood up here is a chore. Third, customers really have no choice - save for bringing their meals with them all the way from home (as a matter of fact, some drivers do just that).
Owners of hotels in Irkeshtam and Chinese drivers to be found at every cafe are the men to approach whenever one needs hard currency exchanged. The exchange rate they offer is invariably better than anywhere in Bishkek. Juan goes at seven soms in Bishkek. In Irkeshtam, a hotel owner this correspondent approached eagerly converted a couple thousand soms into juans at five to one. The exchange rate for juan into som conversion is analogous which is also different from Bishkek where a person will be lucky to exchange them at three som to the juan rate.
Whoever wants to make Chinese Irkeshtam or Zymkana (it stands for Behind The Barbed Wire in Kyrgyz driver's parlance) needs to pass four crossing points. The first of the four, a Kyrgyz one, is located seven kilometers from the principal checkpoint. This crossing point negotiated, Ferghana.Ru correspondent found himself on the no-man's land two or three kilometers long.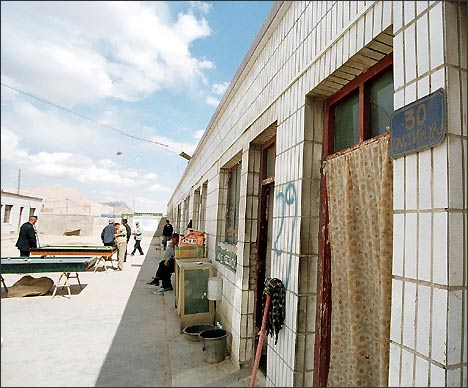 Hotel

Time zone difference between all of China and Bishkek is two hours. Chinese border guard close the checkpoint for lunch from 2 p.m. to 4 p.m. local time (noon to 2 p.m. Bishkek time) every day. Whoever has failed to cross the border before that has to wait, glancing every now and then at the large clock on the crossing point building.
Zymkana
Infrastructure in the Chinese part of Irkeshtam is way better than in the Kyrgyz. It is a kind of settlement with stores filled with cheap Chinese goods. There is even an Internet-cafe there with IP communication services available. This correspondent immediately placed a call home in Bishkek. The bill, however, turned out to be quite impressive - almost $0.5 per minute.
Kyrgyz drivers ferrying loads from China to Irkeshtam live in barracks converted into hotels. Their owners are Kyrgyzes too, but Chinese Kyrgyzes. Slip into Russian in a conversation with one, and the man cannot understand you anymore. Owners of these so called hotels usually work at nearby cafes. One of them by name of Mamatkali invited this correspondent over to his place for a beer. Sipping at his beer, Mamatkali said he was owner of the hotel and a local butcher, selling mutton at 10-16 yuans to all local cafes. The slaughterhouse was nearby, he explained.
According to Mamatkali, the government of China respects the wealthy. "Sure, the authorities do help the poor too, but these latter do not command that much respect, you know. As for me, I'm quite well-to-do," he boasted pointing at sackfuls of flour heaped right in the same room.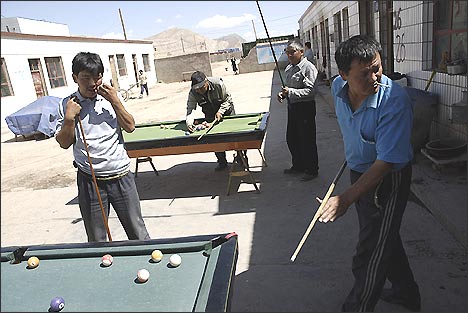 Drivers playing pool

Chinese cab in Kashgar
Flagging a cab driven by a Kyrgyz girl, this correspondent set out for the town of Uulcha located approximately halfway to Kashgar. The driver said the population of Uulcha was mostly Kyrgyz. The temptation to take a few days off and just walk this nice town was strong but this correspondent had business in Kashgar to attend to.
This correspondent changed the cab soon, and the new driver promised to make it right to the needed hotel in Kashgar.
A word of caution: practically all Chinese cabbies are chain-smokers. Chinese cigarettes in the meantime are quite smelly. The smell inside cabs is therefore something awful. Neither do empty beer cans converted into makeshift ashtrays fixed to the doors are exactly aromatic.
The cabby turned out to be garrulous - either by nature or in the hope to impress a foreigner. When, fifteen minutes and two cigarettes later, this correspondent asked him if he would mind stop smoking please, he merely uttered a short laugh and took another cancer-stick from the crumpled pack. This correspondent took it as insolence (customer is always right, even when he is wrong) and chucked the cigarette out the window. It took the stunned driver a moment or two to digest it before he brought the pack out again with the clear intent to light another cigarette. A closed fist shaken before his very nose must have convinced the man that smoking did kill.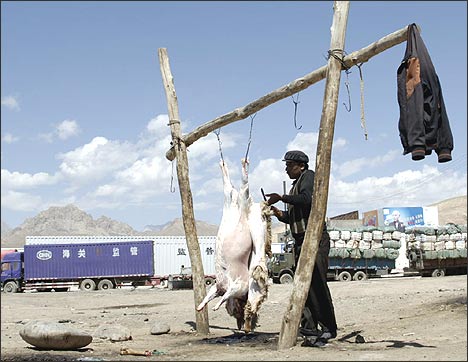 Chinese Irkeshtam. Mamatkali's helper carves a mutton

Ten minutes without cigarettes, and the cabby was begging this correspondent for the permission to light one. He was told that it was all right, that he could smoke away for a discount from the fare - five yuans a cigarette. This argument silenced him for good. The cabby only muttered that he would end up owing his fare and shut up.
A cab ride to any location within Kashgar costs five yuans. Cab rides and cafe prices are not to be negotiated, but everything else... The more one argues the demanded price, the better it is. A good bargainer will shave up to 80% off the demanded price and leave with whatever it is he bought and the vendor's vast respect.
Staying overnight
Two hundred and fifty kilometers of the impeccable highway and this correspondent was in Kashgar. A room with a shower, bathroom, and wash-basin at the Chynybak hotel cost 100 yuans. Not exactly an opulent hotel of course, but quite all right if the alternatives are 2,000 yuans a night on the one hand or 20 yuans in a boarding house frequented by the locals on the other.
Staying at Chynybak, this correspondent met Kyrgyz vendors working in Kashgar and travellers from Kazakhstan on tour of Xinjang.
There was more to Chynybak that immediately met the eye - another building with different prices and quality of service. A brief visit there resulted in making the acquaintance of a married Uzbek couple from the United States. Descendants of some immigrants who moved to the United States from the Tsarist Russia, they must have decided to make a tour of the land of their ancestors.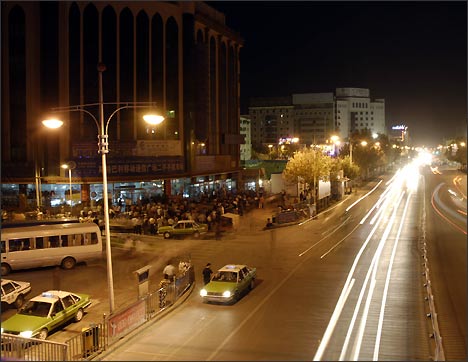 Kashgar by night

City of the past
Kashgar is a crossroads of the Great Silk Road, a point from which roads to almost a dozen Asian countries branch off. Population of the region (and its consumer market therefore) stand at nearly a billion. Before the sea route to China was open in the 15th century, it had been essentially the only road to this country.
The city was founded two millennia ago. The impression was that time was standing still or even reversed, that a junkman would turn the corner any moment with Aladdin's magic lamp for sale.
Central Kashgar is known as the old city. In fact, it is literally old. Clay fences and walls cannot help reminding traveller of The Diamond Arm, the movie where Andrei Mironov's character got lost in exactly a similar town.
The Uigurs have populated the old city for centuries. Involved in primitive arts and crafts, they sell their wares right in the street in front of their dwellings or else take them to bazaars and offer to tourists.
The main mosque built in the middle of the 15th century is located in the central square. Some call it the largest mosque in China, probably because it accommodates up to 10,000 believers Fridays. This correspondent was not particularly impressed though, because the minarets did not amount to too much. Every citizen of post-Soviet Central Asia will tell you that high minarets are a must for every mosque. Not so in Kashgar, however, where the minarets are quite low. This correspondent discovered afterwards that mosques had low minarets all over Xinjang.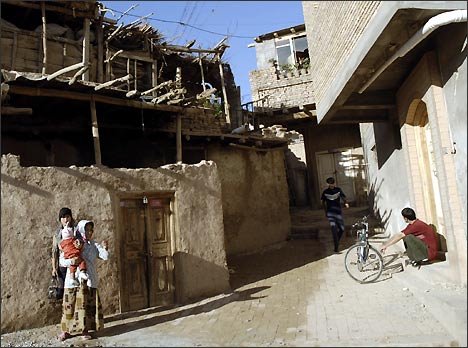 Kashgar: old city

Not all of Kashgar was that ancient, however. The old city turned out to be located in the ring of three- and four-floor buildings, just like the brick tenements of the Soviet era. Colossal modern sky-scrapers were there too.
Monument to the Great Helmsman Mao Tse-tung, with a star in the forehead and one arm stretched to show the proper direction for the nation to follow, is in the central square too. And literally crowds of local kids. Forget about giving one a mochen (0.1 yuan) or you will be swarmed by the rest, each demanding a coin too.
Some kids even wear the Soviet Pioneer ties, old and dirty. Soviet ideologists must have been in a class by themselves. They did convince Soviet and, apparently Chinese, kids that the red tie was a part of the heat.
The locals converge to the central square by night to watch a Jackie Chan or some other suchlike movie on the huge monitor set up there for the purpose.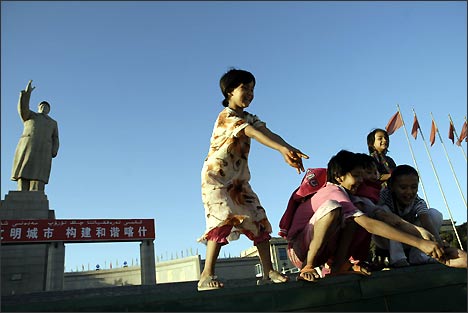 Mao and children

Taking a meal without running a risk
An impromptu kitchen under the open sky is located not far from the central square. The impression is that it is mostly for the poor. People eat right there, on their hunkers or on the long bench. Where dished were washed afterwards remained a mystery to this correspondent.
Whoever refuses to take unnecessary risks may dine at Uigur cafes, easily recognizable by the odor and shop-signs each depicting the cafe's specialty. Food is cheap and quite tasty. A teapot of green tea is an element of every meal, courtesy of the house. It may be added that this correspondent's horrible mixture of the Uzbek and Kyrgyz languages turned out to be quite passable and was even taken for Uigur.
A couple of days later this correspondent did find a cozy and clean cafe, owned by an Uigur woman who employed women alone for staff. It was like something one encounters in Bishkek - a cafe with clean tablecloths and nice waitresses wearing clean banians. By the way, telling Uigur women from Chinese was easy - the former cover the heads.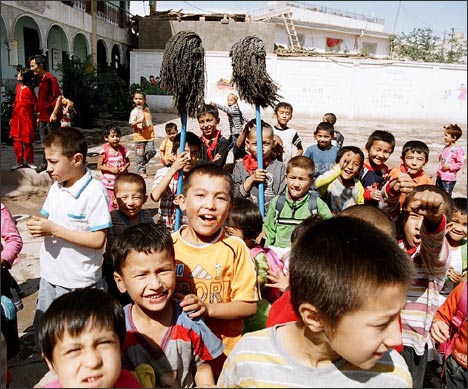 Kashgar schoolchildren

Recalling the Peking Duck cafe in Bishkek, this correspondent decided to try his luck at a Chinese cafe. It was a fiasco. First, the menu was in Chinese and therefore indecipherable. Second, spicy odors emanating from the kitchen turned out to be more than could be endured. As a matter of fact, this correspondent did manage to treat himself to a Chinese meal once. The hotel's restaurants had its menus in English. The waitress brought this correspondent tepid tea three times, each time in response to a request to heat it first. A local Uigur eventually took pity and explained that the Chinese did not take their tea hot.
Beware autos and "terminators of journalists"!
Strolling down the streets, this correspondent noticed a great deal of dentists'. Eyeing one of them, Ferghana.Ru correspondent was all but run down by a "terminator of journalists" - a practically noiseless bike (the second most popular conveyance in Kashgar after autos). They run on electric power which makes them relatively cheap. Charge it, and the battery is good for five hours - more than enough for the trip to the office and back home (with a visit to friends, perhaps).
It was also noticeable that a great deal of drivers were women - and that there were practically no traffic lights in Kashgar. Whoever need to cross the street had to wait for the traffic to ease off some and make it across posthaste. A country whose population stands at 1.5 billion and the annual birth rate is estimated at 6 million probably can afford to do without traffic lights.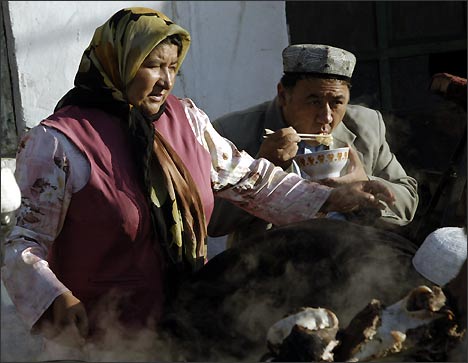 Taking meals in Kashgar

Where is your AIDS certificate?
The question was asked of this correspondent by the border guard manning the crossing point. Vendors waiting for their turn explained that the AIDS-free certificate should have been obtained at home, in Bishkek, or at least bought for 100 soms in Osh. What was really surprising was that the Chinese border guard was demanding the document when this correspondent was leaving China and not entering it. "How come nobody demanded to see it when I was entering? What if I communicated it to other Chinese on my stay in your country?" The question was left unanswered.
The vendors showed their papers to the border guard and were waved through, leaving this correspondent behind. Fortunately, the very Chinese Kyrgyz this correspondent had made acquaintance of when entering China emerged at this point. Given a gist of the situation, he cleared the matter with the passport control in no time at all. This correspondent finally left the crossing point - only to encounter the same vendors outside, busy talking to another Chinese border guard.
As it turned out, the vendors had decided to get a lift but the Chinese was insisting that they should take the same mini-bus that had brought them to the border. Moreover, he was demanding 20 yuans per man this time. One of the vendors and yours truly chose to walk to the Kyrgyz border.
A minibus pulled over a minute or two later and a border guard jumped out, demanding to see our passports again.
This correspondent's blue Kyrgyz passport was promptly put in the officer's pocket and the Uigur translator accompanying him said this correspondent was to be detained. The vendor, however, turned out to be a citizen of Russia. That changed the border guard's in a hurry. Assuming that the vendor and this correspondent were companions, he immediately fished out the latter's passport of out his pocket. It cost this correspondent 10 yuans all the same.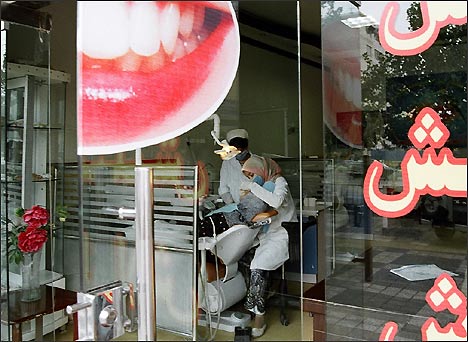 Dentists in Kashgar

The minibus took us all to the no-man's land.
Three weeks of travel were over. This correspondent was at home, in his beloved Kyrgyzstan.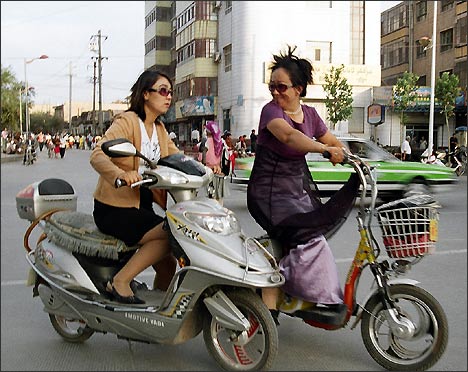 Kashgar. Terminators of journalists

Ulugbek Babakulov (Bishkek – Osh – Irkeshtam - Kashgar)