Kyrgyzstan: Omurbek Tekebayev predicts deterioration of the political situation soon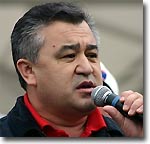 Bishkek newspaper Reporter interviewed Omurbek Tekebayev, leader of the prominent Ata-Meken party and erstwhile deputy and chairman of the Jogorku Kenesh (national legislature), on results of his trip to the United States and on the future of the alternative public parliament.
Tekebayev said that establishment of Ata-Meken office in the United States would enable the Kyrgyz abroad to participate in "political processes taking place in the country." "Moreover, Ata-Meken applied for membership in the Socialist International. We believe that presence in Europe will greatly facilitate participation in international events," the politician said.
When in the United States, Tekebayev met with a number of US officials including Richard Boucher of the US Department of State. "Deterioration of the democratic climate in Kyrgyzstan was commented on. The US Department of State does not think much of the parliamentary election in Kyrgyzstan that took place last year. American research centers working to promote democracy in Kyrgyzstan plainly called the election rigged," Tekebayev said.
Asked about the alternative public parliament, Tekebayev appraised it as a "podium where political parties will be able to discuss pressing issues of the day, a podium where all opinions and points of view will be welcome." "We want state structures to take public opinion into account," the politician said.
To quote Tekebayev, "The opposition may establish a coalition in the near future because privatization in some vital sectors of economy is approaching. That it will deteriorate the political and social situation in the country is clear."
The opposition intends to run for the Bishkek Kenesh (municipal council) in October 2008. "Our triumph there will be proof that we are strong enough to withstand tyranny and lawlessness," Tekebayev said. "Let people regain confidence and certainty that it is possible to change something by legitimate means. As a matter of fact, we may have established some bloc or coalition by then. We should care if we want to change something."
Unabridged text of Tekebayev's interview will be available in Reporter, No 4, February 22, 2008.