The coming of spring is to be celebrated without the president for the second time in the history of sovereign Kyrgyzstan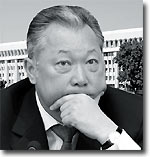 The Nooruz or the coming of spring will be celebrated in Kyrgyzstan (and in many other countries) on March 21. Three days later, the Kyrgyzes will be celebrating the Revolution Day for the first time.
There is, however, a fly in the ointment. President Kurmanbek Bakiyev is not in Kyrgyzstan. He is still in Germany, supposedly undergoing an intensive medical treatment course or so it is rumored.
Trying to dispel the rumors, parliament Speaker Adakhan Madumarov said on March 19 that there is nothing wrong with the president's health.
The rumors, however, would not be dispelled. It is known already that Bakiyev is not going back for the Nooruz and Revolution Day.
Taking what he called his annual leave of absence, the Kyrgyz president had intended to return to Bishkek on March 16. His press service was compelled to admit that the president was away, but it did so only in the wake of a speech in public made by Azimbek Beknazarov, leader of the semi-clandestine Revolutionary Committee (this structure demands Bakiyev's resignation).
Ferghana.Ru's report on the subject was followed by a statement from the presidential press secretary where he categorically denounced all rumors and speculations as having nothing to do with the actual state of affairs.
"It never even occurs to anyone that the president has been working without annual vacations these last three years. He has not had a single day-off. Secondly, he is just as human as you or me, and what we in Kyrgyzstan experienced over these three years is common knowledge, I trust," 24.kg news agency quoted Madumarov as saying. "It's just a scheduled checkup, no different from the ones we all pass once a year. The only difference that we pass it here, in Kyrgyzstan. But he is the president. He is surely entitled to being himself at least for a short period."
All these reassurances fail to convince the population, however, because of the importance of the forthcoming date, March 24, the day when the so called March Revolution elevated Bakiyev to presidency three years ago.
Were the president as healthy as Madumarov claims he were, Bakiyev would surely have returned to the country for so important a jubilee.
The Kyrgyz celebrated the Nooruz without congratulations from the president only once in the history of sovereign Kyrgyzstan. It happened in 2005, right before the March Revolution when President Askar Akayev decided to do without the traditional address to the nation. The analogy is inescapable.
Bishkek is reverberating with rumors that Bakiyev is being operated on (spine, kidneys, prostate - take your pick). It is even rumored that the president is not in Germany at all because some claim to have seen him in Israel.