Kyrgyzstan celebrated third anniversary of Revolution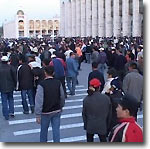 On Mar. 24, Kyrgyzstan celebrated the third anniversary of the People's, or so called "Tulip" Revolution. Three years ago, as a result of the mass disturbances of the people across the country, ex -President of Kyrgyzstan Askar Akaev had no choice but to abandon the country and give the power to the opposition. The post of the President was taken up by the Leader of the 2005 opposition Kurmanbek Bakiev.
The 24th of March was announced a day off and people in all parts of the country celebrated and will celebrate it annually, as this day was officially declared a national holiday this year.
Local authorities of Jalalabad ("cradle of the Revolution" and hometown of President Bakiev) organized a show and a wreath-laying ceremony at the People's Revolution monument. After that, everyone was invited to take part in a concert program, held in the central square, or to try themselves in sporting competitions.
The celebrations in Osh were far less pompous. Here, the city administration refrained from organizing special performances and shows. People were celebrating on their own. The Oblast Governor, the Mayor and other officials didn't send their holiday greetings to the displeased people. It especially upset the participants of the 2005 events.
Of course, the holiday celebrations also took place in the capital of Kyrgyzstan, Bishkek. There were higher echelon officials at the program, apart from the "main revolutionary" Kurmanbek Bakiev, who is on vacation in Germany, where he allegedly underwent a course of medical treatment. However, according to the President's administration, he is on ordinary vacation.
On the eve of the Revolution Day, rumors circulated through the country that the President's health condition had suddenly deteriorated. Head of the President's press center Dosali Esenaliev informed Ferghana.Ru news agency that the Leader of the country would arrive on Mar. 28 and an enlarged meeting of the Parliament would be held the same day.
During his speech in the central square on Mar. 24, Speaker of the Parliament Adakhan Madumarov passed the President's holiday greetings to the nation and said he had spoken to him that morning.
Five days later, on Mar. 29, there was an event with the participation of the main "players" of the 2005 revolution, who, being in opposition to ex-President Askar Akaev, brought Kurmanbek Bakiev to power. The President's ex-supporters have now become his opponents and express their concern over the policy the country and the President chose to pursue. They say, the political course of the current government has nothing to do with the pre-revolutionary slogans of 2005. They even intend to name an alternative president or a candidate from the opposition for the next presidential elections.