Kyrgyzstan: Kurmanbek Bakiyev's comment on the rumors
President of Kyrgyzstan Kurmanbek Bakiyev returned from a nearly month-long course of medical treatment in Germany on March 28. Clearly healthy, he was met at the airport with applaud - with all of the country watching it on TV screens. In the meantime, few had believed he would ever come back because of the rumors circulating in Kyrgyzstan. Here is an interview with Bakiyev given the day following his return to Bishkek.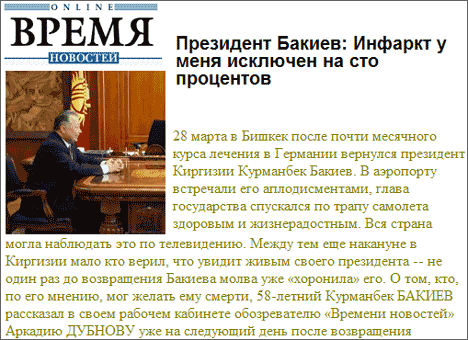 Question: So, the rumors proclaiming you dead turned out to be an exaggeration...
Kurmanbek Bakiyev [with a hearty laugh]: So they did.
Question: What was your reaction when you first heard all these rumors in Germany?
Kurmanbek Bakiyev: Well, I was only told that my poor state of health was the talk of the day. It was only on my return here that I heard of my untimely demise.
I even decided to recall when was the last time I'd been hospitalized. And I did remember eventually, you know. It was when I was just a kid, a ten-year old. I was a shepherd, pretty much on my own on the pastures, eating all sorts of stuff from green fruits to semi-raw fish. And so I ended up in hospital with banal digestive trouble. And never once since in almost 48 years! Who can match it - nearly half a century of sound health? Do you agree?
Question: I do.
Kurmanbek Bakiyev: When we were having the informal CIS summit in Moscow in February, I did inform Vladimir Putin that I was going to take a short lave of absence and see some German doctors to have them take a look at my joints. I pointed out that I was telling it to him only because Kyrgyzstan was the CIS chairman at this point. As a matter of fact, it might be on no importance for a man who does not lead an active life, but it is important for me. I do exercises every morning, you know... Well, I said it all to Putin and he said he understood and told me to go ahead.
I'm glad I made this trip to Germany and had my heart examined there while they were at it. They make some sort of injection here, on the thigh, the tube approaches the heart, and the patient can see the heart on the monitors. They told me everything was fine, all arteries were clean, heart attacks ruled out. I answered that I had never even thought I might have one. Doctors said, however, that my blood pressure could be high every now and then but I replied that I never felt it.
Question: Were you ever aware of this hypertension problem before the visit to Germany?
Kurmanbek Bakiyev: Never. Nothing beyond the usual stress caused by work. Shortly speaking, German doctors gave me a complete checkup - liver, kidney, and so on, and proclaimed me healthy.
The joints were all that was wrong with me, you know. I said I lead an active life, said that I had some traumas of course. Particularly when playing football... Doctors said the normal course of treatment would take 2-3 weeks or they could give me some pills and that would be all. I decided to take the proper course since I was there anyway. That is why I spent three plus weeks in Germany instead of the planned two, from March 3 to March 28.
Question: Did you expect to return for the Revolution Day, March 24?
Kurmanbek Bakiyev: I thought I'd make it but... When I did come back and emerged from the plane to see all these crowds of journalists, it was then that I first realized how much tension these rumors had caused. My family told me that much later that day.
Question: They say it's a good omen, because you will live long now...
Kurmanbek Bakiyev [with a laugh[: I wish everyone did.
Question: On the other hand, it did look suspicious. Some senior officials did behave as though they were waiting for radical changes in Kyrgyzstan. No wonder ordinary people thought something had happened. I'd say the Kyrgyz state should have come up with an official explanation to dispel the rumors.
Kurmanbek Bakiyev: To tell you the truth, I was not aware of how serious it all was. On the other hand, I maintained regular contacts with governors, prime minister, officials of the presidential administration. We discussed the current state of affairs, the course of the sowing campaign...
Question: In other words, these people knew you were all right.
Kurmanbek Bakiyev: They did.
Question: But some suspicions must have remained.
Kurmanbek Bakiyev: I felt it in their tone and kept telling them that I was fine.
Question: They disbelieve even now. I was checking my Dictaphone in the cab on my way here when the cabman asked who I intended to interview. I said I was going to meet with the president. "Sure," he said. "I hear they are using a double..." [Bakiyev laughed at that.] Moreover, it happened the day after your return to Bishkek watched on TV screens all over the country.
As a matter of fact, the country was prepared for your return. The opposition even cancelled the kurultai initially scheduled for March 29 and set it for April 12. Its leaders said it would be wrong to confront with political demands the president who has just returned from a lengthy medical treatment abroad... Any comments?
Kurmanbek Bakiyev: To start with, I do not know what this kurultai is about or what issues are to be on its agenda. Sure, I heard something of course, and it's fine by me as long as the law does not object. It's better of course to have a constructive dialogue and to hear constructive proposals. The opposition set up some sort of body and called it public parliament. The Constitution does not allow for it. Who is going to carry out its decisions or recommendations? We all know who comprises this structure. These people who call themselves the opposition go out of their way to think up something or other but this... this attempt to proclaim the president dead is a dirty trick.
Question: Do you think it all originated in the opposition?
Kurmanbek Bakiyev: I do think so. I even think - even though I'm not sure yet, you understand... It is common knowledge that academies of the KGB and Interior Ministry in the USSR taught special methods of proliferation of rumors. The more unlikely the rumor is, the better it is believed. I suspect that former officers of Soviet secret services must be instructing rumor-mongers these days.
Question: That's an interesting hypothesis, and I think I have some circumstantial evidence backing it. Daniil Kislov of Ferghana.Ru news agency phoned me from Moscow yesterday to say that the Kyrgyz National Security Committee had questioned Reporter Chief Editor Sultan Kanazarov. Bishkek newspaper Reporter was one of the media outlets to report all these rumors. Odd that journalists are blamed for the rumors, isn't it?
Kurmanbek Bakiyev: Yes, I know of this episode. Whenever I come back from a trip, it is the head of the presidential administration, state secretary, and the heads of secret services who meet me at the airport. Yesterday wasn't an exception. So, we met and had a brief talk. I said I had heard certain rumors. They replied they had heard them too. We didn't dwell on it, I didn't press them, but the impression I got was that they were involved. When special services are involved, it is usually clear.
Question: What do you mean?
Kurmanbek Bakiyev: I've never studied for law enforcement agencies or anything, but I do know that these courses existed and probably exist now.
Question: It is known already that you are meeting with the republican leadership on March 31. What will be discussed at the conference?
Kurmanbek Bakiyev: For starters, I want to listen to Prime Minister Chudinov on the current situation and on fulfillment of the orders given before my departure. I want reports from ministries and departments as well on food security, energy security, prices, inflation...
Question: Do you intend to listen to a report on parliamentary debates concerning privatization of objects of the power-production sphere? Along with your state of health, this is the talk of the day in Kyrgyzstan.
Kurmanbek Bakiyev: I surely do. No progress at all is being made. Several small hydroelectric power plants were sold to private businesses and look how reliable and stable their work is nowadays. Tariffs do not go up, but salaries of employees do. Moreover, they even install new equipment. The Alamedi Hydroelectric Power Plant is a fine example. Let's remember it when we come down to the future of large hydroelectric power plant like the Toktogul, Kambarata-1, or Kambarata-2.
Question: How come that the Kyrgyz parliament is dead set against it? You Ak-Jol party has the majority there, but the parliament raises objections to what the president himself suggests.
Kurmanbek Bakiyev: I'd say that it is a result of misunderstanding. Unfortunately, this is not something new, because there were analogous episodes with the previous parliament too, the one I disbanded last year. I remember going there more than once with explanations. Every lawmaker should know all pros and cons of whatever motion is on the floor. As for trouble-makers, they do not bother with trying to get to the root of the matter. That is why I always tell the premier and ministers that whenever they approach the parliament on any matter, they should be well-prepared and capable of speaking clearly so that parliamentarians understand. Whenever the parliament is addressed to in a roundabout way, in vague and unclear phrases, lawmakers grow suspicious.
Question: But parliaments consist of lobbyists everywhere, and not just in Kyrgyzstan alone...
Kurmanbek Bakiyev: They surely do!
Question: It stands to reason to assume therefore that some powerful people in Kyrgyzstan want no privatization at this point...
Kurmanbek Bakiyev: Sure, and I'll be the last to deny it. There may exist different points of view, even within the Ak-Jol faction. But let all these men get together and discuss whatever needs a discussion in this case. Let them invite specialists to clarify matters. I detest lack of transparency and inability to make a clear and understandable report because this is what these shortcomings result in.
Question: You will be visiting Kazakhstan in the middle of April. Your and President Nursultan Nazarbayev's idea to set up an alliance of the two countries aroused a lot of comment last year. Do you plan to discuss the matter with Nazarbayev in Astana? Has any progress been made?
Kurmanbek Bakiyev: The International State Council we set up at the presidential level (with foreign ministries of Kyrgyzstan and Kazakhstan being its executive bodies) is expected to facilitate efficient solution to the problems existing in our relations. First and foremost, in the economic relations of course, so as to up living standards in our countries. And by the way, neither do we aim at any isolation from our neighbors like Tajikistan and Uzbekistan. They are welcome to join us.
On the other hand, we would like to take a look at how things are with just the two of us involved. I'd say it's reasonable. As for the progress, I believe that we will be able to report certain progress closer to the visit. Also importantly, the issues the International State Council copes with and addresses have been neglected for years.
Question: Do these issues include the permit to Kazakhstan to buy some reports on Issyk-Kul shores?
Kurmanbek Bakiyev: I'm told the parliamentary committee voted on the matter already. It is fair to mention that these four resorts were built with Kazakh money in the first place. Back in the Soviet Union, you know. We are prepared to lease them to Kazakhstan for 49 years now, provided the Kazakhs make them operational the year round, make them four-star category resorts, and reserve 80% jobs for the Kyrgyzes. Salaries there will be higher than at nearby resorts and spas. What's wrong with that?
Question: Will the Kyrgyzes be able to stay there?
Kurmanbek Bakiyev: Of course, and citizens of all other countries too. As long as modern infrastructure is finally built there, and living standards in the area are upped. As for those who claim that foreigners are buying Kyrgyz land... I can only say that the Kazakhs are not going to take these resorts to Kazakhstan with them.
Question: In other words, you are not selling the Motherland despite what is written in Kyrgyz newspapers?
Kurmanbek Bakiyev: No, I'm not. That's rubbish, of course.
PRESIDENT BAKIYEV: FORGET HEART ATTACKS. Arkady Dubnov. Vremya Novostei, No 53, March 31, 2008, pp. 1 – 2. © Translated by Ferghana.Ru