Kyrgyzstan: National Security Committee chose Russian journalists for scapegoats
Sultan Kanazarov, Reporter-Bishkek founder and representative of Ferghana.Ru news agency in Kyrgyzstan, is regularly summoned to the National Security Committee for interrogation. Ferghana.Ru asked Kanazarov to say exactly what the summons to the National Security Committee are about and what Kyrgyz secret services accuse Ferghana.Ru personnel of.
The rumors that President Kurmanbek Bakiyev was seriously ill began circulating in Bishkek on March 15-16. On March 18, Ferghana.Ru we site posted a piece titled "Rumors. Is President of Kyrgyzstan Kurmanbek Bakiyev Ill?" (one we will probably keep returning to yet). Kyrgyz online media outlets copied it immediately. Apparently in an attempt to duck responsibility and avoid trouble with the authorities, local media outlets made references to Ferghana.Ru calling it "a Russian media outlet".
According to Kanazarov, he was first summoned to the National Security Committee on March 26. No official subpoena was issued. Some people phoned Kanazarov, introduced themselves as officers of the Public Security Directorate of the National Security Committee, and said they were waiting for him. Kanazarov turned up as ordered. Officers by names of Azamat and Ulugbek dispensed with the preliminaries in no time at all. Without even bothering to officially introduce themselves or show their badges, the officers began asking questions demanding from Kanazarov his sources of information (concerning the "Rumors" piece). Their tone was clearly hostile and aggressive.
Putting Kanazarov under moral pressure, the officers demanded recognition of the fact that Ferghana.Ru web site had posted a "patently false report". The journalist's explanations that he had had nothing to do with appearance of the report on Ferghana.Ru web site were ignored. So were his references to journalists' right not to reveal their sources of information.
It is fair to add that it apparently never even occurred to Kyrgyz secret services to approach Ferghana.Ru Moscow office directly. (Or was it something else, like lack of courage perhaps?) Ferghana.Ru would have answered all questions and even offered some ideas on the information vacuum and rumor-mongers.
Told to come back to the National Security Committee on March 28, Kanazarov refused to do so without official summons.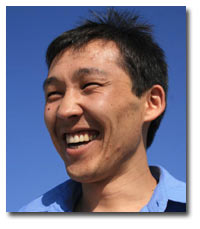 Sultan Kanazarov
"They kept calling me on the phone and demanding my appearance "right this very minute". They said I would be given the summons right there," Kanazarov said. "When I said I was not going anywhere without summons, they mailed it to my office. The piece of paper did not say a word on why I was summoned or in what capacity. As a matter of fact, purpose of the interrogation and my status were never explained to me ever after."
"My lawyer and me went to the National Security Committee on March 29. It was 9 a.m. sharp. We were led to the office of one Major Aziz Bakirov who immediately told me to start writing an explanatory note. Matter of fact, all of that resembled another interrogation. Two other officers were present but Bakirov wouldn't mention them in the protocol. A man 40-45 years old entered the office shortly afterwards and told Bakirov to stop beating around the bush and lock me up. The man's language is not what I'd care to repeat. Neither Bakirov nor the other two officers introduced the man, " Kanazarov said. "Neither would Bakirov say why I had been summoned to the National Security Committee, in what capacity, and so on. I consider all these actions on the part of National Security Committee and its officers illegitimate."
"Man, you cannot even lie... I'll be watching you," Bakirov said seeing us off. I take these words as a threat and "promise" to keep me under surveillance," Kanazarov said. "This behavior on the part of officers of the National Security Committee shows plain disrespect."
Badgering Kanazarov, officers of the National Security Committee kept saying that it had been the Ferghana.Ru report that started the rumors concerning illness of the president. When Bakiyev returned from Germany, however, he admitted he had taken a treatment course there.
Presidential press service in the meantime had vehemently denounced all speculations on that score. Which of them was telling the truth?
Here is another question. If the presidential press service knew that he was going to be delayed in Germany, why wouldn't it arrange his address to the nation? After all, it is the silence and the information vacuum that gave birth to the rumors.
Kanazarov's interrogators made several references to the Kyrgyz law on the media and specifically to its article dealing with proliferation of unconfirmed information or patently false reports. As far as Ferghana.Ru is concerned, however, control over how the law on the media is abided by is a prerogative of the prosecutor's office and not of the National Security Committee.
Ferghana.Ru appraises harassment of its representative Kanazarov, an experienced journalist who worked with Radio Azattyk (RL Kyrgyz Service), RL Russian Service, and other media outlets, as encroachment on freedom of the media and freedom of expression.
Ferghana.Ru maintains contacts with lots of prominent journalists in Central Asia. Ferghana.Ru editorial office is located in Moscow, Russia. Ferghana.Ru is prepared to answer whatever questions the Kyrgyz National Security Committee may have.
Ferghana.Ru address, phones, and whatever else might be necessary are to be found on its web site.
Daniil Kislov, Ferghana.Ru Chief Editor and Central Asian News Center Director (Moscow, Russia).
Oleg Panfilov, Director of the Extreme Journalism Center
Ferghana.Ru: Could you please appraise the piece in question? Is there anything in it that may attract attention of law enforcement agencies or even invite prosecution?
Oleg Panfilov: To begin with, title of the piece includes the question mark. It means that it is not a statement, it is a question to be answered with a "yes" or "no". It is an invitation to discuss the matter, nothing else. Besides, when no hard information is available, it's quite all right for journalists to make use of what information is available. The blame for it rests with whoever withholds the information and not with journalists.
By and large, this situation is quite typical of Kyrgyzstan. When the Batken events began [a major offensive launched by gunmen of the Islamic Movement of Uzbekistan in summer 1999 - Ferghana.Ru], the population of Kyrgyzstan was similarly in the dark on what was happening in the southern regions of the country. No official structures (Interior Ministry, secret services, Defense Ministry) or their PR departments were making any statements then. President Akayev went public and addressed the nation on the fourth or fifth day, I think, when the population had been already agitated by all sorts of wild rumors. It has been a tradition ever since. Press services fail to perform their duty but it is journalists who get the heat afterwards.
Arkady Dubnov, specialist and Vremya Novostei international observer
Ferghana.Ru: Would you please comment on how our representative in Kyrgyzstan Kanazarov was interrogated by the National Security Committee because of the piece posted on Ferghana.Ru web site?
Arkady Dubnov: The way I see it, it's outrageous how the National Security Committee of Kyrgyzstan is looking for scapegoats in the saga with the rumors concerning the president's illness and even demise. It merely shows the level of political culture, you know, in the country where state officials in charge of national security should have done everything to prevent rumors like that from fomenting social tension. Even if they are not involved in proliferation of the rumors in the first place (and Bakiyev seems to believe that they are), then they are certainly supposed to prevent appearance of rumors. It's simple: just tell the country where the president is and when he is expected back. These attempts to find scapegoats among journalists... it is not even a throwback to the Soviet style and practice. It is a sign of uncertainty. That's all there is to it.
Temir Sariyev, ex-deputy of the parliament and prominent opposition leader
24.kg news agency quoted Sariyev as telling De-Fakto newspaper that Bakiyev's return from Germany had become a nasty surprise for his inner circle.
Asked whether the president was blaming the opposition for the rumors, Sariyev said that all these rumors had been spread by the presidential inner circle of confidants. "Three men at the pinnacle of power - Medet Sadyrkulov of the presidential administration, presidential press secretary Nurlan Shakiyev, and Jogorku Kenesh Chairman Adakhan Madumarov made thoroughly conflicting reports," Sariyev said.
"The president, however, pinned the blame on the opposition. Well, we are used to it already. Whenever reforms skid or bread prices soar sky-high, it is the opposition that gets the blame. As a matter of fact," Sariyev continued, "a lot of people in the opposition distrusted the rumors because they - the rumors - lacked logic and conviction. They appeared in the first place because the presidential administration failed in its duty."