Kyrgyzstan: Attempt to have children cured resulted in contamination and loss of family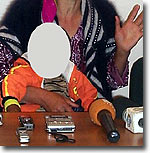 At the press conference. Photo by Ferghana.Ru news agency. Faces are concealed for ethical considerations
Families of the children who ended up with HIV when hospitalized are denied what aid from the state they are entitled to. Mothers of two such children went public in Osh, southern Kyrgyzstan, and met with journalists.
The mothers' press conference was organized by non-governmental organization Rainbow. Organizers say that the women under the assumed names of Saida and Feruza had even okayed TV cameras at first but this option was eventually reconsidered for fear of harassment.
Forty-one child hospitalized in Osh was given HIV in 2007. So did seven nursing mothers and four nurses. All materials and documents were forwarded to the Prosecutor General's Office and Supreme Court. Charges were pressed against fourteen doctors.
Victims of ignorance
Saida's third child - he was only seven months then - ran a high fever last summer. Saida took him to the local Nookat district hospital where doctors referred her to the regional center. Saida went to Uzbekistan in the long run (3-4 months later). It was there that she was told the truth, that both her child and she had HIV.
"Local doctors kept sticking the needle in his arm looking for the vein," Saida said. "The catheter they eventually used had been withdrawn from a refrigerator."
Saida was convinced that it was at the district hospital that her child had been given HIV because "other children who would be given a similar diagnosis afterwards were treated there too."
Neither had Saida's child any better luck in Osh where he was treated for sepsis. According to the woman, her friends heard it whispered in the village that her child and she had AIDS. Saida applied for tests then but local doctors took their time with the samples. It was in October that frustrated Saida went to nearby Uzbekistan to be told the dreadful truth there.
When Saida returned with the news from Uzbekistan, her father immediately contacted her husband in Russia where he had been earning the daily bread. Tests showed the man healthy. He abandoned the family, however, accusing Saida of adultery and believing in all innocence that sexual intercourse was the only way she could contract HIV. In fact, Saida herself was a victim on ignorance. She said her breast bled when she was nursing.
"Why didn't the doctors tell me that the child was HIV-positive and that I could contract it through nursing?" she said. "Why didn't they say the child had it? Where is this foreign humanitarian aid they keep writing about in newspapers?"
According to Saida, she has had no aid at all from the authorities. She even bought medications for sepsis with her own money.
Fatima Khabibullina of Infor-Center Rainbow said all HIV-infected children are entitled to free imitation milk, disability pension (equivalent of $25), and a meager social pension pending their coming of age. "Moreover, all these children are entitled to places at day-care centers and schools," Khabibullina said. How it is possible when all of the neighbors know the truth is anybody's guess.
Who will help the sick?
Feruza's newborn daughter was treated for sepsis too. At the same hospital... with the same results. Lack of running water compelled Feruza to go home on the third day following delivery. She suspects now that she was already too late. A representative from the local AIDS center approached Feruza last November and took blood for tests.
"I asked how long I could count on and the doctor replied, "Your organism is fine. You will live long, as long as you can," Feruza said. "What did he mean? How could he know how strong I was?"
Feruza said she had had her other children (two) and the husband in Russia take HIV-AIDS tests. They did and the tests were negative. The husband, however, stopped sending money to the family. "Get the money wherever you got the virus," the husband said, returned to Russia, and was never heard from again.
Khabibullina said all children with HIV need high diet and proper medical care but "all these families are poor, with mothers being housewives and fathers gone more often than not upon hearing the news."
"Where can I get this high diet for them when we live on dry bread and tea!" Saida's father-in-law said. Ferghana.Ru correspondent asked the man if he had ever gone to the authorities with this problem. "What's the point?" was the answer. "They cannot feed themselves!"
Info-Center Rainbow Director Fatima Koshokova agreed to defend the victims in court. She said the children were already receiving their due. According to Khabibullina, however, lots of families of the infected fear notoriety and prefer to keep the matter under the lid.