Kazakhstan will keep Kyrgyz refineries running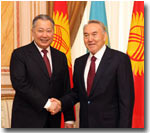 President of Kyrgyzstan Kurmanbek Bakiyev is visiting Astana, Kazakhstan, where the second meeting of the Supreme Council of Kyrgyzstan and Kazakhstan is about to take place. Bilateral ministerial meeting already took place in Astana. Those present at the meeting adopted a draft resolution on establishment of the Central Asian Water and Energy Consortium and reached an agreement on deliveries of Kazakh oil to Kyrgyz refineries.
Progress in the matter of the Central Asian Water and Energy Consortium is undeniable. Kazakhstan, Kyrgyzstan, Uzbekistan, and Tajikistan intend - or rather hope - to make the final decision on that score in Bishkek later this month. Judging by what the 7th meeting of the Kazakh-Kyrgyz commission decided, governments of the four countries will sign an agreement on the use of the Syrdarja waters. "We considered establishment of the Central Asian Water and Energy Consortium and discussed a treaty between Kazakhstan, Kyrgyzstan, Uzbekistan, and Tajikistan. We mean to meet in Bishkek on April 29-30 and make the final decision," Kazakh Deputy Minister for Energy and Mineral Resources Dusenbai Turganov said.
Other issues were addressed and settled as well. It is known for example that Kyrgyzstan needs more electric power and oil from Kazakhstan than it has been prepared to sell it so far. Negotiations in the Kazakh capital, however, resulted in Astana's promise of over 300,000 tons of oil for Kyrgyz refineries every year. Future operations of the joint Kazakh-Kyrgyz investment fund with $120 million worth of authorized capital ($100 million provided by Kazakhstan, $20 million by Kyrgyzstan) were discussed. The agreement to set it up for realization of joint projects on the territory of Kyrgyzstan was signed in Bishkek in summer 2007.
Sources in the Kazakh Foreign Ministry claim in the meantime that Kazakhstan is actually the leading investor in Kyrgyz economy. Nearly 50% of all investments in the economy of this Central Asian country are Kazakh. Five major Kazakh banks of the second echelon operating in Kyrgyzstan account for over 60% credits handed out in the country.
Risk Evaluation Group Director Dosym Satpayev claims that Bishkek fully expected an increase of Kazakh investments this year but Astana failed up to live to the expectations. Kazakhstan's investment activeness in the neighbor state is in jeopardy, mostly because of the complicated financial and economic situation in Kazakhstan itself. By and large, the Kazakhs themselves tighten the belt. Upset by the state of affairs with replenishment of the budget, the government in Astana imposes restrictions on oil and grain export. That all these measures will affect Kyrgyzstan goes without saying. "We did it to Bakiyev and Kyrgyzstan ... where famine-fomented riots become a grim possibility," Satpayev said. "No wonder Bakiyev views the talks with Nazarbayev as his chance to remedy this situation."
Indeed, Bakiyev and his team have been doing everything in their power to advance relations with Kazakhstan. On April 11, the Jogorku Kenesh [national parliament controlled by Bakiyev - Nezavisimaya Gazeta] ratified the border treaty Kyrgyzstan and Kazakhstan had signed in December 2001. The document entitles Kazakhstan to a granite mine and part of the strategic road connecting Bishkek and Balykcha. Along with everything else, Kazakhstan ended up with four resorts on Lake Issyk-Kul.
Kyrgyz state officials count on a conference with prominent Kazakh businessmen soon so as to try and persuade them to invest in Kyrgyz economy. Alexander Mashkevich and Alijan Ibragimov (shareholders of ERNC, leader of the Kazakh mining industry and metallurgy) top the guest list.
Source: Nezavisimaya Gazeta, No 81, April 18, 2008, p. 9. © Translated by Ferghana.Ru