President of Uzbekistan Islam Karimov is on a two-day official visit to Astana, Kazakhstan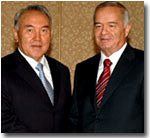 President Islam Karimov's last official visit to the capital of Kazakhstan was in September 2006. Analysts say that the visit these days marks the beginning of a new geopolitical axis in Central Asia, the one comprising Astana and Tashkent. As a matter of fact, Karimov's visit is taking place right in the wake of the visit to Astana made by Kyrgyz President Kurmanbek Bakiyev. Nursultan Nazarbayev, the host, will discuss with Karimov what he has already discussed with Bakiyev. The matter concerns establishment of a Central Asian union comprising Kazakhstan, Kyrgyzstan, Tajikistan, Turkmenistan, and Uzbekistan. "The winter that fomented energy crisis makes profound regional integration a must," press service of the Kazakh president reported.
As things stand, Bakiyev alone seconds Nazarbayev's integrationist aspirations. "Kyrgyzstan supports the Kazakh initiative that will benefit all Central Asian peoples," Nazarbayev was quoted as saying. Experts are convinced that the message was meant for the still skeptical Tashkent. "Several organizations were established in the Commonwealth these last ten years - Central Asian Economic Cooperation Organization, Eurasian Economic Cooperation Organization, United Economic Zone - and not one of them lasted," Karimov said not long ago. "Seeking cheap popularity, some colleagues of mine make high-flown speeches on cooperation and come up with all sorts of slogans. Unfortunately, nothing at all is being down in practice."
As a matter of fact, Tashkent is unlikely to join the future Central Asian union. "Cooperation within the framework of the Eurasian Economic Cooperation Organization is more important for Uzbekistan these days," Uzbek political scientist Rafik Saifullin told Nezavisimaya Gazeta. Saifullin is convinced that Karimov will rather keep an eye on the Customs Union three countries (Kazakhstan, Russia, Belarus) formed within the framework of the Eurasian Economic Cooperation Organization.
"Uzbekistan does not want any regional alliances because they necessitate supranational structures. Central Asian countries meanwhile are highly suspicious and distrustful of one another. The Kyrgyz political elite is clearly irritated with Kazakhstan, this country's closest partner. The Kyrgyzes perceive a danger of economic and political expansion of Kazakhstan, and even perhaps the loss of their sovereignty one fine day. Where Uzbekistan is concerned, the parade of sovereignties in Central Asia is not over yet," Dosym Satpayev of the Risk Evaluation Group commented. "Moreover, all these countries are exporters of raw materials, and that makes them rivals." Indeed, Central Asian countries united only once, on the eve of their recent gas price talks with Gazprom of Russia. It was, however, an exception rather than the rule. By and large, post-Soviet countries of Central Asia prefer bilateral relations.
Experts say in the meantime that Central Asian countries should emulate the European Union where integration was centered around the alliance of coal and steel. In Central Asia as such, it may be centered around water and energy cooperation. Specialists predict a water crisis in the region in the next decade, one that might foment armed clashes and even collapse of some states. An agreement, however, requires political will first and foremost from Uzbekistan and Turkmenistan, two countries notoriously indifferent towards all integration ideas.
As for Nazarbayev and Karimov, their conversation in Astana may dwell on hydrocarbons too. Berdymuhammedov already said he was ready to export gas by the Trans-Caspian Gas Pipeline detouring Russia. The European Commission in its turn drew a memorandum of understanding with Turkmenistan. Needless to say, more gas is needed than what Turkmenistan is ready to provide, and consent from neighbors will play a decisive role in the whole project. Saifullin is convinced that Nazarbayev and Karimov just might reach an agreement and coordinate their energy policies.
Nezavisimaya Gazeta, No 84, April 22, 2008, p. 11. © Translated by Ferghana.Ru