Kyrgyzstan: Alisher Saipov Awards go to gallant journalists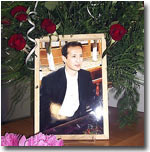 Alisher Saipov Award ceremony took place in Osh, the southern capital of Kyrgyzstan, on the International Day of Free Media on May 3. The award bears the name of Saipov, Sijesat [Politics] editor assassinated in Osh on October 24, 2007.
Three young journalists became the first laureates. Sahira Nazarova of Pravo Dlya Vsekh received the award for human rights issues coverage, Ilhom Abdukahharov of Mezon-TV for dauntless journalism, and Minaiym Ysabayeva (teenager writing for a local newspaper) for reports on ethnic problems.
Winners of the award received special certificates and rewards (4,000 soms or over $110, equivalent of a well-paid regional journalist's monthly salary) each.
The ceremony took place within the framework of the International Day of Free Media support action organized by the Osh Media Center. Over twenty regional journalists and Avazbek Saipov, the murdered journalist's father, were present. Participants of the action brought 27 roses to the ceremony - 26 red ones (Alisher Saipov's age) and a white as a symbol that the journalist remained alive in his colleagues' hearts.
The idea of the special award was voiced on October 29, 2007, five days after his untimely death. The award was set up by human rights organization Justice, Ferghana.Ru news agency, and Media-Incubator Foundation from Jalalabad.
"It is common knowledge that a great deal depends on cooperation and interaction between journalists and non-governmental organizations including human rights ones," Valentina Gritsenko of Justice told Ferghana.Ru correspondent. "We of Justice worked with Alisher too. His death became a hard blow. The award bearing his name is acknowledgement of his contribution to advancement of freedom of expression in the country and support of the young generation of journalists, straightforward and gallant."
Founders intend to organize the ceremony annually on May 3, the International Day of Free Media. Journalists under 35 years from the southern part of Kyrgyzstan may apply for the award at first, but the initiative may eventually cover all of the Central Asian region.
Saipov's father in the meantime was distressed by incompetence and disregard of ethical considerations displayed some journalists making assassination updates. He was of the opinion that certain journalists were making use of his son's death to promote their own interests.
Neither did Saipov take to the idea of an award in the name of his son. "Don't," he said. "Leave my son alone, please."
Award founders and journalists nevertheless decided to proceed, confident that it was only proper since they all were Alisher's friends and colleagues.
Nominees for the Award'2008 were selected through a study of publications and an opinion poll among prominent local journalists. The system of selection will be perfected yet and made maximum transparent. Establishment of a special trust is expected as well, for local and international organizations to make donations to.
Saipov was assassinated not far from the office of Sijesat, a newspaper he himself had founded in 2007 and edited, on October 24, 2007. The investigation has failed to expose his assassins so far despite the promises made by the authorities.
Saipov worked with Ferghana.Ru, Voice of America, BBC, and other media outlets. His Sijesat was quite popular in the region and even in Uzbekistan it was smuggled into. Saipov and his newspaper were quite critical of the Uzbek authorities.
The Museum of Journalism in Washington put Alisher Saipov's name on the plaque commemorating journalists killed in the line of duty.
Photo by Ferghana.Ru