Irrigation water shortage could mean disaster for Uzbekistan
Concern grows about irrigation problems which could adversely effect Uzbekistan's cotton crop. Cotton now accounts for one-fifth of Uzbekistan's hard currency revenues.
Observers note that Uzbekistan's water reservoirs for crop irrigation were nearly depleted during last summer's unusually hot growing season, and have not been replenished this spring. Local hydrologists have said that the Syrdarja River is running at one-tenth its usual flow while the Naryn River is also too shallow to provide the type of irrigation required by farmers. Additionally, officials responsible for the Toktogul Reservoir report having only 7 billion cubic meters of water available for irrigation, compared to 10.5 billion cubic meters on April 1, 2007.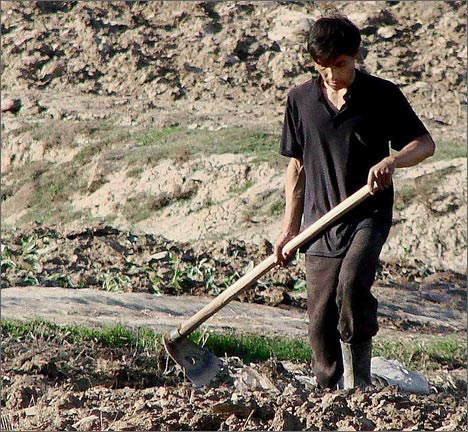 Jizak farmers report already anticipating losses as they have only 50 percent of the normal volume of water for irrigation.
Irrigation concerns have also been reported due to the unusually cold winter in the Central Asian countries. Late frosts, coupled with cold weather, threatened the region with floods when spring arrived later than usual.
Uzbekistan avoided flooding, in part, because of water supply management that gradually released water from reservoirs beginning in mid-February. Reducing water in reservoirs, in part, prevented fast flowing waters from harming planted crops.
However, the weather continued to cause problems for Uzbekistan's farmers.
Though there was less snow than usual this past winter, strong frosts enabled snow on the plains, and specifically in Tashkent, to linger. Then, in March, summer-like heat causes snows to evaporate, rather than replenish reservoirs.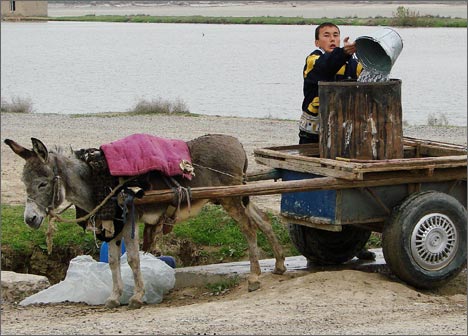 Farmers became increasingly worried as this early heat adversely affected young crops, while reservoirs lacked the necessary water to counter some of the problems brought on by the heat. The heat also resulted in lower than usual irrigation canals and small reservoirs to dry up. Farmers sought help from seasonal mid-April thunderstorms, but the storms failed to materialize this year. Experts explained that the same cold front that caused excessive snow and frost in Kyrgyzstan resulted in only a few short rains in Uzbekistan.
Following the unseasonable heat and lack of rain, the Charvak Reservoir, 80 kilometers northwest of Tashkent, was found to be 60 percent lower than a year ago, with only 707 million cubic meters of water. Further, expectations were dashed for help from mountain streams as word came that the Pskem, Chankal, and Koksu were flowing 50 percent slower than usual.
This weather has also had an effect on other industries besides farming. At the Charvak Oromgokhi resort on the shores of the Charvak Reservoir, buildings now stand surrounded by clay fields, rather than crops, stretching far beyond the usual border of beaches. Tourism officials do not know how this will effect the upcoming tourist season. Optimistic elders claim that snow and glaciers, high up in the mountains, will thaw in June and July, and that is when water is to be expected. However, the Tien Shan mountain tops already appear to be free of ice caps.
However, a disappointing travel season is the least of the troubles a drought may spell for Uzbekistan. The problems farmers on the plains might encounter may be much more dramatic. The Tujabuguz Reservoir, colloquially known as the Tashkent Sea, (it irrigates all cotton plantations and rice fields in the Tashkent region) is unusually shallow. Water is deep only near the dam, and officials remain worried as the irrigation season is fast approaching.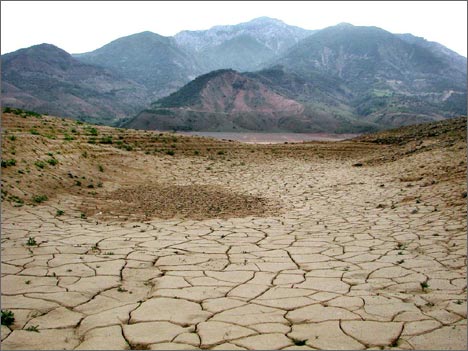 All Uzbekistan still remembers the catastrophic drought of the summer of 2000 when water levels fell 60 to 80 percent below average in all rivers and reservoirs. That summer saw reservoirs in the Amudarja basin completely emptied by mid-June so its water could be used to save crops. As a result, more than 50 percent of the lands in the Karakalpak Autonomous Republic remained without irrigation water. Cotton, rice, and vegetable crops perished and this catastrophe helped bankrupt thousands of farms. The prospect of starvation and epidemics caused a wave of migration from affected areas to other Uzbek regions and nearby countries.
The government responded by taking measures President Islam Karimov called "extraordinary". Insolvent farms received aid from the scanty state budget and international humanitarian organizations. Farmers' debts to banks were restructured and their yield debts to the state were voided. The population of the worst affected Karakalpak districts were evacuated to other regions, with some residents being settled in the Tashkent region.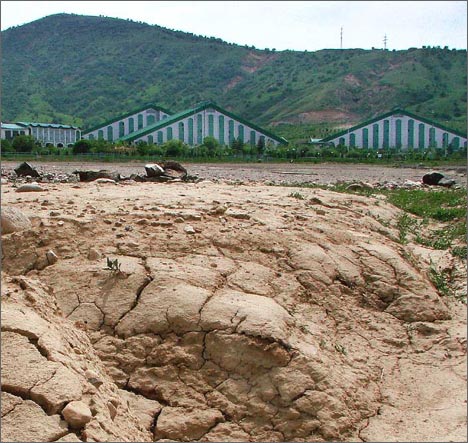 In the first years following the drought, water reappeared in abundance. However, the first indications of potential problems were seen in 2006 when a diminished flow from mountain rivers was detected. Specialists warned that two to three years of relative abundance of water in the Amudarja and Syrdarja mountain rivers are often followed by five years of insufficient water leading up to droughts.
UN expert Victor Dukhovny then announced that global climatic changes and an increase in the Uzbek population were merging to lead the country into trouble. "Uzbekistan will need additional water resources by 2030," Dukhovny warned. According to the expert, economic deterioration in Central Asian countries, that had followed the disintegration of the USSR, resulted in less than normal water consumption. Also, the partial thawing of the Pamirs and Tien Shan glaciers, along with global warming, provided temporary relief for an inevitable water shortage. The situation is predicted to become more serious by 2020 when the glaciers feeding the Amudarja and Syrdarja will have lost their critical mass. The thoroughly agrarian Uzbekistan, where there is 0.16 hectares of irrigable lands per capita, while UN norms stand at 0.2 hectares, may find itself in trouble. Officials believe Uzbekistan will be unable to expand lands for irrigation which can match an ever growing population.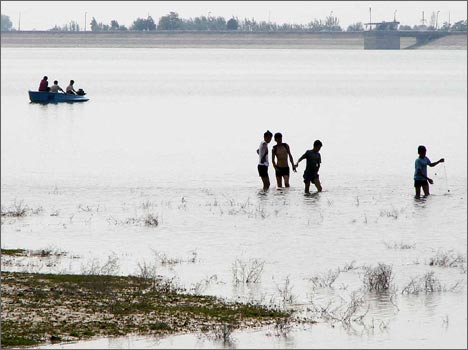 Uzbek hydrologists prepared a report on this expected low-water season for the government in spring 2007. Karimov signed a special resolution ordering a campaign to prevent or alleviate consequences of the forthcoming droughts. Ministries and departments were instructed to repair all hydro-technical equipment, cleanse the irrigation system, and assure enough electricity for all water-supply plants. Cultivation of rice was banned in eight out of fifteen Uzbek regions. In the remaining seven, farmers were ordered to obtain permits from special government panels to plant rice. The low-water season badly affected cultivation of rice in Uzbekistan. The yield in 2007 amounted to only 197.7 thousand tons compared to 224.2 thousand tons one year earlier.
By and large, however, the agrarian sector did fine. Considering the problems, the cotton yield was impressive. Specialists said that shortage of irrigation water improved crop yield in some areas because farmers, themselves, valued water and therefore watered their fields with care, thus preventing their salinization and swamping. Toting up the harvest in 2006-2007, Karimov thanked farmers for being conscientious, and he thanked Allah for the favorable climate bestowed upon Uzbekistan.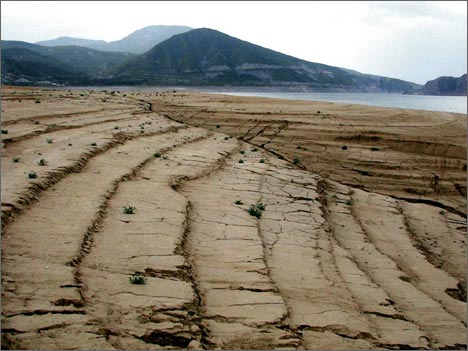 Neither the authorities nor scientists have announced any official decisions regarding water policy this year. Either they know something the population does not, or they view the decisions made in 2007 as adequate and sufficient.
Unofficial bans on exporting rice, and officially proclaiming efforts to set up a state reserve of wheat, are now considered as ordinary measures and something to spare local consumers the price-rises detected throughout the world.
Addressing the Cabinet and evaluating the results of socioeconomic development in 2007, Karimov said average drinking water was available throughout 84 percent of the country and 77 percent throughout rural areas. However, drinking water remains unavailable in a large number of Uzbek settlements, even near the capital city of Tashkent. The situation being what it is, the forthcoming drought in central Uzbekistan could have dire consequences.