Weekly review of political developments in Kazakhstan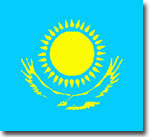 Traditional May festivities notwithstanding, last week was replete with political developments and staff changes in Kazakhstan. Akims, or governors, of two Kazakh regions were replaced, those implicated in the Rahat-gate scandal were stripped of their personal possessions and state decorations, and the information minister was dismissed.
Generals removed
It was announced on May 6 that the presidential decree, signed a week earlier, had stripped President Nursultan Nazarbayev's former son-in-law, Rahat Aliyev, and "some others" of state decorations, their special and military ranks and diplomatic grades.
It became the second mass military firing, this time including three generals and a group of senior officers, in Kazakh history.
Nazarbayev's decree drew a formal line in the scandalous trial, but did nothing to resolve the crisis. Judging by the rhetoric of Aliyev (who promises to publish a book entitled, "Godfather-In-Law") and his cohorts, just a single episode in the war is over, shortly to be followed by new clashes. Last week, some opposition media outlets and web sites posted an open letter to the president from Alnur Musayev, who has been dismissed as National Security Committee chairman, tried, and imprisoned along with others. Referring to the president, Musayev wrote, "I'd like to remind You, that You have had better knowledge of my activities than anyone else because I answered directly to You. I arranged a weapons-grade uranium deal in mid-1990s when 578 kilograms were sold abroad. Information on the deal was classified then. Legal parts of the operation were code-named Sapphire. A group of state officials and officers of the National Security Committee were decorated for the operation in 1997. I got no awards then, it is only recently that I got my reward - 35 years in a maximum security colony. You know better than anyone else that I'm privy to the state secrets that, if revealed, will result, at the very least, in a protest note from a certain foreign power Kazakhstan would dearly like to remain friends with..."
Trials behind closed doors, absence of objective information, and the silence by all sides of the conflict preclude any substantial conclusions. There is no saying exactly how legitimate or illegitimate suspects' actions were or how justified the verdicts passed on those charged with "coup d'etats" and "takeovers" were. It is only clear that the facts Musayev hints at will become public knowledge sooner or later and may spark sensational investigations.
Undercover justice
New details were released on May 6 regarding the arrest of Jaksybek Kulekeyev, former head of Kazakhstan Temir Joly or Kazakh railroads. Kazakh media outlets have loudly proclaimed the arrest as an "uncompromising war on corruption". It should be added that most politicians and experts believe that Kulekeyev is innocent. Indeed, he is known as a relatively integral and professional state manager. Politicians and experts suspect that his arrest was engineered by possibly corrupt officials in high places who became angered by Kulekeyev's attempts to restore order.
Kulekeyev's lawyers appealed to the court to have the investigation handled by the National Security Committee. The defense has said it expects no "impartial investigation from the financial police which already proclaimed the man guilty and caught red-handed and promised to forward the bill of indictment to the court." Lawyers claim law enforcement agencies bent the rules in such a manner that the impartiality of the investigation became thoroughly compromised.
The financial police, in its turn, agreed that the evidence warrants prosecuting Kulekeyev. Violations of procedures in procurement is believed to have been just one of the frauds Kulekeyev was allegedly involved in.
Security agencies claim to have compiled exhaustive information on how state-owned companies, including Kazakhstan Temir Joly, are used to make fortunes for their top executives.
Era of grey eminence
Akims, or governors, of two Kazakh regions were also replaced last week. Prime Minister Karim Masimov introduced Adylgazy Bergenev, former senior assistant akim, to the East Kazakh regional administration as the new akim on May 7. Bergenev's predecessor, Janibek Karibjanov, former Ambassador to China, had failed to "live up to the expectations" in his sixteen months as governor. Observers believe Karibjanov fell victim of the confrontation between financial-industrial groups and the new leadership of the presidential administration. Karibjanov became a deputy of the Majilis (lower house) of the national parliament on the Nur Otan party list that same day, his new status confirmed by the Central Electoral Commission.
Bergenev, the new governor, is not known for any notable accomplishments or fiery speeches. Bergenev belongs to the group of akims that are reminiscent of the Soviet past. They are characterized as absolutely apolitical and entirely loyal officials without undue ambitions who steadily climb the hierarchic ladder and even spend some time in the presidential administration.
The governor of the socially troublesome and ecologically problematic Kyzylorda region was replaced, too. Nazarbayev himself made a trip to Kyzylorda on Sunday and oversaw the staff shuffle the following day. Bolatbek Kuandykov is the new akim, his predecessor, Muhtar Kul-Muhammed, transferred to Astana.
Nazarbayev has been accused of using Soviet methods of personnel management for some time. Men are removed from his inner circle and find themselves in the second echelon where they are left to simmer for an unknown period. They eventually are again promoted and returned from what, essentially, amounts to oblivion only if and when they prove their absolute loyalty and readiness to take any order. The career of Kul-Muhammed, one of the president's closest confidants, is an example of this practice. What past accomplishments Nazarbayev praised him for, are anybody's guess. Experts, in the meantime, assume that Kul-Muhammed's accomplishments involved engineering an unprecedented public relations campaign for the president's Nur Otan party, and for his own active participation in the campaign. Indeed, Nur Otan's performance in Kyzylorda bears a strong resemblance to the outcome of elections in North Korea under its beloved Kim Jong-Il.
Formerly of the department of state control and department of organization and personnel of the presidential administration, Kuandykov is another example of the new type of akims. Kuandykov previously worked as a top manager of the National Bank, assistant and senior assistant akim of the Kyzylorda region, director of a department in the Ministry of Economic and Budget Planning, and deputy premier for emergencies.
Specialists now believe the staff shuffling at the regional level are over, for the time being. The next round of staff changes in power structures will probably begin after celebrations of Nazarbayev's 68th birthday and the 10th jubilee of Astana, the new capital of Kazakhstan. Some experts expect that Masimov's Cabinet will then see changes and that Masimov will be made a scapegoat, someone on whom to pin the blame for the deteriorating financial and construction crisis, unbelievable inflation rate, and price rises.
Triumph no better than defeat
Journalism organizations arranged a joint press conference on May 5 where activity of the Ministry of Culture and Information, under the notorious and odious Yermuhamet Yertysbayev, was criticized. "The ministry intends to amend the legislation pertaining to the media again," Seitkazy Matayev of the Kazakh Journalistic Union said. "They set up a special panel to draw the amendments. However, the ministry turned down the liberal law drawn by non-governmental organization and initiated by lawmakers."
The law on the media, which organizations and the international community have been demanding from Kazakh authorities adopt for years, now is has become one more stumbling stone in Yertysbayev's relations with journalists. Once nicknamed, 'The Nightingale,' the minister is seen as illogical and observers say he views a day without conflicts as a waste. Yertysbayev is blamed with fomenting numerous conflicts with the media in general, and with individual news outlets. No minister before him has been heard openly using terms like "bastards", "con-artists", and "impostors" to describe journalists- or known to convince courts that these descriptions were only his "personal opinion". News organizations, in their turn, never stop demanding Yertysbayev's resignation.
That resignation finally occurred, one week after the press conference. Kul-Muhammed, once the minister of culture and information, assumed the post again. The Nightingale returned to his erstwhile job of advising the president on political affairs.
Why would the president replace Yertysbayev? Observers believe his odious reputation and scandals with journalists might have played a part, but certainly was not the decisive reason. Most probably, his resignation was engineered by the presidential inner circle and administration irked by his contentious public statements and actions. It is also clear that Yertysbayev was undone by the so-called "Kazakh Issue". His own mastery of the Kazakh language being seen as flimsy, Yertysbayev failed to stifle protests from the Kazakh creative elite energetically campaigning against state policies regarding culture and languages.
A seasoned politician with intuitive feelings of danger, Nazarbayev knows that he does not really need a worsening of such conflicts or a broadening of the split among the once monolithic national intelligentsia. Particularly seen as a problem is the new rise in Kazakh ethnic self-awareness and the undeniable rapprochement between democratic and national patriotic forces. What, with the imminent economic crisis and forthcoming parliamentary election, Nazarbayev cannot afford to lose one of his principal resources, support from Kazakh elites (even when the elite in question comes down to the intelligentsia). That is probably why the president chose to throw 'The Nightingale' to the wolves and replace him with the ever loyal Kul-Muhammed, an official the intelligentsia is not allergic to.
And what is to be expected from Kul-Muhammed in his new (old) capacity? He has never been a democrat and probably will not become one now. It stands to reason to expect that Kul-Muhammed will orchestrate some minor amendments to the law on the media. These amendments will, more or less, satisfy the OSCE and the international community. Neither will Kul-Muhammed make any advances in matters of cultural and linguistic policy. At the very least, with Kul-Muhammed as the minister, Kazakh society will be spared contradictory situations when the minister stands for unity and equality of three languages (Kazakh, English, Russian) while his subordinates go public to condemn this thesis as wrong.
It is expected that state propaganda will become even less adorned, and even thicker than before, because the new minister is "a believer", unlike his "cynical" predecessor; meaning that he himself has faith in whatever he is saying. On the other hand, this zealous official may turn out to be a hard-liner with regard to independent and opposition media outlets. The media terrain will be "weeded" again, and the image of Kazakhstan might become smeared - something it does not really need because of the forthcoming OSCE chairmanship. And yet, future elections may make this turn of events inevitable.
* * *
Author: Aidos Sarimov is the head of the Altynbek Sarsenbayev Foundation (Almaty)